Publisher:

Konami

Release Date:

Nov 6, 2007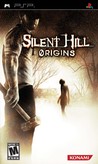 Summary:

Silent Hill Origins tells the tale of a solitary truck driver stuck in the terrifying town while making a routine delivery. New gameplay elements, such as a barricade system that lets players block off rooms from enemies, and an enhanced camera system deliver an added sense of isolation and

Silent Hill Origins tells the tale of a solitary truck driver stuck in the terrifying town while making a routine delivery. New gameplay elements, such as a barricade system that lets players block off rooms from enemies, and an enhanced camera system deliver an added sense of isolation and anxiety in this frightening adventure. [Konami]

…

Expand
Please enter your birth date to watch this video:
You are not allowed to view this material at this time.
Silent Hill: Origins Gameplay Movie 1
Unfortunate camera and combat issues aside, Silent Hill Origins is a worthy addition to the series and should scare the socks off even the most jaded survival horror devotee.

This is not some side-story relegated to the PSP, but a true new chapter worthy of its name and console-sized in scope. [Nov 2007, p.77]

Silent Hill Origins may do a few things that fans may love or hate, but what it does well is allow you to play the events that lead up to the first game and solve some of the mysteries and questions.

The game works well because it doesn't stray from the known formula, but at the same time it leaves you with a strange sense of having done it before.

Sure, it's predictable, conventional, and a little bit short, not to mention ill-suited for brief pick-up-and-play sessions on the bus, but we're encouraged to see developers making an original, console-quality experience for PSP.

While Silent Hill Origins cannot offer its legions of fans anything they haven't seen done before (and done better), it still represents a solid stop-gap release, and is worth checking out if you're a series die-hard with a desire to fill in some gaps in the story.

Pocket-sized foibles aside, what keeps Origins out of the big-leagues that its brethren inhabit is what saved the title from disaster in the first place- it's simply too conservative by far, with none of the occasionally misplaced inventiveness found in the other titles.
An absoloutely outstanding game puts you in the shoes of an innocent truck driver, the puzzles are really interesting and seriously freaky stuff!

Para mí, uno de los mejores Silent hill de la historia, ha sido sin duda el juego que más me ha llegado a transmitir una sensación increíble,

Para mí, uno de los mejores Silent hill de la historia, ha sido sin duda el juego que más me ha llegado a transmitir una sensación increíble, me ha transmitido ese mal rollo, me ha llegado a absorber de una manera que ningún otro juego lo ha conseguido. A pesar de no estar hecho por Team Silent, lo han sabido hacer fenomenal, tanto banda sonora, diseño, jugabilidad, me encantaría un remake de este juego o no, porque si se lo van a cargar mejor que lo dejen como está. El problema que ha tenido este Silent Hill, es que no ha sido jugado tanto como otros. Sin duda lo recomiendo 100%.

For me, one of the best Silent Hill in the history, has undoubtedly been the game that has given me the most incredible feeling, has given me that bad feeling, has absorbed me in a way that no other game make it. Despite not being made by Team Silent, they have known how to make it phenomenal, both soundtrack, design, gameplay. I would love a remake of this game or not, because if they are going to ruin it, better than leave it as it is. The problem that this Silent Hill has had is that it has not been played as much as others. I definitely recommend it 100%.

…

Expand

No doubt Silent Hill Origins is one of the best Silent hill of the saga, in spite of being a little bit short and the little problems with the

No doubt Silent Hill Origins is one of the best Silent hill of the saga, in spite of being a little bit short and the little problems with the camera, this game make honor to this amazing saga as a great sequel, the enviroment is awesome, the variety of weapons is excellent and the story is interesting. Definitly one of my favorite Silent Hill.

…

Expand

Lay ur fears to rest, Climax did a phenomianl job. Like everyone else i thought this game was going to be disastrous. Taking a beloved

Lay ur fears to rest, Climax did a phenomianl job. Like everyone else i thought this game was going to be disastrous. Taking a beloved franchise like silent hill and giving it to a new developer was a very risky move, but it paid off...damn did it pay off. Climax without a doubt captured the look, the feel, the pacing, the essence, and most importantly thet creepiness of what makes silent hill....well, silent hill. And the music from Akira Yamaoka is once again haunting and beautiful all at once. The ONLY negative i have towards the game is that its very short. I beat it in a little over 4 hours. But being on how very good it is, its a very minor complaint. My apologies to Cimax for doubting u guys, u did a fantastic job. Lets hope The Collective does as good a job on silent hill 5.

…

Expand

I cant believe they actually pulled it off! Silent Hill Origins works well as an entry into the series and I can only complain that it can be

I cant believe they actually pulled it off! Silent Hill Origins works well as an entry into the series and I can only complain that it can be too generic at time and has a story thats less involved and emotionally draining than the other games.

…

Expand

Acabo de completar Silent Hill Origins por primera vez.

En general me gustó bastante, buena variedad de armamento tanto de fuego como cuerpoAcabo de completar Silent Hill Origins por primera vez.

En general me gustó bastante, buena variedad de armamento tanto de fuego como cuerpo a cuerpo, la exploración externa estuvo igual de buena, escenarios que al principio me hicieron creer que no sería un juego tan largo, pero se me hizo más largo que SH 2 y 3, los puzzles no se me hicieron tan difíciles aunque el puzzle final del flauros si me costó un poco atinarle. Lo único que no me gustaron fueron las peleas contra los jefes, que si bien el de la madre de Travis me pareció el mejor diseñado del juego en general, el resto no logró impresionarme, hasta se me hicieron demasiado fáciles, solo el padre de Travis me dio una buena paliza sin llegar a perder.

Mi escenario favorito fue el Sanatorio Mental, de hecho revisaba el mapa a cada rato porque siempre me perdía.

Luego me lo vuelvo a completar para obtener el final malo, el final ufo y desbloquear el resto de trajes y objetos.

¿Que les pareció a ustedes?

…

Expand
| | |
| --- | --- |
| 19 | |
| 3 | #3 Most Discussed PSP Game of 2007 |
| 7 | #7 Most Shared PSP Game of 2007 |