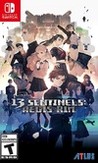 Summary:

Vanillaware, the storytellers behind Odin Sphere and Dragon's Crown, craft a sci-fi mystery epic spanning thirteen intertwining stories. Uncover the truth and delve into a 2D sidescrolling adventure featuring gorgeous art and environments. Then, battle the kaiju in fast-paced, top-down

Vanillaware, the storytellers behind Odin Sphere and Dragon's Crown, craft a sci-fi mystery epic spanning thirteen intertwining stories. Uncover the truth and delve into a 2D sidescrolling adventure featuring gorgeous art and environments. Then, battle the kaiju in fast-paced, top-down combat. Customize the Sentinels with an arsenal of mechsuit weaponry, and fight to defend humanity! A departure from the studio's traditional fantasy style, the game takes place in a modern setting punctuated with giant mechs. Although the world may be bleak, Vanillaware's signature artistic shine and gorgeous aesthetics will bring the characters and story of 13 Sentinels to life.
CHARACTERS:

JURO KURABE
A mild-mannered young high school student trying to live a normal life in the 80s. Rarely excited, he is fond of campy old Sci-Fi movies, with their giant robots and space invasions. But it seems like everyone in his life is trying to manipulate him for their own ominous ends...

IORI FUYUSAKA
She believes she's an ordinary high school girl, with dreams and crushes and a sweet tooth. However, she finds herself at the center of a massive conspiracy, called on to stop an apocalypse before the world is doomed. What she's not sure about is: can she really answer the call?
EI SEKIGAHARA
A stoic young man with amnesia, Ei finds himself next to a dead body without any memories of his past. Declared a boy "from another dimension", he's constantly pursued by armed gunmen in black suits, and often finds himself in intense life-or-death situations. Through investing the clues and people in 1985, he chases the truth beyond his lost memories...
KEITARO MIURA
A dutiful young soldier from 1945, fiercely dedicated to defending his country. He'd lay down his life if it meant saving even a single soul. Chosen as part of a secret military program to pilot a new weapon called a "Sentinel", Miura soon discovers that his true enemies lie beyond World War II...
MEGUMI YAKUSHIJI
A shy, composed girl of few words, with a nurturing domestic side. While she's devoted to her beloved, Juro, he himself has lost all memory of their past relationship. Goaded on by a mysterious talking cat, she agrees to a "contract" -- willing to go to any length to restore the boy she loves.
NATSUNO MINAMI
A perky, friendly girl on her high school's track team who loves a good Sci-Fi story. When she discovers a small robot hiding in the school, it seems like a story out of one of her favorite movies. However, she finds herself drawn into a massive, apocalyptic conspiracy in which the dangers of her favorite shows becomes disturbingly real.
NENJI OGATA
A high school punk with a heart of gold. He prefers to punch first and ask questions later, so when he gets involved in a convoluted conspiracy, most of the geek-talk goes over his head. Still, he's determined to bust through and save the girl -- even if he's resigned to her thinking he's just another thug.
RENYA GOUTO
A cold, brilliant young man who will use any means necessary to find the truth. Gouto processes information and startling revelations with a calm, ready intelligence that baffles (or outpaces) the adults around him. He's no villain, but he knows what's at stake, and what must be done.
RYOKO SHININOME
An aloof agent desperate to prove her worth to her unrequited love (and mentor) Tetsuya Ida. A mission gone wrong left Ryoko with traumatic brain damage, and dependent on a medicine of unclear origins. Still, she fights through the mental fog and pain to untangle the conspiracies...
SHU AMIGUCHI
An easygoing late-80s high school playboy, quick to make friends and quick to flirt. Tries not to take life too seriously, whether it's on his side or not. But when his TV turns on by itself, and an idol starts talking to him through it, begging for his help unraveling a mystery...he rolls with it as best he can.
TAKATOSHI HIJIYAMA
A confident young Japanese soldier in the 1940s, displaced from his home and dropped into a city both foreign and familiar. Adrift, old-fashioned, and out of place, he struggles to make sense of all the changes in his world...and then, after months of living as a solitary vagrant, he finds the young man responsible for uprooting his life.
TOMI KISARAGI
A flippant, shy teenager. She often hangs out with her gal pals after school, getting snacks and chatting like any other, but she seems to know more than she lets on. Determined to investigate the mysteries of her fate, she surreptitiously follows whatever lead she can, only to discover even greater peril awaiting her...

YUKI TAKAMIYA
A surly delinquent who (reluctantly) infiltrates the school as a spy to save her best friend. Despite her disdain for her underhanded allies, she stubbornly seeks the truth when everyone else has something to hide. Tough and caustic, but she's got a protective streak and a sharp mind.

…

Expand
Developer:

Vanillaware

Genre(s):

Adventure

,

General

# of players:

No Online Multiplayer

Cheats:

On GameFAQs

Rating:

T
Please enter your birth date to watch this video:
You are not allowed to view this material at this time.
13 Sentinels: Aegis Rim - Announcement Trailer
13 Sentinels: Aegis Rim is lengthy and complex, particularly if you really want to understand every little nuance of the story. The story might not feature player agency, as it has no branching choices or bad endings (and I'd argue that this is a strength of the game, that it's determined to tell one story and tell it well) but even then the narrative alone will take at least fifteen hours to see to the end. Add on a few hours of the strategy RPG and you've got a hefty title on your hands. Ultimately though, I stuck through with 13 Sentinels because it's paced immaculately – the mystery of the narrative gets its hooks into you and rushes you through an intricate web of conspiracy, discovery, and self-reflection. It got me to laugh, to gasp, and to view the world differently. We talk a lot about the potential of interactive storytelling to deliver experiences beyond film or print, and yet not many games do – but here is Vanillaware making it look effortless. Here's hoping that 13 Sentinels is remembered long afterwards for all it has achieved.

The unforgettable 13 Sentinels arrives now on Switch with the same fantastic experience, and the addition of portability.

Thanks to a great story and characters, this port of 13 Sentinels: Aegis Rim for Nintendo Switch is a great one that will surely boost sales of this Japanese jewel.

Ultimately, 13 Sentinels: Aegis Rim remains largely unchanged on Nintendo Switch minus the platform's strengths and weaknesses that exist independent of title. That's for the best, as 13 Sentinels remains one of the most intriguing releases in recent years and a game that's been slept on by a large number of people turned off by its anime or mecha-inspired origins. Underneath that coat is a resonant tale spanning generations and dealing with some interesting, innovative subject matter - and 13 Sentinels: Aegis Rim comes highly recommended to anyone as a result.

13 Sentinels: Aegis Rim is an unmissable game in the Nintendo Switch games lineup. Although it does not introduce new content in this version, the game is worth just for the fact of being able to be played on handheld mode. An unrepeatable gem that you have to try if you like science fiction stories or the adventure genre.

13 Sentinels: Aegis Rim is an experience that will take us through many eras in an intelligent way without making us lose the plot. It is a game well adapted to the Nintendo Switch, while Vanillaware always delights us with its well-crafted hand-drawn style.

13 Sentinels is still one of the most unique gaming experiences of recent years, and the way the game's disparate stories come together is truly something stunning. There are few games that manage to pay homage to so many other sci-fi series, while also doing something unique all its own, but 13 Sentinels manages it. The Nintendo Switch version is a stunning port that doesn't make any compromises, and it's the perfect sci-fi story for the handheld console.
Essa é um experiência única de um jogo, essa jornada é maravilhosa em tds os sentidos, o jogo é cheio de plots( o melhor é que, por vc ter uma

Essa é um experiência única de um jogo, essa jornada é maravilhosa em tds os sentidos, o jogo é cheio de plots( o melhor é que, por vc ter uma certa liberdade para avançar na história, alguns desses plots ñ são inteiramente explicados jogando com um só personagem, vc precisa ver cada perspectiva diferente pra ficar boquiaberto pela sensação incrível que é entender 100% cada segredo revelado), o jogo é cheio de referências a outras obras de ficção científica, o que deixa ainda mais prazeroso pra quem curte essa temática, o combate tb é legal ( achei que ñ gostaria mt, mas quando vc joga é uma delícia), eu simplesmente recomendo essa obra pra qualquer um, vc percebe que esse é um jogo feito com muito amor pela Vanillaware(Dificilmente deve ter outro assim), qualquer um que jogou esse jogo fica chateado por ñ ter vendido no mínimo dez vezes mais doq vendeu, eu preciso dizer uma coisa: esse jogo possui um dos melhores roteiros dos jogos da história com certeza, vou guardar com mt carinho os momentos que passei nessa carta de amor para os amantes dos jogos.

…

Expand

This has immediately become one of my all time favorites! One of the most memorable stories in any media, include amazing and well voiced

This has immediately become one of my all time favorites! One of the most memorable stories in any media, include amazing and well voiced characters, a plot that keeps you glued to your couch, and a killer soundtrack. 10/10 all around! If you're even thinking about playing this, do yourself a favor and get it, and avoid spoilers at all costs since this is a mystery game at it's core.

…

Expand

What i could say... this is it, this is the pinnacle of the RPG genre. Playing this game was one of the best experiences i had this year, give

What i could say... this is it, this is the pinnacle of the RPG genre. Playing this game was one of the best experiences i had this year, give it a try if you love anime styled and sci-fi games like me.

…

Expand

Great plot and graphics, even better frame rate fluency than the PS4, plus this is Mechanical Wind, my favorite.

Play this game. It's one of the best gaming experiences I've had in years, with the best sci-fi story I've ever seen in games.
If you havePlay this game. It's one of the best gaming experiences I've had in years, with the best sci-fi story I've ever seen in games.
If you have have a passing interest in science fiction, Kaiju, tactical games or mystery, just play it

…

Expand

La trama está muy bien elaborada y te mantiene constantemente intrigado esperando a saber más. Quizá el elemento en el que falle sea el modo

La trama está muy bien elaborada y te mantiene constantemente intrigado esperando a saber más. Quizá el elemento en el que falle sea el modo batalla, que lo siento un poco desconectado del modo aventura, aunque igualmente es un juego muy bueno.

…

Expand

this game is not good. terrible gameplay and really awful graphics. the soundtrack is annoying