Publisher:

Nintendo

Release Date:

Mar 20, 2020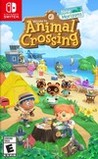 Summary:

If the hustle and bustle of modern life's got you down, Tom Nook has a new business venture up his sleeve that he knows you'll adore: the Nook Inc. Deserted Island Getaway Package. Sure, you've crossed paths with colorful characters near and far. Had a grand time as one of the city folk.

If the hustle and bustle of modern life's got you down, Tom Nook has a new business venture up his sleeve that he knows you'll adore: the Nook Inc. Deserted Island Getaway Package. Sure, you've crossed paths with colorful characters near and far. Had a grand time as one of the city folk. May've even turned over a new leaf and dedicated yourself to public service. But deep down, isn't there a part of you that longs for…freedom? Then perhaps a long walk on the beach of a deserted island, where a rich wealth of untouched nature awaits, is just what the doctor ordered. Peaceful creativity and charm await as you roll up your sleeves and make your new life whatever you want it to be. Collect resources and craft everything from creature comforts to handy tools. Embrace your green thumb as you interact with flowers and trees in new ways. Set up a homestead where the rules of what goes indoors and out no longer apply. Make friends with new arrivals, enjoy the seasons, pole-vault across rivers as you explore, and more.

…

Expand
Developer:

Nintendo

Genre(s):

Simulation

,

Virtual

,

Virtual Life

# of players:

Up to 8

Cheats:

On GameFAQs

Rating:

E
Please enter your birth date to watch this video:
You are not allowed to view this material at this time.
11 Things You Should Do Every Day In Animal Crossing: New Horizons
The latest Animal Crossing is also the best, full of life, charm, and near-endless ways to make your very own island paradise.

Animal Crossing: New Horizons is the best game I've played this year, and immediately cements itself as one of the generation's defining experiences. Fans will be playing it for years, watching as the seasons roll by and unveil the true potential of what has been created here.

Animal Crossing: New Horizons is fantastic. It is the best Animal Crossing game ever made.

Animal Crossing is back with the most complete entry so far, full of options to make this virtual world truly yours. It makes the series feel fresh while keeping its essence intact.

Animal Crossing: New Horizons is the premiere of the series on the Nintendo Switch and it makes the player feel right at home, whether newcomers or the more experienced ones. With an array of new elements and mechanics but keeping its formula well anchored in the series' conventions, New Horizons will delight its players thanks to a marvelous game environment and world development, and its hefty rewards, packing enough content to leave everyone growing attached and enveloped by its experience.

In case of Animal Crossing, a dull slogan like "this game is addictive" becomes true. I have been, with utmost pleasure, fishing, and planting flowers; I have decorated my house and talked to the residents of the island, and it was all fun. And even though I've spend more than 5o hours with New Horizons, there are still lots I of things haven't seen. If you own a Switch and like a splendid grind, you simply have to play it.

By consolidating so much power in your hands, the game threatens to upend the Animal Crossing vision of community living.
Best game I've ever played with my special one. Stop bombing the score, it's not fair.

This is an amazing and relaxing game and it's a shame that people are rating it so low because you can only have one island per console and

This is an amazing and relaxing game and it's a shame that people are rating it so low because you can only have one island per console and knowing Nintendo they will probably fix it in the next update like they fixed the multiplayer in Mario maker

…

Expand

Partiendo de que el juego bloquea una sola isla por consola el juego es de 0, no le pongo el 0 porque hay trabajo detrás pero es lamentanle.

Partiendo de que el juego bloquea una sola isla por consola el juego es de 0, no le pongo el 0 porque hay trabajo detrás pero es lamentanle. Llegó a casa un dia tarde y al día siguiente ya lo había puesto a la venta en Ebay, en mi familia somos 3 y todos queremos jugar y no podemos en nuestra isla particular.

Un 2 al juego y un 0 a Nintendo.

…

Expand

This review contains spoilers

, click expand to view

.

Pésimo, simplemente una burla a quienes amamos esta hermosa saga, porque nintendo? Porque?.

…

Expand

It only allows for only 1 Island per Switch, wich makes player 2s gameplay experience limited. Every game has savestates. This is a joke. This

It only allows for only 1 Island per Switch, wich makes player 2s gameplay experience limited. Every game has savestates. This is a joke. This was my last Nintendo Game

…

Expand

Allowing only one island and one primary resident per console is unacceptable. Had we known, I'm not sure if we would have bought it. It's

Allowing only one island and one primary resident per console is unacceptable. Had we known, I'm not sure if we would have bought it. It's causing hard feelings in my household.

…

Expand