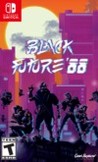 Summary:

Black Future '88 is a Synth-Punk roguelike 2D action Shooter. Vertically climb an always evolving procedural tower to reach the top and kill its insane owner…before your heart explodes. Shoot, slash, dash and upgrade yourself to survive the endless waves of deadly traps, homicidal AI and

Black Future '88 is a Synth-Punk roguelike 2D action Shooter. Vertically climb an always evolving procedural tower to reach the top and kill its insane owner…before your heart explodes. Shoot, slash, dash and upgrade yourself to survive the endless waves of deadly traps, homicidal AI and colossal Wardens standing in your way in a stylish alternative version of 1988.

…

Expand
Developer:

SuperScarySnakes

Genre(s):

Action

,

Shooter

,

Shoot-'Em-Up

,

Top-Down

# of players:

Online Multiplayer

Cheats:

On GameFAQs

Rating:

T
Please enter your birth date to watch this video:
You are not allowed to view this material at this time.
Black Future '88 - 'Endless Night' Official Switch Trailer
Even with no shortage of challenging side-scrollers to get into these days, Black Future '88 is more than worthy of your time and does more than enough to stand out in an increasingly populated crowd.

Black Future '88 may borrow ideas from all over, but it puts those ideas to good use and gives them a unique spin. As you'd expect it's pretty challenging, but it's worth mentioning that there's an Assist Mode that makes it less deadly and more accessible. While you may want to hang fire on the Switch version until it's less prone to crashing, this is otherwise an easy recommendation for roguelike-likers.

Black Future '88 is a neon-drenched 2D roguelike that effortlessly encourages you to undergo repeated runs thanks to its great music, style and short bursts of fast-paced action.

Black Future '88 is a fast-paced, thrilling roguelike, but it offers little to shake up the genre's inherent repetition. Its often underwhelming gear and lack of variety in levels makes for dull runs too often, even though its gunplay consistently satisfies. You'll find lots of hidden depth in its upgrade system if you stick with Black Future '88 despite its uninspired structure, which is made easier by its great art style and stellar soundtrack.

There's nothing wrong with how Black Future '88 plays. It's actually quite exceptional. But there are a lot of exceptional roguelikes and hardcore 2D platformers, and Black Future '88 lacks the narrative or context that it really needed to stand out against its many competitors.

Despite its technical issues, Black Future '88 is everything you would want from a good roguelike shooter. Dedicating myself towards certain layouts and advantages while learning the deceitful risks that accompany them never seems to get old. I've managed to beat the game once-over several times but not yet looped a playthrough twice – giving me the realisation that I've only just scratched the surface. After looping the game, there then becomes the conundrum of looking how to keep that precious time topped up for it doesn't reset even after beating the final boss. It looks like I'll just have to have another go then, and maybe one more after that…

Every aspect of this game feels like it was made by a sadistic Dungeon Master who just never gives their friends a break. Of course I expect to die hundreds of times when playing this kind of game, but there's gotta be something that keeps me coming back for more, that makes the challenge enticing, and I just never felt that here.