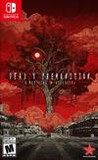 Summary:

In the year 2005, FBI agent York visits Le Carré, a small town in New Orleans where he encounters a mysterious serial murder case alongside his "friend" Zach. Produced by the original creator team. The story takes place in a small town in New Orleans which was created based on research and

In the year 2005, FBI agent York visits Le Carré, a small town in New Orleans where he encounters a mysterious serial murder case alongside his "friend" Zach. Produced by the original creator team. The story takes place in a small town in New Orleans which was created based on research and interviews.

…

Expand
Developer:

Toybox Games

Genre(s):

Action Adventure

,

Survival

# of players:

No Online Multiplayer

Cheats:

On GameFAQs

Rating:

M
Please enter your birth date to watch this video:
You are not allowed to view this material at this time.
Deadly Premonition 2 - Release Date Announcement Trailer
The Last of Us 2 epitomises everything about overly-produced, mass market-friendly content that many of us are becoming exhausted with. SWERY, knowing full well that his game will be castigated on Metacritic and widely mocked, has satirised every mainstream expectation of a video game in Deadly Premonition 2. There's nothing that suggests that anything within this game is not an entirely deliberate, surrealistic subversion of expectations, and while Deadly Premonition 2 is not for everyone (and potentially offensive to some), games as an art form are better off having works like this to exist in parallel to mainstream entertainment.

It's a bold, funny, scary, unbelievably intense way of getting closure for the previous game. As such, it's a masterpiece that's difficult to recommend because it can only be fully appreciated by those who are already deeply invested in Zach's story. Still, I have to recommend it because it provides a more powerful ending to the Deadly Premonition story than I ever would have expected, and a better experience than we probably deserve.

Deadly Premonition 2: A Blessing in Disguise is exactly the sequel to Deadly Premonition a fan of the original should expect. This is a game that really respects the player's intelligence, but puts a lot of faith into their willingness to keep an open mind.

The hardest part about reviewing Deadly Premonition 2 is that in a lot of ways it's exactly what fans of the first game wanted. It's a broken mess that controls like a dog on roller blades that looks ugly and runs even worse, with the bizarrely charming writing that only somebody like Swery65 could bring to the table. Nobody in Le Carré feels quite Greenvale levels of weird, but they're all a bunch of weirdos all the same. Well, except David, he'd fit in Greenvale pretty well. If you like the first Deadly Premonition you likely already know what you want and what you're getting into, and you'll likely be pretty happy with this sequel. Your everyday average player should probably weigh how much jank they're willing to put up with before giving this game a shot, though.

Deadly Premonition is both very hard and very easy to recommend. For fans of the series it's a no-brainer. It's another 30 hours with York and his gang of nutty friends. The story is Twin Peaks meets True Detective put through several extra filters of oddness. For newcomers to the series the gameplay, graphics, animation and loading times may simply be insurmountable obstacles. For those that can look past it there are so many interesting ideas at play and the game can be genuine fun. In short it sucks, but it may also be one of the more interesting games of the year. It's destined to be a Let's Play classic.

Deadly Premonition 2 is up there with Travis Strikes Back levels of weirdness, but much like Suda 51's hack 'n' slash Switch exclusive, Deadly Premonition 2: A Blessing in Disguise isn't really a blessing for Nintendo's hybrid console. If this second title in the Deadly Premonition series sacrificed its Switch exclusivity and had more development time, it may have been saved from being a sloppy mess that doesn't deserve its otherwise fantastic story and loveable cast of characters.

Deadly Premonition 2: A Blessing In Disguise is a broken game on multiple levels. Its narrative is broken, in that its interesting core mystery fails to engage due to the most agonizing delivery possible. Its ideologies are broken, as it seems to think trans people are evil, women are weak, and black people are sentient stereotypes. The rest of it – the abysmal gameplay, unacceptable performance, tendency to crash – is no better.
I would love to give it a 10 but the framerate and alot of other tech issues, like missions not popping and crashes keep me from doing so. It

I would love to give it a 10 but the framerate and alot of other tech issues, like missions not popping and crashes keep me from doing so. It is a love or hate game and ithink it has alot going for it. Give it a try. I love it, u may not.

…

Expand

Game good, frames bad all you need to know.
Who thought i was a good idea to relese 3th person shooter runining down to 10 fps :(

The graphics are straight from a ps2 and the fps is barely more than 10. Even when the gameplay and story are good, these 2 things are

The graphics are straight from a ps2 and the fps is barely more than 10. Even when the gameplay and story are good, these 2 things are completely unacceptable and make this game unplayable. Hard pass.

…

Expand

Let me start off by saying I love weird wacky Japanese games and the first DP1 had its moments but this game is just tedious and boring. So

Let me start off by saying I love weird wacky Japanese games and the first DP1 had its moments but this game is just tedious and boring. So much padding was added to make the game longer than it should be. Following a dog on your skateboard for like a good 20mins with nothing interesting happening. Running up and down stairs in a building to fix some plumbing which was a chance to add a fun minigame/puzzle but instead is literally just press a button to turn the wheel. Fighting the same boring, easy enemies again and again. Zero replayability in this game.

…

Expand

An awful, terrible, annoying waste of time. All the people giving tens are wannabes that think if one person thinks something is avant-garde

An awful, terrible, annoying waste of time. All the people giving tens are wannabes that think if one person thinks something is avant-garde then they all should think it's a masterpiece, no matter the quality. Either that or they were just too blindly in love with the first game that they openly accept whatever trash Swery could conjure up. He's made good games, but this... is a bad game.

…

Expand