Publisher:

Nintendo

Release Date:

Jun 24, 2022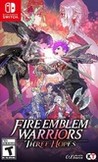 Summary:

Join Fire Emblem: Three Houses characters as you engage in massive battles across Fódlan Edelgard, Dimitri, Claude, and other Fire Emblem: Three Houses characters return to put their combat expertise on display as you revisit a war-torn Fódlan. Unleash devastating combos and striking special

Join Fire Emblem: Three Houses characters as you engage in massive battles across Fódlan Edelgard, Dimitri, Claude, and other Fire Emblem: Three Houses characters return to put their combat expertise on display as you revisit a war-torn Fódlan. Unleash devastating combos and striking special moves in action-packed, real-time combat. Cut through hordes of enemies as characters from the Fire Emblem: Three Houses game. Take down dozens of foes with Edelgard's axe or Dimitri's lance, or blast enemies from a distance with Claude's bow. Slash, swing, and spear your way to a brighter future for Fódlan.

…

Expand
Fire Emblem Warriors: Three Hopes exists for people that liked Fire Emblem: Three Houses. It takes the narrative and characters of the original tactics RPG and provides an "alternative history" take on events, and that was an inspired way to allow the game to be both familiar while telling its own story. For anyone that fell in love with the characters the first time around, this approach makes this take very hard to put down, no matter how frequently you play the Musou releases. My overwhelming impression of this game is that it exudes confidence. Koei Tecmo's team had a clear vision on how to turn everything that people loved about Fire Emblem: Three Houses and turn it into an action game, and with the exception of one new character that turns out to be a Jar Jar Binks-level misfire, they have delivered on that vision. Or, to put it simply: people loved Three Houses, and for all the reasons that they did love that game, they will also love Three Hopes.

Swich gets another fine exclusive game interconnected with other games. This one represents Fire Emblem in each part of the core mechanism including social interactions, support points and even strong plot told in several storylines. And putting dozens of characters to Musou-style battles is more encouraging than ever.

Fire Emblem Warriors: Three Hopes seems to succeed in both capturing the essence of its original and embodying the enjoyable action that musou series always offer. While the amount of information on its complicated system can be a problem for newcomers, it is certain that the game gives fresh musou experience from if once you are adapted to it.

Three Hopes serves up a fun story that will definitely please a lot of Three Houses fans, and despite a few character missteps here and there, it's well worth experiencing. Just be careful not to fall to the dark side.

It's so easy to recommend Fire Emblem Warriors: Three Hopes to not only fans of Fire Emblem, but also those simply seeking a high-octane action game. And if you also happen to enjoy politically-charged stories, you'll absolutely fall in love with it. This is, without a doubt, one of the best Warriors games yet, taking strategy elements of the Fire Emblem series to embellish the gameplay in all the right ways. And the masterstroke is that, despite being set in the same world as Fire Emblem: Three Houses, its narrative cleverly makes playing that title an option rather than a necessity.

Fire Emblem should be the perfect partner for Dynasty Warriors style action, but this incompetently made crossover squanders its potential on trite fan service and hollow gameplay.
Three Houses is masterpiece AND Three Hopes is masterpiece too. I don't like Musou, but this game captured me. The designs of many characters

Three Houses is masterpiece AND Three Hopes is masterpiece too. I don't like Musou, but this game captured me. The designs of many characters have become even better (Mercedes, I love you), the gameplay is very interesting - there is both action and a bit of tactics. The graphics are excellent for Switch, and the game has excellent performance.

…

Expand

It's a pretty good game. Don't listen to the people **** on this for the story, most of them are doing it based on leaks without context. The

It's a pretty good game. Don't listen to the people **** on this for the story, most of them are doing it based on leaks without context. The characters are consistent with their three houses self and we get to see some interesting new facets of them in action. If you liked Fire emblem three houses story than you will enjoy it.

…

Expand

I must admit I have my doubts about this game because I love Fire Emblem Gameplay and I thought It would be a repetitive button smasher game

I must admit I have my doubts about this game because I love Fire Emblem Gameplay and I thought It would be a repetitive button smasher game but I was wrong, the strategy elements are there and all other elements that made Three Houses an amazing game are there too. It's incredible that they made new routes, the characters are back and the roster is incredible big. Thanks Nintendo!

…

Expand

How I rate this game:
Up to 1 point for each category: Story, Gameplay, Music, Characters, UI/Fluidity, Graphics, Time of Play,How I rate this game:
Up to 1 point for each category: Story, Gameplay, Music, Characters, UI/Fluidity, Graphics, Time of Play, Customization, Emotional Impact.

Story: .6
Gameplay: .6
Music: .5
Characters: .5
UI/Fludity: 1
Graphics: .9
Time of Play: 1
Customization: .8
Emotional Impact: .3

Total: 6.2

Story: I only played 1 route, which was enough for me (Black Eagles). I did play a little bit of maddening mode for the Blue Lions, but I don't feel like it's worth my time. The story is a "what could happen" scenario if you played Three Houses. Nothing too great about it.

Gameplay: It's fun for a few hours, then it becomes stale fast. There are some cool missions in the game that catch you off guard, but outside of that, this game is super repetitive. I've played Dynasty Warriors Empires 8 and spent more time on that game than this one.

Music: The music was meh. I don't remember anything that I thought was catchy or special. The music was just there.

Characters: There are way too many characters. I skipped many of the conversations between characters. Reason one: Too many characters that you don't give a tooth for. Two: Conversations were dull. For the characters I liked, I feel like you can't get to know them unless you have everyone talk to them, and that's not worth my time. Even then, I feel like those characters would be lacking because most of the characters could easily get kicked out of the game, and the endings wouldn't change.

UI/Fluidity: Speedy loading time, and the UI matches the game story. Nothing much to say. This was probably the only part of the game that was amazing. The game was fluid in fights too.

Graphics: The graphics are what you expect. Anime style that makes most characters look attractive and waifu material.

Time of Play: I spent 40 hours playing 1 route. (On Hard Mode + Side Quests). You can easily go over 120 hours on this game because there are 3 routes. However, I still don't believe it's worth my time.

Customization: There are a lot of ways to play this game, but let's be honest, I was only using swords and had an axe army attached to my main character. Got through the game without a sweat. You can change many things for battle or help improve your units, but what's the point if enemies aren't going to force you to change?

Emotional Impact: This game does nothing much for me. Just a few hours of nostalgia from playing Three Houses, but that was it. I don't remember laughing, crying, etc. Instead, there were times when I felt annoyed, godly, and probably annoyed again for the fact that they took out the marriage system.

Verdict: This game is not worth the money unless you are a "die-hard three houses fan." I liked Three Houses a lot, but this game pales compared to it. Very repetitive and lackluster. Like I said earlier, I played Dynasty Warriors Empires 8 far longer than this game, which was made for the PS4. IT WAS MADE YEARS AGO! This game was fun for a few hours, but after that, you'll never touch the game again or will power through it until you beat it like me.

…

Expand

About story and characters:
a seriously publicity fraud
and all three line seemed like unfinished Gameplay: good part: lightning fastAbout story and characters:
a seriously publicity fraud
and all three line seemed like unfinished
Gameplay:
good part:
lightning fast loading,
not the best but a good musou system.
bad part:
There's not much unique class even less than Fire Emblem Warriors.
Hit reaction is even worse than any other musou games.

…

Expand

This review contains spoilers

, click expand to view

.

FCK #threehopes to the dead! Fck this ge so much! The worst MF trash game ever! I defended Edelgard more than an hour and this who.e died in seconds after ambushed and my entire effort wasted. FCK, FCK, FCK YOU SO MUCH MOTHA FECKER SON OF B!TCH GAME! FCK YOU

…

Expand