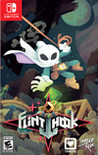 Summary:

Assume the life of space captain Flinthook. Armed with your mighty hookshot, your uncanny slow-motion powers and your trusty blasma pistol, plunder and fight your way through an infinite variety of randomly-assembled spaceships for treasure, loot and fame. [Nintendo]
Developer:

Tribute Games

Genre(s):

Action

,

Platformer

,

2D

# of players:

No Online Multiplayer

Cheats:

On GameFAQs

Rating:

E10+
Nintendo Force Magazine

Apr 25, 2018

Flinthook could have been a perfect 10. As it stands, it's still more than worth latching onto. [Issue #33 – May/June 2018, p. 18]

This is a brilliant title, and one I'm happy to see moving to every console possible. Buy this game to support meticulous design, and condemn mediocrity by doing so. Flinthook is marvelous, it's outstanding, and although it's bloody hard, it's rewarding. It deserves another slice of love to be poured upon it nearly a year after initially hitting our gaming devices.

Make no mistake about it - Flinthook is a really well crafted, charming and fun experience. To a certain extent, however, it feels impeded by the constraints of its genre. It is one of tightest action platformers and addictive rogue likes around, but due to the randomly generated levels, you will encounter the odd frustrating spike in difficulty or structurally very similar areas in close proximity.

Flinthook has a sound base, complete with an excellent grappling hook mechanic and a distinctive, fun mode of movement. The roguelite design leads to some repetition, but the gorgeous art and great style (even in the face of well-worn scenery) helps make up for that and other shortcomings. Be prepared to die a lot, but if it clicks for you, be prepared to want to jump right back in for another go.

Flinthook falls short of being amazing. It came so close and misses the mark because of the misguided reliance on procedural level design and timid approach to roguelike mechanics. This is still a pretty fun title with some very energetic and catchy music that makes the action feel exciting.

A charming pixel-based roguelike pinned down by its unfriendly approach towards player progression. Flinthook will be rewarding for some, whilst providing controller-throwing levels of frustration for others.
This publication does not provide a score for their reviews.

This publication has not posted a final review score yet.

These unscored reviews do not factor into the Metascore calculation.
Breathless action combines with perfect pixel art in a game of real character and delight. [Recommended]
This game is a lot of fun, it is pretty much a rogue-lite but without so much randomization dictating your current playthrough. I almost beat

This game is a lot of fun, it is pretty much a rogue-lite but without so much randomization dictating your current playthrough. I almost beat the first boss (as well as the first three stages) without any upgrades. However, with upgrades it made the process a lot easier while also adding more enemies and changing the overall stages a good bit. I HIGHLY recommend this on the Switch but it can be good fun where ever you end up picking it up.

…

Expand

A challenging platform game with roguelike elements.

The gameplay is great, with the feeling of making a bit of progress with each loss.A challenging platform game with roguelike elements.

The gameplay is great, with the feeling of making a bit of progress with each loss. The graphics and animations are superb, and the music is great.

…

Expand

Una genialidad indie, "Flinthook" fusiona los géneros roguelike con el de plataformas de acción y crea un juego muy adictivo que tiene

Una genialidad indie, "Flinthook" fusiona los géneros roguelike con el de plataformas de acción y crea un juego muy adictivo que tiene mecánicas muy interesantes que crean una experiencia muy personal dependiendo de qué atributos le des al personaje.
Los controles son magníficos por difícil que parezca controlarte con el gancho es muy intuitivo, te permite sentir que tienes todo el control en cada escenario. Sin lugar a dudas es un juego que aunque parezca pequeño tiene mucho para ofrecer.
Es ideal para una Nintendo Switch para poder combinarlo con la portabilidad del equipo. Un recomendado si quieres una experiencia independiente que atrape tanto como un AAA.

…

Expand

Cast: 7/10
Story: n/a
Fun: 7/10
Gameplay: 7/10

Recommended
----------------------

Flinthook is a pretty good game, but I think that there are other (newer) similar games that do almost everything better.

The graphics areFlinthook is a pretty good game, but I think that there are other (newer) similar games that do almost everything better.

The graphics are great, designs and animations are top-notch. If I have a gripe about the visual presentation, it's about environmental hazards. I rarely spot them when I enter the room, especially if there are lots of enemies around shooting tons of bullets. I often play without sound and the retractable floor spikes are practically impossible to notice without the sound. Also, enemy ships all look identical to each other, there aren't many variations in backgrounds.

The sound design is okay, but I do find the tracks a bit repetitive.

The story isn't worth mentioning.

And now for gameplay. Controls are tight, but I find the jump arc a bit hard to manage (not a knock on the game). I suck at aiming with the right stick, so I find some of the hook-based platforming a bit frustrating. There aren't quite enough enemy types to add lots of variety to the gameplay and tactics to be used, so battles aren't super exciting. It's still pretty fun, but it gets a bit stale after a while.

For added difficulty, environmental hazards really kick things up a notch. However, the invincibility time is quite short (I know there's a perk to lengthen it), and if you get knocked by a hazard, expect a hard time getting back into a non-damaging position.

Having said all that, Flinthook is a pretty good game. However, a game like Dead Cells - which admittedly functions very similarly - does everything better in my mind, from item/skill progression to enemy types, level design and variety. Therefore, I cannot recommend Flinthook before Dead Cells.

…

Expand