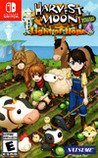 Summary:

Looking for a fresh start and some new surroundings, you set off on a voyage to begin your new life. Unfortunately, the weather has different plans, as your ship is hit by a monsoon, and goes down! You drift into a small harbour town, now in shambles from the storm, where a young doctor

Looking for a fresh start and some new surroundings, you set off on a voyage to begin your new life. Unfortunately, the weather has different plans, as your ship is hit by a monsoon, and goes down! You drift into a small harbour town, now in shambles from the storm, where a young doctor named Jeanne saves your life. The town has essentially been deserted, but you're never one to back down from a challenge! It will be up to you to help rebuild the town and save the lighthouse... but it won't be easy! Nevertheless, with some hard work growing crops, tending livestock, and gathering materials for repairs, you will be able to make new friends, start a family, revive the lighthouse, and save the town, your new home!

…

Expand
Genre(s):

Strategy

,

Management

,

Business / Tycoon

# of players:

No Online Multiplayer

Cheats:

On GameFAQs

Rating:

E
Please enter your birth date to watch this video:
You are not allowed to view this material at this time.
Harvest Moon: Light of Hope - Special Edition PS4 Trailer
Harvest Moon: Light of Hope Special Edition takes the famous and veteran saga to the new Nintendo system. This delivery manages to maintain the basics of the saga even when it is not made by the same developer as always, although we must point out that it falters in several aspects and above all, does not include much innovation compared to its predecessors.

Harvest Moon: Light of Hope brings the core Harvest Moon concepts to the table but it doesn't do anything more than that. The lack of item variety and multiple missing gameplay elements really shows. It's still addictive but not a worthy successor to the franchise.

Although the core gameplay is solid, it's not as engaging as it should be, and all the excitement fades away after a few hours.

Slow-paced, full of grinding and quite ugly, this Harvest Moon isn't for everyone. If you enjoy the genre you'll get something, but others won't have the patience.

There's nothing really new or interesting in Harvest Moon: Light of Hope. Even if it's still the same chill, low-pace game, it's technically outdated, and too far from Story of Seasons and Stardew Valley's richness.
I really wanted to play again this kind of game and I loved it! The story is wonderful and it looks great.

This game is fun but lacks a lot of polish and features that is expected for modern gen games. If you love farming games and have beaten

This game is fun but lacks a lot of polish and features that is expected for modern gen games. If you love farming games and have beaten Stardew to death, this game can scratch an itch. It's more casual then most HM games and feels more like an upscaled mobile game then a console game. It also recycles assets from prior 3DS games which is jarring if you've played them. The sounds/music is terrible so I keep it off. I like the characters and their stories. The male marriage options are very interesting which is great! Typically male marriage candidates are one note and feel like an afterthought. I like the new farming mechanics for new crops in this one. It feels less chores driven. It's easy to progress and make money. The sprites emotions are terrible though, they are like emojis. Spring year 1 is also very boring - like literally put me to sleep - but once I slogged through the first few weeks and opened up more of the town I started having fun and enjoying the chill atmosphere. Overall has an fun, chill, but unpolished and not modern feel.

…

Expand

it doesn't have as much charm as the previous games but it's still a kind of solid farming sim

If you've never played a Harvest Moon or Rune Factory game before this might scratch an itch. The problem for this game is that Stardew Valley

If you've never played a Harvest Moon or Rune Factory game before this might scratch an itch. The problem for this game is that Stardew Valley exists. Stardew Valley looks better, plays better has a LOT more content and is less than half the price.
Graphics.
I can see the idea "We have a 3D capable platform - so we better use it". But it isn;t good. The characters look "laid on" to the ground and their perspective to the ground they are on isn't right. Also by making them so big (yet not detailed) there is so much less of an area on screen. I am finding I'm getting disorientated all the time becasue so little is on the screen. The graphics aren't terrible but they aren;t that good and trhe move to 3D seems like a tick box rather than a well thought out feature.

Gameplay
The core gameplay is pure Harvest Moon. It isn't as precise as I would like. Having played them all (that I'm awareof )and all the Rune factories you soon get upset at watering the wrong patch, the fiddly selection. When you've played other games in the same series and have no problems with those then you know it's the game design and not you.

Content
It's very light on gameplay. Almost a roll back to the erly Nintendo GBA games but wihtout the pick up and play charm, ease of control. There really is not a lot of depth here and where the comparisons to Stardew vallety really struck me. It was what wasn't in the game, the things I couldn't do that stuck out.

Value.
HOW MUCH!!! Ok it's not the most expensive game, but it feels anbd plays like a freeware flash game and £35 or $40 seems about twice the price this game should be. Again Stardew Valley is better in almost every regard and is a third of the price.

Summary

I really don't know why anyone would buy this game unless they had completed everything in SDV and wanted a weak sauce version of the same game, with less content, less tightly implemented controls a clunky and awkward implementation of 3D with much less content and at a price point 300% higher.

3 is a red bar score here on Metacritic. But that's all this is worth.

…

Expand

Rather ugly game with very awkward controls. It goes from hours of slow paced, hand holding fetch quests to giving you no direction and

Rather ugly game with very awkward controls. It goes from hours of slow paced, hand holding fetch quests to giving you no direction and leaving you wondering how to progress. Male characters can only romance females characters and vice versa. Just buy console stardew if you want a game in this genre.

…

Expand

I bought this game since I have always been a fan of Harvest Moon and wanted to see what one of the newer games are doing, and trust me when I

I bought this game since I have always been a fan of Harvest Moon and wanted to see what one of the newer games are doing, and trust me when I say this; do not buy this game.
It is not made by the same people as the original games, as Natsume is now using the title "Harvest Moon". The original games are now under the title "Story of Seasons" which is 10x better than this game.
The graphics are mediocre, the characters are 3D but the backgrounds and objects feel very flat and 2D, making it very... interesting to look at. Unlike the original series, all the characters are the same as the last few games, almost no new characters at all.

…

Expand

Only harvest moon in name due to court ruling that Natsume (US company, was localizing company) got to keep the name. Original developers

Only harvest moon in name due to court ruling that Natsume (US company, was localizing company) got to keep the name. Original developers Marvelous now create a game called Story of Seasons. Don't get fooled by the court awarding the name of a 20 year series to the localization company who had no hand in actual development before.

Glitch riddled, poor character development, and poor graphics for the price. Literally came out as a iphone game then was "upgraded" into a PC/PS4/Switch Game. But if you played the iphone game then there where NO CHANGES. Save your money, games where not this glitchy and poorly worded even in the 90's. Gave it a change to have more farming games to play this will be the last time they get my money.

Overall I would say save your money.

…

Expand