Publisher:

Nintendo

Release Date:

Nov 20, 2020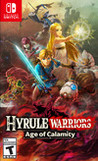 Summary:

See Hyrule 100 years before the Legend of Zelda: Breath of the Wild game and experience the events of the Great Calamity. Join the struggle that brought Hyrule to its knees. Learn more about Zelda, the four Champions, the King of Hyrule and more through dramatic cutscenes as they try to save

See Hyrule 100 years before the Legend of Zelda: Breath of the Wild game and experience the events of the Great Calamity. Join the struggle that brought Hyrule to its knees. Learn more about Zelda, the four Champions, the King of Hyrule and more through dramatic cutscenes as they try to save the kingdom from Calamity. The Hyrule Warriors: Age of Calamity game is the only way to firsthand see what happened 100 years ago. - Battle hordes of Hyrule's most formidable foes - From barbaric Bokoblins to towering Lynels, Ganon's troops have emerged in droves. Playable heroes like Link, Zelda and more must use their distinct abilities to carve through hundreds of enemies to save Hyrule from the impending Calamity.


…

Expand
Developer:

Omega Force, Koei Tecmo Games

Genre(s):

Action

,

Beat-'Em-Up

,

3D

# of players:

No Online Multiplayer

Cheats:

On GameFAQs

Rating:

T
Please enter your birth date to watch this video:
You are not allowed to view this material at this time.
First 21 Minutes of Hyrule Warriors: Age of Calamity Gameplay
I do think that Hyrule Warriors: Age of Calamity will mean more to people who have played Breath of the Wild, and that's fine. For Zelda fans, there's no way they haven't played it anyway. For Musou fans coming to Age of Calamity from that angle, the sell's a little harder. The narrative that it weaves are great. The presentation is impeccable, and each and every one of the characters are fun to play with. It's just that where the original Hyrule Warriors felt like a love letter to the history and heritage of Zelda, Age of Calamity is more immediate, and that's just a little less of a celebration, though with the tradeoff being it actually contributes to the lore. For me, that's a worthwhile tradeoff, and I didn't even have the assumed knowledge going in.

Hyrule Warriors: Age of Calamity is a joy to see out 2020 while we wait for the next Zelda.

Hyrule Warriors: Age of Calamity, is a defining example of what you can do with musou games in the right situation. Not only does it shine Breath of the Wild's enjoyable characters in a new light, but it also provides a new lens to experience Hyrule through. It's an experience that is as much musou as it is Breath of the Wild, but integrates ideas from both, and melds them in interesting ways that's guaranteed to please fans of either game type. If you're a fan of Breath of the Wild, or musou games in general, Age of Calamity is well worth your time and attention, even if the Switch sometimes struggles under its ambitions.

Approached with the knowledge that this is a full-featured side-dish, you'll have a very good time hacking and slashing your way through Calamity Ganon's minions in Hyrule Warriors: Age of Calamity; just remember that despite its sparkling presentation, it is still not a Zelda game. What it is is a brilliant Zelda-infused Musou experience filled with varied and satisfying combat and Breath of the Wild additions that work beautifully within the boundaries of the Warriors template. The care and attention given to detail here is hugely impressive. We found performance to be adequate and, crucially, it didn't affect our enjoyment throughout — just be prepared for a slideshow once the pyrotechnics start in two-player co-op. In many ways, Hyrule Warriors: Age of Calamity could be exactly the game you need right now.

Like its predecessor Age of Calamity delivers an entertaining mass brawl in the Zelda universe, albeit one that is held back by some of the same problems that all of Koei's Warriors face, mostly monotony setting in eventually.

If The Legend of Zelda: Breath of the Wild is the calm, reserved child, then Hyrule Warriors: Age of Calamity is its loud, rowdy older sibling. The action starts at 10 and never lets up, giving me battle after battle of tight and fun Musou action. The story beats are for the most part great, but a few of them definitely left me wanting for more and not in a good way. Age of Calamity delivers on the action-heavy goods, just don't come in here expecting the story to blow anyone's minds...and that's the real Calamity.

The best Dynasty Warriors style game ever made, which means it's slightly north of mediocre, with simplistic combat, weak storytelling, and a whole lot of repetition.
Juegazo de principio a fin!, banda sonora épica y muy adictivo! Pero no lo juegues si no has jugado a Breath of the Wild

Muy buen juego, con una dificultad que puedes graduar según tu habilidad. La jugabilidad es muy buena acompañado de cinemáticas en el momento

Muy buen juego, con una dificultad que puedes graduar según tu habilidad. La jugabilidad es muy buena acompañado de cinemáticas en el momento adecuado no corta la acción. Si tienes tu Nintendo Switch descarga la demo y juega los niveles disponibles cambiando la dificultad para que pruebes.

…

Expand

Love it, addicted to it, wish there was more of it. I know people with scared that the game story would ruin Breath of the Wild but I feel

Love it, addicted to it, wish there was more of it. I know people with scared that the game story would ruin Breath of the Wild but I feel like it compliments it well while still keeping Breath of the Wild seperate.

…

Expand

This review contains spoilers

, click expand to view

.

La verdad ha sido un juego maravilloso, uno de los mejores si no el mejor musou que he jugado hasta el momento. La historia en si es equilibrada pero llega un momento que si se dificulta mucho, lo cual hace que te tengas que esforzar más. Los jefes me parecieron muy Buenos, sobre todo las irás de ganon rediseñadas. Y también ganon el cataclismo. La música es perfecta, que te da la sensación de estar en una guerra. Maravilloso juego

…

Expand

The game is a strong 8, first i was skeptical but after giving it a try I really enjoyed the combat and the story. It is not a botw2 but it a

The game is a strong 8, first i was skeptical but after giving it a try I really enjoyed the combat and the story. It is not a botw2 but it a decenr standalone game with a lot of content. Took me 79h to finish it completely, but was a lot of fun!

…

Expand

I am like 5 hours in and i really wanted to like this game but its probably not my cup of tea. I never played Hyrules Warrior so i didn't know

I am like 5 hours in and i really wanted to like this game but its probably not my cup of tea. I never played Hyrules Warrior so i didn't know exactly what to expect. I should have played the demo before buying. I am a big fan of Zelda Breath of the Wild and i bought this primarily for the story. To be honest, i expected a more polish experience similar to combat in Zelda Breath of the Wild but it was more like an arcade game to me. It get very repetitive and nothing from the prequel story is coming spectacular. Its nice to see the characters back but i dunno why, i found them to be impostors compared to what they was in the Zelda Breath of the Wild experience. Maybe i expected too much from this title. Lets be honest, the marketing was bad on this one.. when i started playing i was like "oh my god.. not what i expected at all.. it really play more like an arcade game that anything else". I am sorry but it really do not worth its price. I would recommand to pick it up used or when it will be on sale.

…

Expand

Honestly, Hyrule Warriors is a great game, no doubt. When I got it I thought it would end with the champions, well, die but the ending at the

Honestly, Hyrule Warriors is a great game, no doubt. When I got it I thought it would end with the champions, well, die but the ending at the end of the game just ruins Botw for me. I love the idea of Link awakening from a 100 year sleep the defeat the Great Calamity once and for all. I do recommend playing though, especially since you can do multiplayer mode.

…

Expand