Publisher:

Nintendo

Release Date:

May 18, 2018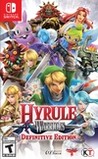 Summary:

A new, ultimate version of the exhilarating action game set in the Zelda universe will include every map and mission, plus all 29 playable characters from both the Wii U and Nintendo 3DS versions of the game, along with all of the previous paid downloadable content. Play as Link, Zelda,

A new, ultimate version of the exhilarating action game set in the Zelda universe will include every map and mission, plus all 29 playable characters from both the Wii U and Nintendo 3DS versions of the game, along with all of the previous paid downloadable content. Play as Link, Zelda, Midna, Skull Kid and dozens more in action-packed battles at home or on the go. Additionally, the game includes new outfits for Link and Zelda based on the Legend of Zelda: Breath of the Wild game.

…

Expand
Please enter your birth date to watch this video:
You are not allowed to view this material at this time.
Hyrule Warriors Definitive Edition - Character Trailer (Japanese)
Those who have played the game on 3DS won't find as much new content, but they may appreciate the much improved graphics and two-player mode. There aren't many exclusive features for those looking to triple-dip, but having everything in one substantial and gorgeous package is enough to warrant considering playing the best version of this hack-and-slash game.

Hyrule Warriors Definitive Edition offers up a lot of content and does a great job of compelling players to unlock more of it. As long as everyone knows what they're getting into though I would definitely recommend this game to fans of the Dynasty Warriors franchise regardless of their familiarity with Zelda. I'd also give a thumbs up to fans of the Zelda games that are into arcade-style action every now and again.

A superb portable Warriors experience with a shocking amount of quality content packed in.

The Definitive Edition is the best way to play Hyrule Warriors. The collaboration with Nintendo has certainly contributed to the birth of one of the best exponents of the mosou genre, but the advice to buy must always be accompanied by the necessary warnings.

This is one of the most fleshed out and content-filled Warriors games I've seen in a long time, and even if you aren't a Zelda fan, there's still plenty here to charm you if you're not turned off by the repetitive combat.

Nintendo Force Magazine

Sep 5, 2018

It might be a little rough around the edges, but it's a glorious Zelda nostalgia trip with some fun action. [Issue #34 – July/August 2018, p. 75]

Zelda may have inspired one of the best Dynasty Warriors games to date but the end result is still well below average by any other standard.
Hyrule Warriors: Definitive Edition is not a perfect game but it is very fun. I haven't played this game on the Wii U or the 3DS so this was a

Hyrule Warriors: Definitive Edition is not a perfect game but it is very fun. I haven't played this game on the Wii U or the 3DS so this was a new experience for me. Sure, i had encountered some problems on the go, not the best experience in handheld mode, but it was simply amazing playing this game. The soundtrack is working so well with the gameplay. Talking about gameplay , it's simply entertaining to slice everything in your way and capture points. I give this game a 10/10 because it was a new experience for me and everything wrong with the game was nothing compared to the hours of joy that i had in this game. HIGHLY RECOMMEND IT! ( especially if you haven't played on any other platform ).

…

Expand

a really unique way to put legend of zelda into a hack and slash based of dynasty warriors. although it has been released on the wii u and 3ds

a really unique way to put legend of zelda into a hack and slash based of dynasty warriors. although it has been released on the wii u and 3ds this one has everything and lots of replay ability, and hundreds of hours of game play.

…

Expand

As usual, just ignore the game journalists who gave this game THE SAME RATING as the Wii U version, despite the fact that it adds every bit of

As usual, just ignore the game journalists who gave this game THE SAME RATING as the Wii U version, despite the fact that it adds every bit of extra content from both the Wii U and the 3DS version, and vastly increases the graphics from 720p/30fps to a full 1080p/60fps. Nothing so far has suggested that the Switch was capable of doubling the frame-rate of a last generation game AND upping the resolution from 720p to 1080p. Usually last generation games are only increased from 720p to 1080p. The Switch may be more powerful than we thought. It's a pity all they did with Breath of the Wild was up it from 720p/30fps to 900p/30fps with slightly enhanced visuals. With massive graphical improvements and ton of content, this easily the best port of a last generation game on the Switch. So the game journalists can buzz off. Whenever they post videos of themselves playing games, we see that they're terrible of them. Would you trust a movie review from somebody who knows jack squat about movies? I'm not claiming I've beaten I Wanna Kill the Kamilla 3 or IVAN, but I have beaten Nethack and I Wanna Be the Guy, which is way more than any game journalist can say.

Anyway, it's good that this was ported to the Switch because it's better than Fire Emblem Warriors. There is more variety in the enemies and the boss battles are more interesting. Also, the characters are more iconic. The only completely new edition to the Switch version is that you can play as Champion Link and thicc Zelda from Breath of the Wild. However, since these are my favorite designs of the two characters, I think it's a nice addition

The gameplay is fun, and if you've played any of the Warriors games you should know what to expect. Lot's of hack and slash action where you swap between characters on the battle field and try to control checkpoints while your armies battle it out with the enemy armies. The story is pretty good too, better than Fire Emblem Warriors. The more powerful enemies and bosses do need quite a bit of skill to beat. I while I wouldn't know for sure yet, I've heard you can get 200 hours of gameplay out of this game. So you get tons of hours of play, 1080p/60fps, and iconic Zelda characters, plenty of reasons to buy it.

Downsides of the game are that even at 1080p/60fps it's still nowhere close to the best looking games on the Switch. Another issue is that most of cutscenes are in 720p/30fps, which is a little jarring. And yes, it's a little repetitive. Still if you buy any Warriors game, this is the one to get. I give it an 8.5 out of 10, which I'll round up to a 9.

…

Expand

Look, Hyrule Warriors is just a Dynasty Warriors game with Zelda skins. I've heard it before, Dynasty-style games are divisive among the gamer

Look, Hyrule Warriors is just a Dynasty Warriors game with Zelda skins. I've heard it before, Dynasty-style games are divisive among the gamer community: you like them or you don't. The two biggest criticism against Dynasty games is that they are button-mashers and repetitive; which is a somewhat fair description. However, the games are much more than what it's top two criticism may infer. The levels in the games have objectives that must or may be met. For me personally, that's the fun part: managing the action in the game. So, really, the game is much more than a repetitive button-mashers.
In terms of Zelda, I love all the great content! I've played most of the Zelda universe games and it's a pleasure to play as characters I've never had the opportunity to play as before. There are mountains of collectibles to attain: weapons, new characters and skins, companion fairies, new stages, etc. I've easily spent 200+ hours trying to collect everything available; I don't think I am even half way done! If you are a true Zelda fanatic, do yourself a favor and pick up the game if you haven't played any of its versions before. If you already know you don't like Warrior games, skip the game and look elsewhere for something more inline with your tastes.

…

Expand

I was torn between 7 and an 8. I actually really enjoy this game, though, so I'm giving it the benefit of the doubt.

Major downsides to beI was torn between 7 and an 8. I actually really enjoy this game, though, so I'm giving it the benefit of the doubt.

Major downsides to be aware of:

- The camera is intuitive, but if you try to control it as you run, it is a nightmare, as it keep trying to autocorrect

- For a game that is supposed to tell you where to go and what missions to take on, I've often found myself wandering and wondering. Then suddenly the mission fails. It takes trial and error over and over until you finally discover some obscure thing.

…

Expand

Hyrule Warriors is truly the definitive edition of a poor game. If you are a Zelda fan you will get a few hours of enjoyment before you start

Hyrule Warriors is truly the definitive edition of a poor game. If you are a Zelda fan you will get a few hours of enjoyment before you start wishing for a real zelda game. If you like hack and slash games you will like this.

At least this better than the Wii U version as the second player doesn't have to play on the tiny gamepad screen.

…

Expand

The core gameplay is just super weak. Cannon fodder everywhere then tough boss fights that are a little better. Total crap, stay away. I'm

The core gameplay is just super weak. Cannon fodder everywhere then tough boss fights that are a little better. Total crap, stay away. I'm surprised Nintendo let this be done to one of their most beloved franchises.

…

Expand