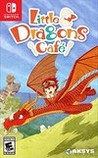 Summary:

Embrace your parental instincts and Raise your very own Dragon! through wise decisions, proper nutrition, and empathetic nurturing show the world the true potential of your Dragon companion.
Developer:

Aksys Games

Genre(s):

Strategy

,

Management

,

Business / Tycoon

# of players:

No Online Multiplayer

Cheats:

On GameFAQs

Rating:

E10+
The exploration will satisfy the adventure crowd, the asset management of finding ingredients and developing better meals will please the RPG fans. It will melt time away as you push to complete just one more day, but values your time because there really aren't very many wasted moments. It's a complete package that is hand tailored to be consumed as intended by the developers, and they've delivered a refreshing experience.

Little Dragons Café is the type of game I walk away from feeling more hopeful in the world. Each chapter ends on such an earnest note that it raises my spirits. Sure, it doesn't have the deepest mechanics, and it's not the most polished title I'll play this year. But it has a soul and a kind heart that uplifts the basic gameplay to a place that makes Little Dragons Café an easy recommendation to anyone looking for a soupcon of positivity in their life.

Little Dragon's Café is a causal sim/exploration game which is simply overflowing with charm. It's easy to get drawn in by the game's forgiving gameplay, great music, heartwarming stories, and dramatic day-night changes, and hard to put down, given all there is to do post-game. While its sim mechanics aren't especially deep, LDC provides a delightful way to escape the woes of the real world alongside your own, adorable pet dragon.

Even with its technical flaws and progression structure problems, I still can't bring myself to dislike Little Dragons Café. When Little Dragons Café hits its stride mid-game, it is indeed a beautiful, relaxing, and wholesome experience that I would recommend to those looking for a more laid back title to cleanse their palette before this busy fall season.

Little Dragons Cafe is a very good and relaxing game about raising a dragon and managing a cafe let down by bad performance on Nintendo Switch.

I want to love Little Dragons Cafe, and up until a certain point in the game I did. But its buggy performance and overall shaky platforming hinder what could be an amazing game.

Little Dragons Café is an extremely tedious exercise in repetition. There's kind of an initial thrill to the idea of managing a café and picking out the recipes that it'll use, but eventually you realize that you don't do much to help out other than providing the basic ingredients and occasionally bussing tables. The only real reward for slogging it out day-to-day is a handful of character focused cutscenes that don't really feel like a meaningful accomplishment. Add in some truly awful field controls and a constantly skipping framerate, and you've got a true recipe for disaster.
(Sorry for my grammar, I'm not a native English speaker) I just got mine a few weeks ago. It's a little pricey compared to what you got for

(Sorry for my grammar, I'm not a native English speaker) I just got mine a few weeks ago. It's a little pricey compared to what you got for the graphics quality ( I guess it's the developer's unique art styles) and I think they could've polished it a bit more. The game is very cute and has such an interesting storyline. There isn't any LOVE factor in the game where you can get a waifu/hubby so please be aware of that before buying it. Overall I would rate this game 8.5/10, It was worth the buy for me.

…

Expand