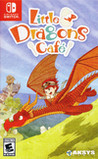 Summary:

Embrace your parental instincts and Raise your very own Dragon! through wise decisions, proper nutrition, and empathetic nurturing show the world the true potential of your Dragon companion.
Developer:

Aksys Games

Genre(s):

Strategy

,

Management

,

Business / Tycoon

# of players:

No Online Multiplayer

Cheats:

On GameFAQs

Rating:

E
The exploration will satisfy the adventure crowd, the asset management of finding ingredients and developing better meals will please the RPG fans. It will melt time away as you push to complete just one more day, but values your time because there really aren't very many wasted moments. It's a complete package that is hand tailored to be consumed as intended by the developers, and they've delivered a refreshing experience.

Little Dragons Café is the type of game I walk away from feeling more hopeful in the world. Each chapter ends on such an earnest note that it raises my spirits. Sure, it doesn't have the deepest mechanics, and it's not the most polished title I'll play this year. But it has a soul and a kind heart that uplifts the basic gameplay to a place that makes Little Dragons Café an easy recommendation to anyone looking for a soupcon of positivity in their life.

Little Dragon's Café is a causal sim/exploration game which is simply overflowing with charm. It's easy to get drawn in by the game's forgiving gameplay, great music, heartwarming stories, and dramatic day-night changes, and hard to put down, given all there is to do post-game. While its sim mechanics aren't especially deep, LDC provides a delightful way to escape the woes of the real world alongside your own, adorable pet dragon.

While it definitely isn't Harvest Moon or Stardew Valley, Little Dragons Cafe manages to stand on its own and offer a simple, charming experience that's easy to love in spite of the technical issues.

Little Dragons Cafe is like ordering a delicious meal, and then finding a hair in it.

With a breezy pace and a comically weird story, Little Dragons Café is a unique take on farming sims. While I loved cooking meals, establishing my inn, and the anxiety-free pace, its management mechanics have been watered down just a bit too much and result in stakes so low that much of it becomes meaningless. Without making important decisions or a wealth of more interesting side-quests to capture my attention, I eventually ended up bored by the repetitive tasks.

Little Dragons Café is an extremely tedious exercise in repetition. There's kind of an initial thrill to the idea of managing a café and picking out the recipes that it'll use, but eventually you realize that you don't do much to help out other than providing the basic ingredients and occasionally bussing tables. The only real reward for slogging it out day-to-day is a handful of character focused cutscenes that don't really feel like a meaningful accomplishment. Add in some truly awful field controls and a constantly skipping framerate, and you've got a true recipe for disaster.
Such a cute game. I'm a hardcore gamer, and so I can see the flaws of this game (framerate issues, pop in, not very challenging ect...)

Such a cute game. I'm a hardcore gamer, and so I can see the flaws of this game (framerate issues, pop in, not very challenging ect...) however the game is so cute and charming, and I love the characters and especially the dragon (I named mine Haru), that I simply do not care. I play it when I want to relax and enjoy some stress free gaming. This game is so cute and innocent it restores my faith in humanity.

…

Expand

It's a simple fun game where you raise your dragon and run a cafe. Story is simple but that's what you expect from a game like this, besides

It's a simple fun game where you raise your dragon and run a cafe. Story is simple but that's what you expect from a game like this, besides the few glitches the game looks pretty.

…

Expand

It's Harvest moon light of **** hope but 100,000,000 times better end of story!

I will say from the start, I did enjoy this game. But it doesn't take too long to realise how repetitive it is. And that's ok if you're all

I will say from the start, I did enjoy this game. But it doesn't take too long to realise how repetitive it is. And that's ok if you're all about the farming, collecting, cooking process . . . over and over and over again. But it does try to progress you through a story, and over time your dragon grows up. This is the hook, but it's not strong enough to outweigh the grinding away you feel at the last few chapters (80% of the way through) which induces cheating the game with acts like going to bed at 7 am just to force through the next event or chapter. That saying, it's a beautiful game, and the exploring is enjoyable. Discovering recipes, going on missions to find someone, making your way up the mountain etc are all things that keep you coming back and wanting more. It's just that it's a little too long to sustain the game format. If this is your type of game (and there are plenty of video reviews to show you if it is) then wait for a sale and get it. It's not bad. It's just long, repetitive and tedious.

…

Expand

Little Dragon's Café es un juego bello. Bello en todo el ámbito de la palabra. Es un juego bello en términos estéticos, con gráficos un tanto

Little Dragon's Café es un juego bello. Bello en todo el ámbito de la palabra. Es un juego bello en términos estéticos, con gráficos un tanto poligonales y colores fuertes, pero da la impresión de ser un juego de 3ds más que de Switch.
La historia se sustenta en resolver problemas cotidianos de distintos visitantes que tendremos en nuestro café, a través de nuestra especialidad que será la comida. No esperen historias épicas o de salvar el mundo, si no más bien dificultades emocionales o relacionales de los personajes que dejan lindas moralejas, en especial a los niños. Lamentablemente el juego solo está en inglés, lo cual será un inconveniente para quienes no manejen el idioma.
El otro eje de la jugabilidad estará en la exploración de distintas zonas de la isla en la que vivimos, las cuales se irán desbloqueando en la medida que avancemos en la historia, la recolección de ingredientes para cocinar y la crianza de tu dragón a través de las distintas etapas de su crecimiento, el cual también viene dado por el avance de la historia.
El juego podría haber sido una gran experiencia en términos de exploración, simulación e incluso algo de RPG, sin embargo, luego de unas horas se torna repetitivo. Ya que el rol de administrar el café no es realmente eso, puesto que la mayoría de las acciones tus ayudantes las hacen de manera automática. El protagonista solo debe preocuparse de crear nuevas recetas y que no se agoten los ingredientes para éstas, lo que le resta muchas acciones en las que podríamos estar involucrados.
En general, LDC es un juego entretenido, muy emocional y estéticamente bello y agradable. Hay varias zonas, ingredientes y personajes por descubrir. Así como también la idea de criar y eventualmente montar a tu dragón para transportarte es realmente genial. Lamentablemente, el sentido de progresión es bajo. Las acciones que podemos hacer están limitadas a recorrer zonas nuevas, recolectar ingredientes y descubrir recetas, lo cual no resulta suficiente para mantenernos enganchados por mucho tiempo. De todas formas, es un juego recomendable para quienes les gustan los juegos lindos o de simulación tipo Harvest Moon.

…

Expand

This game feels cheap, which is very disappointing considering that it´s almost as expensive as the biggest and best executed titles on

This game feels cheap, which is very disappointing considering that it´s almost as expensive as the biggest and best executed titles on switch.
The mechanics do not feel smooth, and I personally am not a fan of the game´s visuals. There are a lot of different art styles mixed in a strange way, from a beautiful drawn style of the background of the inner café to cheap feeling bright colors outside and bad textures.
The story is told in such a short and plain way in the beginning that it felt like a bad joke. It´s literally: Your mom falls asleep, a strange man appears from nowhere, tells you she´s half dragon, gives you a dragon´s egg and tells you to raise the dragon to ask it for help, all within what feels like one minute.
Beneath that, the game is pretty repetitive, you´re basically farming ingredients all the time.
Moreover, farming means going outside and pressing A on bushes which always look the same, strange flowers and butterflies on them, and they randomly drop carrots or onions or whatever else. Also, your dragon finds ham in little caves. (?)

I´m very disappointed because I thought the idea of the game was so cute.
Not a big fan of the execution. Glad to at least have bought it on sale.

…

Expand

This game is. . . eh. It was fun at first, but that ended, when it became clear just how repetitive this game is. It has almost no freedom.

This game is. . . eh. It was fun at first, but that ended, when it became clear just how repetitive this game is. It has almost no freedom. You collect ingredients, you make recipes, you serve customers, and you watch scenes. That's the game. I finished it because I am attempting to finish every game in my collection unless I absolutely hate it, and this was not a hate, but it also was not a like.

If you plan to only play so long as you have fun -- then great, you might enjoy it, but you won't likely see the whole story. If you want to see the whole story -- well, it's about 10 hours too long, and that'll be a slog. Basically, it's fun at first. It's cute, exploring is fun, and so it riding your dragon -- but that will end and then you're stuck doing the same thing everyday, coming home at the right time to see your next scene, so that you can move on, and do the same thing on the next day.

…

Expand