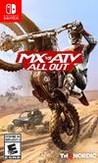 Summary:

All Terrain, All Vehicles, All You! MX vs ATV All Out is the complete off-road racing and lifestyle experience. Choose between bikes, ATVs, UTVs, refine your rider style at your private compound and blast across massive open worlds to compete head to head in various game modes! The all new

All Terrain, All Vehicles, All You! MX vs ATV All Out is the complete off-road racing and lifestyle experience. Choose between bikes, ATVs, UTVs, refine your rider style at your private compound and blast across massive open worlds to compete head to head in various game modes! The all new Freestyle mode allows you to win with style and crazy stunts! Or go All Out and show your riding skills in Multiplayer.

…

Expand
Developer:

Rainbow Studios

Genre(s):

Racing

,

Simulation

,

Automobile

# of players:

Up to 16

Cheats:

On GameFAQs

Rating:

E10+
Despite some of the same issues of other versions, MX vs ATV: All Out somehow feels at home on Nintendo Switch.

If the game suits perfectly on the Switch as something to play on the go, making full use of the system's handheld qualities, it also feels somewhat dated when it comes to its technical aspects and something that doesn't strive to reach the same threshold as its peers. All in all, a fun and varied game, but one that could make an effort to be up to its counterparts of today.

While a flat tyre performance and empty tank when it comes to DLC make it difficult to recommend over the already released PlayStation and Xbox versions, MX vs ATV All Out is a competent Switch port, with plenty of customisation options and gameplay variation.

I have no doubt that those who are into motocross and its associated sports will get some kicks out of MX vs ATV All Out and its numerous modes and racers, but it does come across as a cash-grab with poor graphics and performance on Switch. If you're simply looking for a racing game to play on the go, look elsewhere.
In my opinion this is the best racing game on the Nintendo Switch right now, it has some really fun modes like waypoint, opencross,

In my opinion this is the best racing game on the Nintendo Switch right now, it has some really fun modes like waypoint, opencross, supercross, free ride, freestyle, lots of maps to play even whitout the dlc's.

…

Expand

MXvsATV All Out is easily the greatest mxvsatv game to date and the best motocross game on the market right now. Yes, better than reflex and

MXvsATV All Out is easily the greatest mxvsatv game to date and the best motocross game on the market right now. Yes, better than reflex and yes better than Supercross the game. Anybody who dislikes the game simply never gave it a real chance, especially now with how far the game has come since release. Hours and hours of fun and the track deformation is something you cannot find elsewhere. Countless different tracks including 2019 and 2020 versions of the Pro Motocross National tracks which are also quite cheap. Game has come a long way and cannot wait for the future of the franchise.

…

Expand

The implementation on the Nintendo Switch of "MX vs. ATV All Out" is decent. You get a lot of game for your money. The modes are fun and

The implementation on the Nintendo Switch of "MX vs. ATV All Out" is decent. You get a lot of game for your money. The modes are fun and always challenging. For newcomers and beginners the start of the game is relatively difficult and the first successes come a little later. The controls are fine and the technical components are also good. If you like to have a new racing game for your Nintendo Switch, you should take a look at "MX vs. ATV All Out".

(https://www.playmoregames.de/post/mx-vs-atv-all-out-switch-im-test)

…

Expand

This game looks like it is playing on a last generation system, not to mention the pathetic sound effects. In addition, more than half of the

This game looks like it is playing on a last generation system, not to mention the pathetic sound effects. In addition, more than half of the tracks are not available to use, unless you purchase them from the e-shop! Once purchased, it opens up a handful of tracks, but there are still over 30 that are left unavailable and no way to download them. Nintendo customer service can't even figure it out and THQ Nordic/Rainbow Studios won't even answer their phone. Total garbage and a slap in the face from a studio that used to be wonderful! Do not purchase....all new vehicles and tracks must be paid for...nothing comes with the $40 price tag!

…

Expand