Publisher:

Nintendo

Release Date:

Jan 11, 2019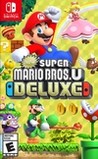 Summary:

Join Mario, Luigi, and pals for single-player or multiplayer fun anytime, anywhere. Take on two family-friendly, side-scrolling adventures with up to three friends* as you try to save the Mushroom Kingdom. Includes the New Super Mario Bros. U and harder, faster New Super Luigi U games—both

Join Mario, Luigi, and pals for single-player or multiplayer fun anytime, anywhere. Take on two family-friendly, side-scrolling adventures with up to three friends* as you try to save the Mushroom Kingdom. Includes the New Super Mario Bros. U and harder, faster New Super Luigi U games—both of which include Nabbit and Toadette as playable characters. Two games in one. Simple, straightforward controls, new playable characters optimized for younger and less-experienced players, and a wealth of bonus content—like a Hints gallery and helpful reference videos**—make this a perfect choice for anyone looking to introduce their family to the wonderful world of Mario. All a player needs is one Joy-Con controller, so two people can team up right out of the box! Tackle 164 platforming courses in the two main game modes and enjoy extra replayability with three additional game modes in which you can also play as a Mii character: Challenges, Boost Rush, and Coin Battle.

…

Expand
Developer:

Nintendo

Genre(s):

Action

,

Platformer

,

2D

# of players:

No Online Multiplayer

Cheats:

On GameFAQs

Rating:

E
Please enter your birth date to watch this video:
You are not allowed to view this material at this time.
New Super Mario Bros. U Deluxe - Official Announcement Trailer | Nintendo Switch
New Super Mario Bros. U Deluxe is a perfect addition to the Switch's ever-=growing library of excellent games. A huge amount of content, coupled with perfectly executed tight controls makes this entry a must play for any and all fans of the genre.

It's amazing how every element comes together for a thoroughly refined platforming experience. The level design is nothing short of genius, and the flawless controls make every leap more joyous than the last. Everyone who hasn't already played through the Wii U version should pick this up immediately.

If you've played the game on the Wii U to completion, then I'd recommend passing on this one as there is little new here outside of a stable framerate, Toadette, and the highly overrated HD rumble. But if you skipped the Wii U and loved Super Mario Bros. 3, then this is a must play. It's challenging (there's even a challenge mode for the True Gamers(tm)), it controls great, and it pays homage while still managing to expand on the series gameplay with a few clever new gimmicks, like baby Yoshi abilities.

The package is totally fine, and outside of Peachette leading to one of the most disturbing memes in recent Nintendo memory, the new character's addition is welcome. Aside from that, the only benefits of this release is that it can be truly played portably and it's on a console a lot more people own.

Despite dashing the dreams of Bowsette fans everywhere, this is a great game made more palatable for gamers of all skill levels, and although sometimes it threatens to be too easy by grafting in characters without really thinking about it, there is a blockbuster amount of content here that is fantastic fun solo, only to be made more exciting by the four-player multiplayer.

Thanks to some sweet, though slightly too light additions - Peachette in particular - New Super Mario Bros. U Deluxe is really for everyone now.

The further you delve into New Super Mario Bros U, the more rewarding it becomes. Its final worlds hold some of its best levels, and there are plenty of fun secrets to enliven the second or third attempt at a level. But it's hard to summon the motivation to devote that much time to it. It's typically well-made and enjoyable, but next to the best of the Mario series, it's unmemorable.
It's a wonderful option if you didn't play this game before. Great platformer, lots of secrets, different environments, great for multiplayer

It's a wonderful option if you didn't play this game before. Great platformer, lots of secrets, different environments, great for multiplayer because it's really fun.

…

Expand

Ok, so let's be realistic here. This is a great game. Anybody who likes Mario platformers, playing this for the first time, and not afraid

Ok, so let's be realistic here. This is a great game. Anybody who likes Mario platformers, playing this for the first time, and not afraid of a little challenge will enjoy this game. I have played numerous games for the Nintendo Switch and this is one of a select few that I enjoyed so much I went back to 100%. The reason for the low ratings appear to be because: a) it's the same game already released for the Wii U.
b) people bought it again because they thought Luigi mode added new levels and all it really does is speed up the clock.
c) it's a little more challenging than they are accustomed to. The reality is that the original game got an 8.0 on metacritic, the game aged well, and new features were added to it. If you already played the game, don't buy it if you're expecting it to be much more than it was before. If you are new to the game, make the purchase, I guarantee you won't be disappointed.

…

Expand

This is another Switch port of a Wii U game (I do hope that this is the last one, as it's getting a bit excessive in my opinion). Thankfully,

This is another Switch port of a Wii U game (I do hope that this is the last one, as it's getting a bit excessive in my opinion). Thankfully, it's also another port of a good game.

New Super Mario Bros. U remains a great platformer, and this "deluxe" release re-affirms that. This version includes the New Super Luigi U DLC, as well as new playable character Toadette. The new Super Crown power-up can be exclusively used on her, transforming her into "Peachette", who can float, use an extra midair jump, and more.

Both Toadette and Nabbit (the latter also being playable in the New Super Mario Bros. U story mode levels for the first time) seem to be aimed at new players. Nabbit in particular doesn't take damage from enemies and is only knocked back by stronger ones.

The extras (where Miis are playable) are nice if you're looking for something different from the main story.

New Super Mario Bros. U Deluxe is not the best Switch platformer, but it's still great and some fun can be had. If you haven't got the original, it's great value for money.

...I just hope that there won't be any more Wii U games ported to Switch. The ones I've played are fun, but more new ideas would be beneficial.

…

Expand

Playing through with my friends 100% was a really good time. there are a lot of levels with pretty good design. getting the coins are as fun

Playing through with my friends 100% was a really good time. there are a lot of levels with pretty good design. getting the coins are as fun as ever. I'd Recommend Mario Maker 2 over this game though

…

Expand

This incarnation of the game feels sloppy and unresponsive. The platforming that is a hallmark of the series is off and sometimes it feels

This incarnation of the game feels sloppy and unresponsive. The platforming that is a hallmark of the series is off and sometimes it feels like you are wearing mittens.

…

Expand

Mario should be dead by now. Same Mario-Bowser-Peach story, same gameplay, same 3HTK bosses, same goalless gameplay. Absolute piece of trash.

Mario should be dead by now. Same Mario-Bowser-Peach story, same gameplay, same 3HTK bosses, same goalless gameplay. Absolute piece of trash. AVOID AT ALL COSTS!

If you really WANT a 2D platformer, JUST GET KIRBY STAR ALLIES INSTEAD!!! It has a BETTER story, NEW mechanics, NEW BOSSES with STAMINA, and a GOAL to STOP THE DESTRUCTION ODF THE UNIVERSE!

So what's it gonna be? A princess or the universe?

…

Expand