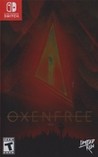 Summary:

Oxenfree is a supernatural thriller about a group of friends who unwittingly open a ghostly rift. You are Alex, and you've just brought your new stepbrother Jonas to an overnight island party gone horribly wrong.
Just last week, Oxenfree was launched on the Nintendo Switch, bringing it to a whole new audience. As one of those new people, I am thrilled to have been given a chance to experience Night School Studio's debut work. A tale of choice, friendship, communication, and what we do if we're given a chance to alter events… Oxenfree is a narrative masterpiece.

A genuinely creepy creation, Oxenfree combines a clever story and smart dialogue mechanics with superbly sinister music to leave a deep and lasting impression on the player, one that should encourage an all-important second playthrough. Fans of Stranger Things and Poltergeist will love the direction this game takes – if not to hell and back, exactly, then absolutely to some other place where horrors abound, just waiting for an invitation into our world. It's yet another Switch essential.

Oxenfree mixes a spooky story, superb soundtrack and vivid visuals to create an experience that is truly memorable. I cannot recommend this game enough to anyone who enjoys getting lost in an atmospheric adventure.

Oxenfree is fascinating. It's best played in a relaxing spot, free of distraction, so the immersion can be best enjoyed. It's short and different, but there is replay value. There's not anything outside of what you can do with the story of the game, other then interact with the world itself. But it's exciting to come back and see how choices can change the plot of the game. Not quite a Telltale-level game, but also not something to pass up. The beautiful visuals, characters, and choices are why I came back to it. And with that radio you just can't turn that down.

Thanks to its remarkable character development, well written dialogue and overall quality of the plot, Oxenfree is certain to strike a chord with fans of story-driven games, even if its length is rather short but that ends up being minimal when faced with the game's surprising developments.

Like a top-notch episode of a great TV show Oxenfree presents a well told singular story in parallel with interesting mythology. Bar a few pacing issues I thoroughly enjoyed my time with the game – and was enthralled with the narrative for huge swaths of the runtime. Oxenfree is a superb addition to Switch's growing catalog of indie games. It may not be a title well suited to gaming on the move, but I found that playing curled up on a couch, in a dimly lit room, was an excellent setting to experience the story. Maybe you will too?

It's an intriguing story, and one I feel is worthwhile experiencing so long as you're not put off by a lack of moment to moment game-like elements. It's just a shame that Oxenfree's design genius is at odds with its pacing.
I just finished this and it blew my mind. I went it knowing it was going to be good from what I had heard but it was so much better than

I just finished this and it blew my mind. I went it knowing it was going to be good from what I had heard but it was so much better than anticipated. 10s across the board. Writing, Story. Graphics. Voice Acting. Very, very good. One of those gems you find that hasn't been influenced by the pressure to be conformitive and do well like most triple-a titles.

…

Expand

This game is an absolute joy. For the first ten minutes or so I thought I had made a mistake as I wasn't liking the characters much, but I

This game is an absolute joy. For the first ten minutes or so I thought I had made a mistake as I wasn't liking the characters much, but I soon got into it as the plot was so good. The story is amazing, the music is amazing, the voice acting is great, and the art style is nice. Minor criticisms would include the music being slightly too loud and the dialogue slightly too quiet, and the speed at which the character moves being very slow. But everything else in the game more than makes up for it. I got this on offer and feel like I got a bargain.

…

Expand

My wish is add to this game Russian Language. Other points made well. Good work for first game.

A pleasant, nice looking, and sounding, little gaming experience. It's short, and yet I was ready for it to be over, but, this is a journey

A pleasant, nice looking, and sounding, little gaming experience. It's short, and yet I was ready for it to be over, but, this is a journey worth taking, if you enjoy variety in your gaming. Visit me on Youtube: PLAYwithGREGG

…

Expand

Oxenfree is an interesting adventure with very good technical values. The graphics, music and voice acting are very convincing and draw you

Oxenfree is an interesting adventure with very good technical values. The graphics, music and voice acting are very convincing and draw you into an interesting story. Unfortunately we have some ups and downs in exploration that make the experience unnecessarily long. You'll be able to beat it in about four hours, but it'll give you a lot more if you want to get the extra endings or if you're interested in discovering some special sequences.

…

Expand

the good: The backdrops are beautiful, the artwork is gorgeous, cool creepy island atmosphere, the music sets the scene perfectly, and the

the good: The backdrops are beautiful, the artwork is gorgeous, cool creepy island atmosphere, the music sets the scene perfectly, and the glitchy graphic effect is used very nicely in the scary parts. There were moments that gave me goosebumps as far as eerieness. I'm glad I played this around Halloween.

the bad: Loading times are ridiculously LONG! To the point where I wasn't sure if I should have been pressing buttons to proceed to the next screen. And there's a LOT of loading in this game. Made me lose interest very quickly. Also, the constant dialogue got really annoying after the first couple of hours, and for someone who doesn't like to interrupt people in conversation, I feel like that was encouraged in this game, when in real life, I wouldn't have felt a need to respond to certain comments. I was happy to enjoy the non-speaking parts when they finally came.

I give it a 6 out of 10, it's a cool spooky experience, but after the first hour or so, I just wanted to get through it quickly because of the slow pacing of everything.

…

Expand

This review contains spoilers

, click expand to view

. oxenfree is a beautifully haunting experience of a game. the music perfectly blends with the chilled game play while constantly keeping you tense. when you finish your first play through you come to a brutally horrifying realization, you didn't stop the loop. so you play through again, and you stop it again. you play again and again until the story finally reaches a boiling point and you break the loop, at a cost.
you never meet nona and nether dose ren, your brother is still dead and you never build your relationship with johnas. oxenfree is a truly amazing game and as I've said before, a must have for the switch.

…

Expand