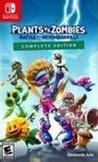 Summary:

Time to shake up the neighborhood block party.

Welcome to Neighborville, where all is well. Except that a crazy new coniferous conflict between brain-less and botanicals is brewing! What are you gonna do call the crops? Soil your plants? Prepare to kick some grass in a plant-on-zombieTime to shake up the neighborhood block party.

Welcome to Neighborville, where all is well. Except that a crazy new coniferous conflict between brain-less and botanicals is brewing! What are you gonna do call the crops? Soil your plants? Prepare to kick some grass in a plant-on-zombie conflict that will take you to the outer edges of Neighborville and back again.

KEY FEATURES

* Customize Every Character for Battle - Join the newest bloom in the age-old battle between plants and zombies with 20 fully customizable classes at launch, including a Team Play class for each faction. Bring the unique abilities of each character class to 6 PvP modes including the new Battle Arena and experience the unbeleafable thrills of combat.

* Venture to the Outer Edges of Neighborville - The tension across the terra has expanded with 3 free-roam regions and one PvE mode that extend beyond the town of Neighborville. Squad up with up to 3 friends in the Giddy Park social region and take back Weirding Woods, Mount Steep and Neighborville Town Centre. It's grow time!

* Play with Your Favorite People in Every Mode - Connect with up to 3 players and battle through flourishing free-roam regions, or jump into the fray with up to 24 players in online multiplayer across a gigantic suburban skirmish.

…

Expand
Developer:

PopCap

Genre(s):

Action

,

Shooter

,

Third-Person

,

Tactical

# of players:

Up to 16

Cheats:

On GameFAQs

Rating:

E10+
Battle for Neighborville: Complete Edition is a fun, colorful, silly game with a good amount of content to keep the player busy. While the game is older, this updated version is the obvious choice for fans of the series and newcomers alike.

Plants vs. Zombies: Battle for Neighborville brings a fun and addictive online multiplayer mode to Nintendo Switch, which is definitely worth it. We can see low resolution on certain occasions, although it is still a highly recommended and totally enjoyable title.

If you're looking for a family-friendly multiplayer shooter on the Switch, make sure to check this one out. It doesn't shine on the technical side as much as on the other platforms, but it still plays great.

For its part, therefore, the Nintendo Switch version offers a more timeless title thanks to the addition of an Offline mode which may no doubt appeal to younger players. The portable aspect of Nintendo's hybrid console is also a plus that shouldn't be taken lightly, especially as Plants Vs Zombies: Battle for Neighborville allows for short play sessions.

This isn't a perfect port to Nintendo Swich, but it's certainly an impressive one considering the game's size and Plants vs. Zombies remains as fun to play as it ever was. If you're looking for a fun hero shooter with plenty of content to sink your teeth into (no zombie-related pun intended) then Plants vs. Zombies: Battle for Neighborville Complete Edition might just be the game for you.

Plants vs. Zombies: Battle for Neighborville is a shooter for all ages, from the most seasoned in titles like Battlefield, Call of Duty, or Overwatch, to the newcomers who see their great opportunity to take on a shooter like their parents or older siblings. This Complete Edition brings new content to the game which makes it highly rewarding having it's place in the market taken back to where it belongs. Although the port is not 100% up to par in the visual field, it guarantees infinite hours of gameplay filled with pure joy and competition. It becomes more than clear: plants and zombies are lifelong enemies.

Unless you really want to see an ear of walking corn fire machine gun rounds at a zombie dressed as a football player, Plants Vs. Zombies: Battle For Neighborville is far from the best option for a multiplayer shooter on the Switch.
Who would have thought PvZ would be my favorite shooter on switch? Super fun hero type shooter with incredible animations and feel. The game

Who would have thought PvZ would be my favorite shooter on switch? Super fun hero type shooter with incredible animations and feel. The game can seem overwhelming at first, but when you get accustomed to it, it's incredibly fun. Super recommend.

Also, they took out absolutely all of the microtransactions in this game. Yes. No microtransactions. And you can fu)y play it offline. Awesome.

…

Expand

The game is insanely good after 2300 hours I can say it's the best video game experience I've ever had.

Dont understnad the baised critic reviews as this game is perfect for the switch.

You have many options to play online or off. OfflineDont understnad the baised critic reviews as this game is perfect for the switch.

You have many options to play online or off.
Offline mode offers many quests through the cptwo cities offered also theres many multiplayer modes to be played offline with bots.

Only downside to this game is you need Nintedo .switch online account.

If you played the previous garden warfare games you will love it

Many modes from games like call of duty are here,

Kill confirmed, domination, plant the bomb, team death match
Frame rate is decent and theres hardly any lag

…

Expand

I am happy that it is on the switch... But please do upgrade the graphics, fps. And please put the battle arena back in maybe. And if the

I am happy that it is on the switch... But please do upgrade the graphics, fps. And please put the battle arena back in maybe. And if the switch version sells well it would be great if Ea and Popcap can make updates again. So that it is "no" death game more. Still, it's a great game.

…

Expand

Muy Bueno esta completo, es divertido, los gráficos son increíbles, es muy colorido y no hay micro transacciones :D

Really good—my only gripe with the game is that there isn't a "choose Plants or Zombies" option before a match, it kinda just throws you into

Really good—my only gripe with the game is that there isn't a "choose Plants or Zombies" option before a match, it kinda just throws you into one with the team that has less players and usually that's zombies.

…

Expand

The game is not really my sort of thing but my son is super-addicted to playing this and the game teaches planning and strategy when having

The game is not really my sort of thing but my son is super-addicted to playing this and the game teaches planning and strategy when having almost never ending amounts of content. Enjoyable (from my observation) game but not really something you will remember after a year or two.

…

Expand