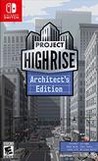 Summary:

Experience a deep, complex simulation of a modern skyscraper. Your job as the architect and developer is to build world-famous skyscrapers that will be the envy of the entire city, masterpieces of art and engineering. But a skyscraper is more than just steel and glass, it's an intricate

Experience a deep, complex simulation of a modern skyscraper. Your job as the architect and developer is to build world-famous skyscrapers that will be the envy of the entire city, masterpieces of art and engineering. But a skyscraper is more than just steel and glass, it's an intricate ecosystem, full of people that live and work in the building. They become a complex machine that needs your steady hand to keep it running smoothly and efficiently.

…

Expand
Developer:

SomaSim

Genre(s):

Strategy

,

Management

,

Business / Tycoon

# of players:

No Online Multiplayer

Cheats:

On GameFAQs

Rating:

E10+
If long-form strategy/sim titles are your cup of tea, then Project Highrise was made for you. This is certainly not an everyman's game, as those without an acquired taste may likely become very bored. In fact, one of my friends watched me play it for a few moments and (seemingly sarcastically) said: "Wow, you must have a lot of patience." And they had a point: You need patience in this type of game, especially if you plan on going through all the scenarios. Still, it's a rewarding experience once you get the hang of it all.

Project Highrise: Architect's Edition is a great overall package for any sim fan to enjoy. Thanks to the DLC, there is a lot of content here to enjoy, and a really addicting experience to have. The scenarios could be a little more varied, but they all have their own set of unique challenges to overcome - not to mention, for those that prefer, the sandbox mode allows players to enjoy building any way they want. Playing on the Switch is generally a good experience, albeit the UI can pose some challenges to clarity on the screen, particularly in undocked mode. This is a title to pick up, though, and is sure to scratch the simulation itch for so many.

It's such a pleasantly mellow time that hours can just vanish as you constantly think about doing just one more thing before calling it quits for the day. Something a little more ambitious might have been more interesting in the long run, but for what it is there's still some fun to be had.

Project Highrise Architect's Edition is a simulation and strategy game that surprise us for being one of the most complex and fluid experiences that we can find on Nintendo Switch. Its interface and controls are what we liked the least.

Since the base game is so in-depth, I wouldn't even feel a need to buy the DLC content if I didn't have to. All the DLC provides is new themes and slightly varied scenarios, so I do think this game would be a better value without it. Project Highrise is here for those craving the deepest management simulator the Switch has to offer, but if you're not already a fan of the genre, I wouldn't recommend it.

There's lots to do in this game, there's lots of challenge and it all works pretty smoothly. But Project Highrise just feels flat and never achieves the "just one more turn" level of addiction that I love in the best sim titles. Despite its strengths, including the extra content in the Architect's Edition, there's a certain je ne sais quoi that's lacking – be it color, humor, variety, what have you – that had me just wishing I could hang up my hardhat after not too long.
Albeit controls feel constricted due to the console interface, the game is well done, quite playable, and easily enjoyable. It's a good "chill" game.