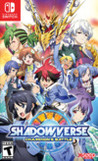 Summary:

The anime version of the hit strategic multiplayer mobile/PC card battle game Shadowverse is coming to the Nintendo Switch as an exciting new card battle RPG. Players will meet a fun cast of characters and duke it out in intense card battles. Experienced Shadowverse players will be able to

The anime version of the hit strategic multiplayer mobile/PC card battle game Shadowverse is coming to the Nintendo Switch as an exciting new card battle RPG. Players will meet a fun cast of characters and duke it out in intense card battles. Experienced Shadowverse players will be able to seamlessly transition into the game as card battle rules are exactly the same as the original game they know and love, but new players will have no problem picking up and playing this beginner-friendly game as well! The game's card library boasts cards from the first three sets of the mobile/PC game, as well as brand new cards unique to this title, allowing players to create completely original strategies. Also new to the Switch version are special, deluxe battle animations.

…

Expand
Developer:

Cygames

Genre(s):

Strategy

,

Turn-Based

,

Card Battle

# of players:

2

Cheats:

On GameFAQs

Rating:

T
Quirks aside, I had a tremendous time playing Shadowverse: Champion's Battle. Not only is it a fun and complex card game, but it's one you don't have to be an expert to enjoy. The threshold to start playing is low, but actually mastering the game takes much more perseverance. Overall, this is a wonderful game with attractive artwork and tons of great features. While it can be frustrating at times, especially due to the luck of your AI opponents, I'd highly recommend it. If you need a new game to get lost in, look no further.

Shadowverse: Champion's Battle is without a doubt the greatest card battling RPG on the Switch yet; an addictive and incredibly deep card game wrapped up in a heartwarming and enjoyable RPG that supplements and supports the potent core gameplay in all the right ways. Dozens of hours of content in single player alone, combined with a full-fledged online multiplayer, ensures that you're getting plenty of bang for your buck, while the anime presentation and detailed card art and animations keep everything looking and sounding nice all the way through. If you're at all into card games, don't waste your time deliberating: go buy this game immediately. Shadowverse: Champion's Battle is an extremely easy game to recommend, and absolutely worth your time.

Champion's Battle is, in short, fun. There is plenty to do and, even though the price-tag is a bit on the high side, it is a complete game. Any foibles are minor and easy to overlook if you just want to enjoy a card-based strategy RPG.

On the surface, Shadowverse: Champion's Battle looks like a children's card game with glorified animation, but it is actually more than that. With solid battles and structured rules, a large variety of cards, and a lot of NPCs specializing in different classes, every time you challenge someone it feels like a completely new experience. While following a cheesy and fun storyline in this RPG, the card game remains consistent and the characters predictable, making it easy to focus on strategizing and advancing to the top. Sure, there are moments where the repetition is evident, but there aren't many RPGs that don't require grinding.

Shadowverse is a solid effort from the people at Cygames, a CCG with an original story, a long campaign and intuitive mechanics. There's also a copious amount of content in both single and multiplayer.

Shadowverse: Champion's Battle isn't going to be remembered as a game of the year candidate, and fans of the original game will likely have more fun continuing to play on phones rather than giving this a shot. However, for fans of the anime and those who enjoy a good family-friendly JRPG, Cygames has put together a well-rounded experience that shouldn't be ignored. It's fun to spend a few dozen hours remembering how engrossing an absurd story about a group of friends saving the world with card games can be, and Shadowverse: Champion's Battle does that better than most.

Interface issues aside, Shadowverse Champion's Battle offers a fresh new spin on the card-battling genre (unless you've been playing the base game on PC). Its mechanics are an interesting amalgam of all that came before, but timing an evolution effect to clear a path to victory remains exciting every time.
A cool game which make a good use of anime original char and make there dreams come true and card game with high graphic is good thing to make

A cool game which make a good use of anime original char and make there dreams come true and card game with high graphic is good thing to make your fun time full

…

Expand

OMG YES!!!!! I have been waiting for a console release on this since the game was released on PC a long time ago. FINALLY! I am a forever

OMG YES!!!!! I have been waiting for a console release on this since the game was released on PC a long time ago. FINALLY! I am a forever fan of Hearthstone and this one is good enough and different enough to give me 2 card game addictions!..Also a CHEAP asking price for the game since I have probably put about 3k into Hearthstone at this point lol.

…

Expand

I'm giving 10 points because there are some people that stupid enough for giving 0 point because "this game is too hard on chapter bla bla

I'm giving 10 points because there are some people that stupid enough for giving 0 point because "this game is too hard on chapter bla bla bla".

This game is solid, the story is a little bit cliche but good enough to make me keep playing. I played a. Lot of shadowverse game in phone and the experience is more or less the same, not a washed up game or simplified one, it really giving you the full experience of the game. My personal score is 9.5/10

…

Expand

I now have about 50 hours in the game and I'm still very much enjoying it. The game is very well made and as someone who has never played the

I now have about 50 hours in the game and I'm still very much enjoying it. The game is very well made and as someone who has never played the free to play "original" version, it was very fun discovering all the cards and it was always exciting when a new set became available.

That said, this game is only enjoyable to me because I like a good light-hearted cliché story and I like playing the matches. This game is nothing groundbreaking and does suffer some frame drops in the overworld, but over all it's a very fun experience

…

Expand

INTRODUCTION
Welcome to Shadowverse: Champion's battle, a new CCG (Collectible Card Game) based on the anime spinoff of the originalINTRODUCTION
Welcome to Shadowverse: Champion's battle, a new CCG (Collectible Card Game) based on the anime spinoff of the original Shadowverse (Mobile/PC) game that released back in 2016. As a player of the original Shadowverse, I was extremely excited when Shadowverse: Champion's Battle was announced for the Nintendo Switch! Now, with the game finally released in the West, I've made the promised purchase and played the heck out of it! As of the time and date of this review, I've already completed the game's story and have over 130 hours of playtime in. I haven't written a review for a game in well over a decade, but THIS game is so damn good, I just HAD to write a review for it! Now without further ado, here is my review for Shadowverse: Champion's Battle! :D

STORY (9/10)
In terms of story, Shadowverse: Champion's Battle is wholly different from the original Shadowverse; the comparison is pretty much like day and night. While the original Shadowverse takes place in a grim world on the brink of utter annihilation, Shadowverse: Champion's Battle's setting takes place in a large city filled with a myriad of people who are all aware that a card game called "Shadowverse" exists and is played by many. You, the protagonist are a student of a prestigious academy filled with energetic adolescents who also play Shadowverse for fun. Along the way, you will meet several interesting and unique people, including some unforgettable friends. The story is quite entertaining, and even has a touch of plot twists in your journey to the top. Overall, considering that Cygames (the developer) put an entire interactive fleshed out story in a CCG game, I have to say that a great deal of effort and care was put into this game. Another thing I'd like to point out is how well the concept of each card craft is touched upon, which really brings out the essence of Shadowverse for all players.

GRAPHICS (9/10)
The graphics in Shadowverse: Champion's Battle are quite gorgeous and very much compliments the anime art style it was aiming for. Character models and portraits are excellent throughout, and the game's menu interface is also very beautifully crafted, giving off a very premium look and feel to the game. During battles, graphical and special effects can objectively even outshine the original Shadowverse's; this is most evident when evolving follower cards or playing certain Legendary/Mythical cards. In this game, when evolving, depending on the craft you're using, the evolve animation effects will change to suit the respective craft; it's little touches like these that I also really appreciate. Cards are beautifully drawn and very clearly displayed just as they are in the original Shadowverse. My only gripe about graphics is that nearly all of the signs, placards, and billboards outside have a "blatantly smeared" look to them....it's as if it was done on purpose, which I find odd, because the text can actually be made out if you try to read it, but it's smeared. I think the city would look a whole lot better if that smear effect wasn't used.....my guess is that this was intentionally done by the devs as to maintain decent performance on the Nintendo Switch, otherwise, it'd just be a waste of clarity.

SOUND (10/10)
The sound and music in the game is great! While there aren't any spectacular new tracks in the game, most of the battle tracks are pretty much slightly remixed (if my ears are hearing right) versions of the original Shadowverse's, which fans will instantly recognize. As for voice acting, in the Western release of the game, both English and Japanese voices are selectable. For my initial playthrough, I've been using the English voice acting, which is actually really good by anime standards! Character voices all sound quite unique and distinctly clear in all cases; emotion is also clearly conveyed quite well. Sound and battle SFX are all pretty much in line with the original Shadowverse's, which are also great. Hats off to the English voice cast!

CONTROLS (7/10)
While there isn't much to say about controls in this game, I have but one gripe, and that is while traversing the city outside of battles, moving around can feel a bit stiff. You will be traveling around quite a lot during the story, and you'll definitely feel it. If this wasn't an issue (for me at least), then controls would get a 10/10.

FUN FACTOR / REPLAYABILITY (10/10)
Haha, Shadowverse: Champion's Battle is easily one of the most fun games I've EVER played on the Nintendo Switch, and also one of the best CCG games available today! The battle system is always exciting and filled with possibilities, especially later in the game. Not only that, unlike the original Shadowverse, Shadowverse: Champion's Battle can be played both ONLINE (with a Nintendo Switch Online account) and OFFLINE, and I find this to be a HUGE PLUS!! Being able to play Shadowverse literally anytime and anywhere is like a dream come true!

…

Expand

Shadowverse: Champion's Battle pretty much copies Pokemon's Sword/Shield playbook. You are a student on a journey to win a competition and you

Shadowverse: Champion's Battle pretty much copies Pokemon's Sword/Shield playbook. You are a student on a journey to win a competition and you play battles and collect stuff along the way. Only, I think Shadowverse does it better. The core card game has been around for years on mobile and PC and as such is very deep and refined at the same time. The JRPG that has been built around it has a high production value and provides enough context for my games to make me care about winning or losing. Online gameplay is still picking up steam and it's still possible to be matched against opponents who have access to cards that you cannot get because they progressed further into the story. I hope the ranks fill out more and matches get more even. Otherwise, this is a very solid game and a definite recommendation.

…

Expand

This review contains spoilers

, click expand to view

.

Nice game to play on switch, not the current meta, but it has some nice original game cards. The only thing is that you have to make a superior deck in chapter 7,8 where you are playing in the dark arena. It is truly a hell if you are not prepared enough.

…

Expand