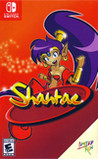 Summary:

Genie-girl Shantae is the self-appointed guardian of a small fishing village, Scuttle Town. Living life in a lighthouse rather than a bottle, she's constantly on the lookout for danger. When the nefarious lady-pirate, Risky Boots catches wind of the treasure that was recently unearthed in

Genie-girl Shantae is the self-appointed guardian of a small fishing village, Scuttle Town. Living life in a lighthouse rather than a bottle, she's constantly on the lookout for danger. When the nefarious lady-pirate, Risky Boots catches wind of the treasure that was recently unearthed in the village, she launches an attack. To get Scuttle out of trouble, it's up to Shantae to prove that she's the rightful 'Guardian Genie' to the best of her dancing, buying and hair-whipping abilities. Now crack that whip!

* Play on the Game Boy Advance system for enhanced color and to unlock hidden secrets!
* Over 50 Locations and Mini-Games!
* Learn 'Dance Magic' to transform Shantae and learn new attacks!

…

Expand
Developer:

WayForward

Genre(s):

Action

,

Platformer

,

2D

# of players:

No Online Multiplayer

Cheats:

On GameFAQs

Rating:

E10+
Nintendo Force Magazine

Nov 8, 2021

Shantae has been kind of the guinea pig for a new emulation initiative. It isn't as in-depth as a Shantae re-release could have been, but the base game itself is still so charming that it's worth a look on Switch even without extra bells and whistles. [Issue #56 – November/December 2021, p. 22]

With the latest re-release of Shantae, the entire series is now readily available on Nintendo Switch. It's a delightful franchise that's gone from strength to strength over the past 20 years, and to have the game that started it all easily accessible, with the convenience of save states to help work around some of its more dated elements, is a true joy.

The original Shantae is a lovely little game that too few people were able to experience, so I'm thrilled that it's available for mass consumption on the eShop. Franchise fans should, of course, jump on this as soon as humanly possible, but folks curious about the series or who just want some GBC nostalgia will enjoy it too.

As a port, Shantae delivers. Minor issues like button remapping aside, once you get over a few things like the lack of a map and a more brutal life system, you'll find this to be a classic platformer that shows off just how good WayForward and this series was from the beginning. Fans of both the series and of old-school gaming would do well to add this title to their Switch libraries.

It's been a long time since Shantae debuted and it did so on very limited console hardware so it's impressive how well it has held up even though its sequels are certainly much more enjoyable. Oh, and this Switch release acts as a lovely time capsule for fans, too.

As a $9.99 download, the Switch re-release of Shantae is a great look at the half-genie's debut for those who want to check her out. It might be dated compared to the rest of the series, but it's a nice look back at the classic series we know and love.

Shantae is a product of its time, which can be both a good and a bad thing. On one hand, this old Game Boy Color game displays an ambition and quality that outpaced many other games of its time and it easily stands as one of the best releases for that retro platform. On the other hand, it is still a game from 2002, and showcases many of the game design shortcomings one would expect from that time. It's not a bad game by any means, then, but this is easily a game that we can only really recommend to longtime fans who are curious where Shantae got her start. If you don't fall into that camp, we'd recommend you pick up one of the later releases and maybe come back to this one later on.
The game is definitely a product of its time; however what the game was able to achieve on GBC hardware is still astounding. In terms of this

The game is definitely a product of its time; however what the game was able to achieve on GBC hardware is still astounding. In terms of this port, there are great new additions such as a concept art gallery, in game filters, save states, and even the option to choose between the GBC and GBA versions of the game. Still a classic worth playing!

…

Expand

Graphics: 10/10
I was actually debating if game boy color sprites really do deserve a top tier score; After all, we're talking 8-bit graphicsGraphics: 10/10
I was actually debating if game boy color sprites really do deserve a top tier score; After all, we're talking 8-bit graphics here. But the thing about it is for it's time? This is easily the most fluid graphics Ive ever seen out of a game boy title. The only 8-bit game I can think of that compares to this is Kirby's Adventure. It's THAT good, especially considering the limitations.

Sound: 10/10
Music and sound fxs are absolutely top notch. The music especially ended up being super catchy and Im going to eagerly look to see if there's any OGremix covers of this soundtrack once Im done with this review.

Gameplay: 9/10
If you forced me to give a score on this early on, I would've given it a 1/5. But that would have easily been an error on my part.

Here's the thing; This game was born from the DNA of great NES games of old; Difficult and downright punishing, but once you figure out the flow and have a proper strategy guide? It's a title you'll thoroughly enjoy. Once I understood this, I realized this is exactly the kind of title this game was, but for the game boy color instead.

The only complaints I have outside of this is the fact that Shantae gets stun locked for at least an entire second, which really breaks the flow of the game when you get one down, as well as the dancing system which, while fun, leaves you vulnerable if you're doing it anywhere near enemies and especially breaks the flow of the game too.

But these annoyances are something you can kinda push aside once you get use to this game

Story: 8/10
IIn a village Shantae protects, a pirate steals a new form of technology called the steam engine and she must now obtain 4 items and stop said pirate's evil master plan.

It's a very basic story, but what gives this extra points is the way it was written. The writer of this game clearly tried to give some extra life and personality into the characters and it got to a point where I actually enjoyed the lines of dialogue from these individuals. Most of it humorous but still entertaining regardless.

Difficulty: Normal
So I need to clarify on this too; I did use the save states provided by the switch remaster. So including that AND the strategy guide, the difficulty easily goes down to a normal difficulty, especially for my playthrough.

But if you want a more hardcore approach, play this game without those resources because it'll easily shoot up for a super difficult, if not unforgiving game. There are countless areas where you can easily die or even encounter bad enemy placements that will keep chipping at your health. And without a guide, you'll be aimlessly wandering around in between save areas. Get a game over deep in an area? Welp guess its time for you to plow through all of that again.

I can't begin to imagine how frustrating this game likely could have been for some of those who jumped into this game back in 2002

BOTTOM LINE:
9/10

When I finished this game, I gotta admit that I was thoroughly impressed with how much I enjoyed it. Again, the game does have its flaws with its gameplay and difficulty, but this was certainly a game that pioneered the concept of what indie games could do. If you're on the fence like I was, for sure give this game a shot. It's easily worth the 10 dollars on the digital stores

…

Expand

shame the date it was released, this game has everything to be a mark on his time

Shantae is a great game for its era. However, it's plagued by one major flaw and a minor design flaw. The design flaw is that enemies spawn on

Shantae is a great game for its era. However, it's plagued by one major flaw and a minor design flaw. The design flaw is that enemies spawn on the most ridiculous of places. Even when you think it's safe in some areas. And the glaring flaw for me was that if you wanted to save right in front of the final dungeon (Mount Pointy), and you hadn't learnt any teleportation dances, you're stuck and have to start all over again. No thanks. Although I enjoyed the journey up to that part.

…

Expand