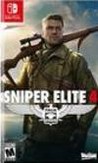 Summary:

Welcome to Italy, 1943.

Set in the aftermath of its award-winning predecessor, Sniper Elite 4 continues the series World War Two heritage by transporting players across the beautiful Italian peninsula, from sun-drenched Mediterranean coastal towns, to colossal Nazi mega structures,Welcome to Italy, 1943.

Set in the aftermath of its award-winning predecessor, Sniper Elite 4 continues the series World War Two heritage by transporting players across the beautiful Italian peninsula, from sun-drenched Mediterranean coastal towns, to colossal Nazi mega structures, daunting forests and giddying mountain monasteries inspired by Monte Cassino.

Covert agent and elite marksman Karl Fairburne must fight alongside the brave men and women of the Italian Resistance to help free their country from the yoke of Fascism, and defeat a terrifying new threat with the potential to halt the Allied fightback in Europe before its even begun.

If his mission fails, there will be no Operation Overlord, no D-Day landings, and no Victory in Europe.

…

Expand
Developer:

Rebellion

Genre(s):

Action

,

Shooter

,

First-Person

,

Tactical

# of players:

Up to 12

Cheats:

On GameFAQs

Rating:

M
Going in it seemed like this was just going to be Sniper Elite 3 again but Sniper Elite 4 blows that game out of the water. It's such a complete package and one that feels so at home in portable mode that the absolute quality shining off this port easily puts it at the top of the war games available on the platform. Further highlighting developer Rebellion's fantastic work on the Nintendo Switch platform. Opening up the series to a completely new group of gamers who will hopefully love the brutal sniping action they have so sumptuously crafted. Don't sleep on this game.

Sniper Elite 4 is a superb adaptation, capable of shrinking Karl Fairburne's Italian adventure into a pocket size while keeping the strengths of the original game intact. If you already played Sniper Elite 4 three years ago and aren't itching to replay it in a portable format, your savings would be better spent elsewhere, given the absence of exclusive content.

Bottomline, Sniper Elite 4 on Switch is nearly four years late to the party, but better late than never. It's regrettable that all of the DLC wasn't included and that this release was not given the Ultimate version treatment, but, for snipe-hungry Switch players, this is still an excellent game that's well worth your consideration.

Sniper Elite 4 is the best entry yet in this long-running franchise with great big meaty missions stuffed to bursting point with Nazis to snipe and stab in glorious slo-mo X-ray vision. There's a new-found flexibility to the gameplay, with Karl now able to shimmy and scurry vertically around levels and enemy AI that's much more up to the task than in previous iterations. There may be some slightly rough edges, with duff writing, naff characters and gameplay that doesn't change much from start to finish but, overall, this is playful sniper's paradise that lands on Switch in a truly impressive port. It's time to dust off that M1903 Springfield, find a nice vantage point and get to blowing great big bloody holes in fascist heads. The perfect antidote to 2020.

If you're a fan of the Sniper Elite franchise, Sniper Elite 4 on Nintendo Switch is definitely worth checking out. It's a new campaign in the series with necessary improvements from the last installment, while fans from other platforms can enjoy their favorite Sniper Elite Italian campaign from the comfort of their bed or on their commute to work. Sniper Elite 4 brings snipers into new locations featuring ruined castles, bayside watchtowers, vast orchards, underground tunnels, occupied cities, and far more.

Sniper Elite 4 works fine on Nintendo Switch, with a stable frame rate and nice graphics when it comes to landmarks. The campaign can be completed a little too quickly, but gives you a lot of freedom thanks to the open maps.

Sniper Elite 4 manages to offer a unique approach to shooter games, thanks to its deep and articulated sniping mechanics. Yet, the release on Switch doesn't even try to hide its age and feels shallow and forgettable. If you love this kind of game, probably Switch isn't the best choice where to play it.
Honestly, this is an amazing port. I've had no issues with lag, has run perfectly. Looks beautiful on the Switch. It's a blast to play, pun

Honestly, this is an amazing port. I've had no issues with lag, has run perfectly. Looks beautiful on the Switch. It's a blast to play, pun intended. One of the best ports to Switch I've seen, unlike some terrible ones (I'm looking at you Mortal Kombat)

…

Expand

Runs better than xbone version. Grab your copy now. REBELLION has really outdone themselves this time.

This game is fantastic, and is the best Sniper Elite game in the series. Tons of optional challenges once you complete the expansive levels.

This game is fantastic, and is the best Sniper Elite game in the series. Tons of optional challenges once you complete the expansive levels. Highly recommended.

…

Expand

This is a 2017 game running flawlessly on Nintendo's little handheld that could. As great a port as last years Alien: Isolation was. And

This is a 2017 game running flawlessly on Nintendo's little handheld that could. As great a port as last years Alien: Isolation was. And further proof that when developers put their time in to optimization anything is possible. Sniper Elite 4 is a must play if you enjoy stealth games and/or m-rated war titles. It also has a variety of online co-op and versus modes to keep players busy long after the campaign has ended. (And it also refreshingly runs well online too). Don't let this great game fly under your radar if you've been starving for a COD or MGS game on the switch Sniper does more than commendable job of filling those shoes. A must own.

…

Expand