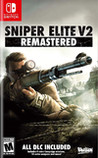 Summary:

You are elite sniper Karl Fairburne, parachuted into Berlin amidst the Germans' final stand. Your mission is to prevent Nazi V2 rocket technology falling into the hands of the Red Army. You must aid key scientists keen to defect to the US, and terminate those who stand in your way.

StealthYou are elite sniper Karl Fairburne, parachuted into Berlin amidst the Germans' final stand. Your mission is to prevent Nazi V2 rocket technology falling into the hands of the Red Army. You must aid key scientists keen to defect to the US, and terminate those who stand in your way.

Stealth is key as you find yourself trapped between two desperate armies in a race against time. Master authentic weaponry, stalk your target, fortify your position, set up the shot, and use your skill, patience and cunning to achieve the mission.

All new graphics and rendering technology gives you improved ball busting X-ray kill camera detail. Witness the terrifying power of your bullet as it enters an enemy's body.
With all DLC missions included, take the fate of the war into your own hands, and hunt the Fuhrer himself.

…

Expand
Developer:

Rebellion

Genre(s):

Action

,

Shooter

,

Third-Person

,

Tactical

# of players:

No Online Multiplayer

Cheats:

On GameFAQs

Rating:

M
If you haven't played this game, or series, since 2012 and want to experience a portable-friendly game in a genre not seen often on these kinds of consoles, the Nintendo Switch version of Sniper Elite V2 Remastered should be in your sights. Even though the game itself may be dated in a few areas and this port may technically be the worst current-gen version to pick up from a visual standpoint, the Switch port of Sniper Elite V2 Remastered is competently put together and stands out from the rest of the hybrid console's third-party library.

7 years after its original release, Sniper Elite V2 feels outdated, even with new graphics and extra levels. Nevertheless we still like the stealth elements, the realistic setting and the kill-cam.

There's a lot to do in Sniper Elite V2 Remastered and it's very well presented, and addictive. It might get old quickly – essentially executing the same play repeatedly – but you'll definitely have fun whilst you are doing it.

On one hand, it's one of the prettiest, most realistic titles the Switch has, and the slow-motion shots have a surprisingly rewarding tactile feel. Despite these high points, the rest of the game is extremely average, packed with throwaway collectibles and filler game modes that can't hide the cumbersome cover shooter that lurks beneath. In the end, the gloom outweighs the glitter and though Sniper Elite V2 Remastered is a nice title to see on the Switch, it's certainly not an essential one.

Sniper Elite V2 Remastered lacks any of the polish typical with modern remasters and struggles under the weight of dated design and poor presentation. What could have been a fun little jaunt through Nazi territory devolves into an altogether lackluster experience. Only for the most die-hard sniper fans.

Though there's an air of nostalgia and goodwill towards Rebellion and their continued efforts to keep this IP as entertaining as it remains, Sniper Elite V2 Remastered seems primarily focused on touching up the most selective of visual and graphical assets, and little else outside of it. Immediate access to the game's arsenal of weapons, though appreciated — and opening up a welcome extension to the core tactical prowess the series has flourished on — the continued presence of issues from the original and the game's now-aged design end up working against it. Moment-to-moment marksmanship still as delightful a spectacle to watch, as much partake in, as a proclaimed improvement on the original, V2 Remastered falters just enough, unfortunately, to fall short on that achievement.

There isn't anything really bad about Sniper Elite V2 Remastered, but there also isn't anything that's particularly good either. The Remastered port itself is underwhelming, so I don't think there's much reason for fans of the series to take the opportunity to relive their memories of the original. Newcomers wouldn't be making a mistake to pick up this game, but I can't think of anything in the game that's really worth going out of your way to check out. I'm really interested in the idea of a shooting game that's leveraged on methodical and deliberate actions, but the level design in Sniper Elite V2 undermines its stealth mechanics so much that it ends up feeling like every other shooter on the market, but now with far less health and much harder aiming.
The games old ans dated but Its a great purchase and the first 1st person shooter I've played on the switch that's got a level of grit to it

The games old ans dated but Its a great purchase and the first 1st person shooter I've played on the switch that's got a level of grit to it and doesn't feel generic.

…

Expand

decent AAA title on the Switch. theres nothing overly new with graphics, but this is great shooter for anyone that enjoys sniping.

Not at all disappointed I waited to play this game on the Switch. This seems like a really solid port in my opinion.

I am a simple player and go through this series of games on the minimum difficulty, enjoying the story or having fun in the arenas.
I reallyI am a simple player and go through this series of games on the minimum difficulty, enjoying the story or having fun in the arenas.
I really like the game, but still I go through it about 15 years after I met a similar game about a sniper and after 2-3 years after passing the fourth game in this series.

For example, I miss the kill animations, or underlining the firing zone in the equipment, to kill the crew before the explosion (and this is possible). And the fact that killing an enemy by simply shooting twice in the foot is a nightmare.

But still I enjoy playing this part ..

…

Expand

Sniper Elite V2 is, unsurprisingly, the most fun when it gives you opportunities to pull off long distance shots with your sniper rifle, and

Sniper Elite V2 is, unsurprisingly, the most fun when it gives you opportunities to pull off long distance shots with your sniper rifle, and the bullet cam that appears after some kills is rewarding and satisfying to watch. The game is at its most generic when you're forced into close combat in more confined spaces, but thankfully there are many open battlefields and vantage points that provide ample chance for fun gameplay.

Sniper Elite is certainly enjoyable, but it's a little on the short side, the AI is poor, it ends abruptly and it's story is pretty silly. The main character gets no development and doesn't have much of a personality. Its not a deep experience, but it was cathartic enough to hold my interest. Unfortunately, there's nobody playing the online multiplayer at the moment so bear that in mind if you're thinking of buying this.

Pick this up if a war shooter with good sniper gunplay appeals to you - it is rather shallow, but it's fun while it lasts.

…

Expand

Not a good Port.
The aiming is not so easy and very often If you aim very good...even then you wont hit the enemy.
Grafics not so good. TheyNot a good Port.
The aiming is not so easy and very often If you aim very good...even then you wont hit the enemy.
Grafics not so good.
They should have put more gigabytes in better textures.poor.
I think even 4 gigs more wouldnt bei so bad ..Just Take a Look at doom

…

Expand

This review contains spoilers

, click expand to view

.

Sniper elite is an amazing game which I'm sorry to say should not be limited to such a small screen as the switch. I do however realize that it can be docked and played on my tv, however then what would be the point in playing it on the switch and not a much, much better console. Hence Xbox one or PS4.

…

Expand