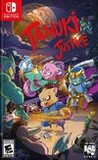 Summary:

Inconspicuous combination of a platformer bullet hell with cute, pixel graphics. Tanuki Justice will challenge your precision jumping and shuriken throwing skills.

Features: • Dynamic gameplay with visuals that fit the atmosphere. • Dozens of different types of enemies. • ClassicalInconspicuous combination of a platformer bullet hell with cute, pixel graphics. Tanuki Justice will challenge your precision jumping and shuriken throwing skills.

Features:
• Dynamic gameplay with visuals that fit the atmosphere.
• Dozens of different types of enemies.
• Classical shurikens over the head and a giant shuriken for difficult moments.
• Playable in single or two-player mode.

Description:
Tanuki Justice is a continuous intensive action run'n gun in which you incarnate a tanuki brother and sister. You'll face hundreds of enemies in feudal Japan. Varied environments with landscapes of all kinds, retro and fast rhythmic music, numerous and difficult situations reminiscent of good old arcade games. A gameplay both simple and rich allowing spectacular actions. Possibility to play with 2 people for even more fun. And challenges that will challenge even the most skilled players. Time will be your worst enemy.


…

Expand
Developer:

Wonderboy Bobi

Genre(s):

Action

,

Platformer

,

2D

# of players:

No Online Multiplayer

Cheats:

On GameFAQs

Rating:

E10+
Tanuki Justice is a super fun and difficult game reminiscent of challenging games like Ninja Gaiden and Mega Man. Not much for a story here but has a lot of ninja throwing star action, what more do you really need.

If the tension, pace, and feel of Cuphead appeal to you and you're curious about something more streamlined and frantic, consider Tanuki Justice.

Tanuki Justice is a high-quality, retro-inspired, hardcore platformer that vibrates with the personality of the era that it pays respects to. It is very short, but for those that prefer an all killer no filler approach, it's money well spent.

Tanuki Justice feels exactly like a 90s platformer, with its colourful levels and cute characters that, combined with the difficult but well crafted levels make it a recommendable game for any retro player.

Nintendo Force Magazine

May 17, 2021

Tanuki Justice is a real "your mileage may vary" type of situation. [Issue #51 – March/April 2021, p. 19]

Tanuki Justice is a homage to 8-bit era action platformers and does a good job at that, with its mix of simple action and frantic boss fights, along with a lovely visual style. At the same time time, Tanuki Justice does not particularly stand out in any of its components, and despite its good formula it doesn't rise above its peers.

Tanuki Justice ended up being more frustrating than enjoyable. It's not quite the bullet-hell platformer I was expecting, but its difficulty curve will likely have many giving up before reaching the end.
Tanuki Justice is a meticulous and masterfully crafted throwback to the best ninja games of the 16-bit era, but with a graphic style and

Tanuki Justice is a meticulous and masterfully crafted throwback to the best ninja games of the 16-bit era, but with a graphic style and soundtrack reminiscent of the Sega Master System. This quality alone makes this game a standout title for retro gaming fans, since the master system is a neglected treasure.

The first level is a perfect homage to the Revenge of Shinobi and Ninja Spirit on the TurboGrafx-16. Indeed, the cute and colorful cats you play as in this game control pretty much the same as Ninja Spirit, only with more gravity and a double jump.

The game is tough as nails. I find it awesome that there's not even an "easy" mode, which telegraphs how much this game will just rock you until you master its creative and perfectly crafted levels. You get multiple lives and it's often easy to pick up more as you play, but it's one hit deaths all the way through to the boss. Thankfully, you continue right where you stand and you won't have to replay any sections until you lose all your lives. Once a level is beaten you can start there or choose to play previous levels in order to beat your score.

Some pro reviewers say stuff like this game is just a one to one throw back to the NES. It is not. First of all, it's plainly a master system game. Second, you could not have played this on original hardware. It would not have been possible to play a game with this speed, detail, smooth frame rate, colors, and huge array of sprites. There's no slow down or flicker here. And the level design is pretty much perfect. Very few games in the 80s and 90s had this much care put into them. Whoever made this has played A LOT of video games, because items are right where they should be, enemies too. There are no cheap deaths. There are no areas, that I'm aware of, where you take unnecessary damage. It's great.

The only real down side is that the levels, while tight, well designed, varied, and beautiful are also short. The game itself is short. But the wicked fun difficulty kept me coming back to master it, and the inclusion of 2-player simultaneous gameplay is always a HUGE plus in our household.

We absolutely love this game. It's worth the price. Especially if you were a fan of retro ninja games.

…

Expand

Gioco carino che omaggia i vecchi videogiochi. Avrei preferito che avesse più livelli visto che in 20 minuti si finisce abbastanza bene, ma in

Gioco carino che omaggia i vecchi videogiochi. Avrei preferito che avesse più livelli visto che in 20 minuti si finisce abbastanza bene, ma in ogni caso è un buon gioco per i fan dei giochi old school.

…

Expand