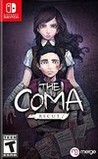 Summary:

The Coma: Recut is a Korean survival horror. You are Youngho, a hapless Korean student who, after drifting asleep during his final exam, wakes to find himself trapped in a twisted version of his school, Sehwa High. And he's not alone. Relentlessly pursued by a psychotic killer, Youngho must

The Coma: Recut is a Korean survival horror. You are Youngho, a hapless Korean student who, after drifting asleep during his final exam, wakes to find himself trapped in a twisted version of his school, Sehwa High. And he's not alone. Relentlessly pursued by a psychotic killer, Youngho must evade his hunter while desperately searching for a way to escape the dread-filled corridors and classrooms.

FEATURES:

* A remastered version of indie cult classic The Coma: Cutting Class, the game has been rebalanced and 'recut' with new and updated animations, mechanics, cutscenes and art.

* Hide: Crouch in the darkness or cower in a closet to stay out of sight and evade the killer.

* Survive: Use your flashlight to search for useful items, but be warned - it can attract unwanted attention.

* Mystery: Discover notes and clues to uncover the twisted history of Sehwa High's students and teachers.

* Death: Beware the horrors lurking in the dark, lest you bleed out in some forgotten classroom.

* The cast of characters and creepy corridors of Sehwa High are brought to life in a hand illustrated manhwa art style.

* Inspired by the real-world plight of Korea's overworked high school students.

…

Expand
Developer:

Devespresso Games

Genre(s):

Action Adventure

,

Survival

# of players:

No Online Multiplayer

Cheats:

On GameFAQs

Rating:

T
A lovely 2D horror adventure that falters in a few aspects but is still worth playing.

The Coma: Recut comes recommended, but beware: while you do expect a bit of clunkiness in the controls for a horror title, as it adds to the effect, the unresponsiveness of the buttons at key moments where you need to either hide, dodge or dim your flashlight can make this a challenging experience at times.

The Coma: Recut is interesting in concept, but flawed in its execution. Mixing survival horror with stealth and visual novel elements provides a unique side-scrolling experience. While the anime art style and slow pace might detract from the horror, along with the main mechanic becoming repetitive instead of scary, there is still enough narrative content to get invested in the twisted tale of Sehwa High.

Despite its obvious limitations, in short, The Coma Recut is recommended only to lovers of Asian horror.

The Coma doesn't outstay its welcome, and tells its story over five or so hours. Sadly it's just not frightening enough. The implications of the story it's telling are terrifying, and certainly this will discourage anyone who thought they wanted to do a couple of years education in South Korea, so the themes that form the basis of game are potent. But where Creeping Terror had me gripped with its aesthetics and tension and never let go, The Coma is simply too inconsistent and clean to really work as a piece of horror.

The Coma: Uncut is a good game with some jump scares and a creepy atmosphere, and I like it overall, but having to be exactly centered over any given icon to activate the action really puts a damper on the experience.

I wanted to love The Coma: Recut. Despite the game's issues, I did enjoy my time with it. Like any good horror game should, the title left me feeling unnerved during play sessions, and the fantastic sound and visuals greatly added to the experience. Unfortunately, the main villain makes navigation painfully unfun, and the responsiveness of the controls are an unfair disadvantage. With some minor tweaks, The Coma: Recut could have been a masterpiece, but, as it stands, it's just a fun horror title for those that can overlook its flaws.