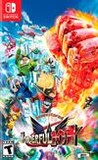 Summary:

Lead an army of 100 Wonderful Ones from around the world in this Unite Action spectacular! A team of heroes from around the world must UNITE to protect the earth from vicious alien invaders! This band of 100 Wonderful Ones works together using their fantastic abilities to create a variety of

Lead an army of 100 Wonderful Ones from around the world in this Unite Action spectacular! A team of heroes from around the world must UNITE to protect the earth from vicious alien invaders! This band of 100 Wonderful Ones works together using their fantastic abilities to create a variety of forms. Whether it be a giant fist or a sharp blade, they'll use their wits and power to overcome the enemy's pitfalls and perils! And the final member of this team of courageous heroes—is you. From PlatinumGames, creators of the Bayonetta series, ASTRAL CHAIN, NieR:Automata, and Metal Gear Rising: Revengeance, comes The Wonderful 101: Remastered! This game will be PlatinumGames' first self-published title, and is a powered-up version of The Wonderful 101, originally released by Nintendo on September 15th, 2013 as a Wii U exclusive. The Wonderful 101: Remastered offers the unprecedented ability to control 100 heroes at once, with the flowing controls and dynamic action that are the PlatinumGames hallmark. It's all brought together by a pulse pounding tale of heroic bravery and friendship standing tall against evil, and is PlatinumGames' most ambitious offering to date. Hideki Kamiya, director of The Wonderful 101, has supervised this remaster and added numerous improvements to ensure that this game can be more easily and thoroughly enjoyed by all and on various platforms, and with improved visuals, framerate, and loading time for an enhanced experience on all fronts.

…

Expand
Developer:

PlatinumGames

Genre(s):

Action

,

General

# of players:

Up to 5

Cheats:

On GameFAQs

Rating:

T
Please enter your birth date to watch this video:
You are not allowed to view this material at this time.
15 Minutes Of Wonderful 101: Remastered Switch Gameplay | PAX East 2020
Just like the Franken-console it first called home, this groundbreaking Nintendo-published, Platinum-developed game felt like an amalgamation of everything both storied studios did best. [Issue #47 – July/August 2020, p. 76]

The Wonderful 101 Remastered is an incredible action game, one definitely worthy of playing for those who skipped over it on Wii U. The unique battle mechanics make it a standout and borderline essential for action game fans, while those more casual fans who just want a big explosive adventure will find a lot to love here. And if any game deserves to be played by a wider audience, this has to be it.

Like an orchestral (Platinum) score, The Wonderful 101 requires some deciphering first and many repetitions - as this slightly Remastered rendition show - to be assimilated. Only then, pleasure kicks in, while revealing its grandeur. Such jubilation leads to forgive, if not forget all the rambling through this delirious, overactive and genuinely unique work of Hideki Kamiya, still destined for the rare "happy viewtiful".

Even though this remaster doesn't address many of the flaws of the original (the camera, the input detection and frame-rate drops), this is still an inventive, colourful and fun beat'em up for everyone.

We therefore cannot help but welcome The Wonderful 101 Remastered with open arms, a must for anyone who has admired the Platinum Games creations or the videogame action tout court, had not yet had the opportunity to join the crazy race of Hideki Kamiya and his large task force of polychrome heroes.

The Wonderful 101: Remastered is a charming title with a ton of unique mechanics that make it almost intimidating to approach. It can look confusing from the outside and while the beginning tutorials are lacking, once further in it all begins to click little by little. Despite trying to be so action heavy from the get go it's a slow burn that would benefit from a way to practice moves and abilities in a safe space without being in deadly combat that can be difficult at times if not paying close attention. The story, dialogue, characters, visuals and soundtrack are all a delight that nail the superhero vibe it's going for, while the unique Wonderful Ones are fun to collect and learn little tidbits about. Anyone looking for a short, challenging and action-packed adventure with tons of side content begging to be discovered should consider checking out PlatinumGames' most unique title to date.

Even if the technical hiccups get fixed in a patch, though, the Wonderful 101 doesn't stand the test of time. Remastered or not, I constantly felt like there were missing steps or if I was figuring things out too slowly to keep up with the hyperactive story and its multifaceted gameplay. What's more, the transition to the Switch, even with its touchscreen capabilities has only exacerbated the game's core problems. There's a great concept and the good combat mechanics we know Platinum can achieve in there, but you'll need a lot of patience to find them.
The one and only question is not whether this game is astonishing or crazy, but if you are ready for it. It's definitely not the child's game

The one and only question is not whether this game is astonishing or crazy, but if you are ready for it. It's definitely not the child's game it looks to be; this ride needs guts and skill in order to reveal its boundless unsurpassed treasures.

…

Expand

The Wonderful 101 is a masterpiece, with hours of pure action, challenge, fun and madness. The whole adventure is full of charm, detail and an

The Wonderful 101 is a masterpiece, with hours of pure action, challenge, fun and madness. The whole adventure is full of charm, detail and an incredible game feel.

The game's main mechanics are incedibly original and really, really fun, easy to learn but hard to master.

The levels are impressive, with a huge amount of different enemies to fight, each of them being it's own unique concept with it's own moveset and moves (some of them can do a LOT of attacks!).
And the boss fights... are just incredible. Every single boss fight from this game is full of crazy action and over the top epicness, with unpredictable bosses that can use different attacks every time you play the battle.

The Wonderful 101 gets better and better as long as you progress, with an excellent character development, orchestrated soundtrack, non-stoping action and a sense of epicness that you can't see in almost any game.

And the hard mode? You'll love it.

…

Expand

I don't nos why the people haré this Game, it's amazing, one of Best game of switch

I'm in love with this game. Haven't had this fun since Mario maker 2, it even keeps me away from Animal Crossing!

Amazing game, definitely worth your time
tho the controls can be confusing at first

Nice world concept&design but battle system is broken. also controls can be better. still thinking why in okami from ps2 era realization of

Nice world concept&design but battle system is broken. also controls can be better. still thinking why in okami from ps2 era realization of "symbol painting" is much better.

…

Expand

As metacritic says: 7/10 is maximum for this "remaster"

Simple port of mediocre game, not that great as some people were saying