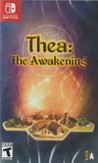 Summary:

Thea: The Awakening is a turn-based strategic survival game steeped in Slavic myth and monstrosity set after an apocalyptic force known only as The Darkness has engulfed the world. There are Strigas and Baba Yagas aplenty, but there are no heroes, no monster slayers, and no great armies

Thea: The Awakening is a turn-based strategic survival game steeped in Slavic myth and monstrosity set after an apocalyptic force known only as The Darkness has engulfed the world. There are Strigas and Baba Yagas aplenty, but there are no heroes, no monster slayers, and no great armies capable of banishing them. You have only a few hopeless and starving survivors who are desperately trying to stay alive. You are their last and only true hope. The game combines turn-based strategic gameplay with the tension and grit of a rogue-like, a captivating story you can uncover through a series of in-game events, and a unique combat system based on a complex card battle game.

…

Expand
Developer:

MuHa Games

Genre(s):

Strategy

,

Turn-Based

,

4X

# of players:

No Online Multiplayer

Cheats:

On GameFAQs

Rating:

T
There is a superb foundation here for what could become one truly special franchise.

With multiple ways to achieve victory and countless strategies to employ, Thea: The Awakening is designed to occupy your time for countless hours. A single playthrough can last hundreds of turns but once you've earned a victory, it will simply unlock new quests and options. The complexity leads to all sorts of different ways you can enjoy your time but also creates a gigantic barrier to entry. Without watching a YouTube video of a playthrough being completed and explained on the fly I may have just given up, which would have been a shame because Thea is a fantastic title worth spending the time to figure out.

An incredibly addictive gameplay experience that ropes you in, dazzling you with its unique world and storytelling, that you will quickly lose sleep over.

There's a lot of good in Thea: The Awakening. Nearly every bit of text is voiced, it's cool being able to grow your group of people, handling combat head-on or simply selecting to auto-resolve is implemented well, and there's a great deal of customization. However, it's rather short with only a single primary objective and there's no substantial reason to replay it.

Thea: The Awakening brings the background to less covered topics, with the Slavic mythology acting as the overarching theme instead of the cliché Norse or medieval settings, and that's something to praise. What Thea doesn't get right is that by trying to be too many things at the same time, it doesn't quite succeed at any of them and the result is a game that while not without its value, often feels too overloaded, with mechanics that trample each other. Nonetheless, Thea still has something going for it, it just doesn't fully materialize.

Never mind the fact that Thea: The Awakening can frequently feel like a needlessly complicated 4X stategy/survival rogue-like/card battler. If that was its only issue, this would be an easy recommendation. Regrettably, the inconvenience that is its user interface mars what could be something really awesome.

Thea: The Awakening has lots of interesting ideas, but shoves them into a compilation and order that stop them from being enjoyable. It isn't bad, so much as it is sure to cause a state of befuddlement in all who play it. It's also very hard to recommend this over, say, Civilisation VI. Add in the slight technical bumps and you have an awkward Switch port of a weird game. It just feels like someone through darts at a list of genres and went for it. 10/10 for ambition, not so much for the end result.
Finished it multiple times and i really enjoyed it. I bought it when there was a special price offer and i don't regret it. Of course,

Finished it multiple times and i really enjoyed it. I bought it when there was a special price offer and i don't regret it. Of course, replaying the game brings nothing really new, but anyway i played it 50 hours. Also very nice to play in handheld mode in bed.

…

Expand