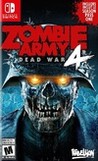 Summary:

The resistance have defeated Zombie Hitler and cast him into Hell but the dead rise once again with greater hunger than before.

Continue the alternate history of Zombie Army Trilogy in huge new levels, and uncover a sinister plan that takes the Survivor Brigade across Italy and beyond!The resistance have defeated Zombie Hitler and cast him into Hell but the dead rise once again with greater hunger than before.

Continue the alternate history of Zombie Army Trilogy in huge new levels, and uncover a sinister plan that takes the Survivor Brigade across Italy and beyond!

Fight the forces of darkness in corpse-riddled canals, survive a Zombie Zoo, and journey to dark, inexplicable places no person has been before and lived to tell the tale!

…

Expand
Developer:

Rebellion

Genre(s):

Action

,

Shooter

,

Third-Person

,

Arcade

# of players:

Up to 4

Cheats:

On GameFAQs

Available On:

Stadia

Rating:

M
Please enter your birth date to watch this video:
You are not allowed to view this material at this time.
Zombie Army 4: Dead War – Nintendo Switch Feature Trailer
Playing Zombie Army 4 was a really great experience. The campaign stayed fresh from beginning to end with a fantastic climax. The additional levels from the included DLC are just as gripping as well. It's a great game that you can play solo or with friends, and it does a great job combining horror and action. If the online ends up working as well as the offline does when the game releases, you will lose loads of hours in this world. With all of the customization that you can do for multiple characters, weapons, and abilities with much more paid DLC to come, it's easy to imagine sinking tons of hours and bullets into this never-ending zombie war.

If, like me, the Zombie Army and Sniper Elite franchises are secretly the best shooters, then this Switch version is a no-brainer. For everyone else, however, this is probably a typical case of 'between art and Switch'...

Zombie Army 4: Dead War for Switch is an enjoyable game in its portable version. Killing zombies with this slow motion effect is still the highlight although we can't pass up the coop features that the game has. It lacks different zombie types and some graphic details but it is still one of the best zombie experiences.

Zombie Army 4: Dead War is a surprisingly solid Switch port of one of our favourite Rebellion titles thus far. There's a ton of zombie Nazi-slaying sweetness to get stuck into here and, although the graphics have taken a hit and the frame rate has been halved in comparison to other platforms, what's here is eminently playable in both docked and handheld modes. Whether you're taking on Hitler's undead hordes alone or with a few friends in tow, this one's a ton of schlocky B-movie fun that gets a great big thumbs up from us.

Zombie Army 4: Dead War might be one of the most technically impressive games to come to Nintendo Switch in quite some time. With all the action on screen, the game manages to maintain a smooth and consistent experience regardless of how many enemies or online players are present. It's a goofy, campy title that knows it's goofy and steers into that goofiness throughout your adventure. It's also unique in that it's as much fun to play by yourself as it is to play with friends, although I have to admit playing with friends makes the experience a little more hysterical. While the character movement is too janky for its own good, this doesn't ruin the experience at all. Put simply, if you're looking for a good zombie shooter to play by yourself or with friends, then Zombie Army 4 must absolutely be at the top of your list.

The developers really did a great job in optimizing this game for the Switch. I do recommend the other versions of this game for the full experience, but the Switch version of Zombie Army 4: Dead War is a great choice if you want portability or just to have the game on your Switch console.

It's a tad dumb but it's old-school dumb fun. Jump in with a friend or three and relive the glory days of zombie shooters in a simpler time when battles weren't 'royale' and zombies were hotter than Jessica Alba.
Rebellion created another and the best part of the series so far with "Zombie Army 4: Dead War". The storyline and the various tasks in the

Rebellion created another and the best part of the series so far with "Zombie Army 4: Dead War". The storyline and the various tasks in the levels are really fun and will drive you from A to B for a good 15 hours. The environments and the multitude of different enemies can always provide interesting and difficult moments. The controls work wonderfully and should never be a problem in the missions. Especially together, the title is a lot of fun and the scope means that many hours on the console are pre-programmed. The Nintendo Switch version also includes all content from Season Pass One. Players get access to three additional levels, four character packs, nine weapon bundles, five weapon skin packs, and four character outfit packs. Fans will pick up the fourth part anyway, and newcomers should definitely take a look at Zombie Army 4: Dead War.

…

Expand

Amazing game and incredible port. Tons of content in the base game with the season 1 pass included. I would say it's worth it, even at its

Amazing game and incredible port. Tons of content in the base game with the season 1 pass included. I would say it's worth it, even at its regular price. This is hands down my favourite zombie game on switch (so much better than World War Z) and a good improvement and expansion of Zombie Army Trilogy. Even though basically no one is talking about this game, it has a healthy little switch community of active players. The online play works extremely well, even if the small delay between performing an action online and it being registered in the game is annoying. That's Nintendo's fault though with the **** wifi they put in the switch. If I had to make one complaint about this game, it's that there is way too much leveling up and grinding, particularly for weapon upgrades, to the point where it takes away from the actual gameplay. It's hard for me to enjoy the gameplay for what it is when all I can think about is headshotting 50 armoured giants to get upgrade my rifle. I'm sure some might enjoy these kinds of upgrading mechanics, but it's far too grindy for me. Either way, this game has a lot of longevity, and I have no doubt it's going to end up being one of my most played switch games. Other than the grindy game mechanics, my biggest complaint for the game its super overpriced and prevailent DLC. Season passes 2 and 3 are 30 dollars each. For 3 maps a pop and a handful of weapons and character skins, that's fundamentally not worth it, compared to the base game (with season pass 1) for 50 dollars that has 12 maps, 11 horde mode maps, and an already decent amount of weapons and characters. Each season pass, for the amount of content they have, shouldn't be more than 15 dollars, and even that is a stretch. The game won't let you forget that you have DLC to buy either. The content you're "missing out on" is plastered all over the games menus, with a big ever present "BUY NOW" button always within reach. Very scummy business practices. You could say it's better than gatcha mechanics and loot boxes (it is), but I don't think this super overpriced DLC should be defended in any capacity. To get the "full game" you'd have to pay $105. Too much. If this review seems negative that is because I'm only focusing on the two aspects of the game I didn't like. Everything else that's great about it goes without saying. If you like mindless zombie killing online with friends, ZA4 is a no brainer.

…

Expand

horrible game about blood gore zombies, dont play this game !!!
its type of games that make people worse