| Disco Elysium | Asgard's Wrath | John Wick Hex |
| --- | --- | --- |
| | | |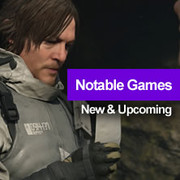 Find release dates, trailers, and scores for major upcoming and recent videogame releases for all platforms, updated weekly.
1.

Tetris Effect

Named after a real-world phenomenon where players' brains are so engrossed that images of the iconic falling Tetrimino blocks (i.e. the Tetris playing pieces) linger in their vision, thoughts, and even dreams, Tetris Effect amplifies this magical feeling of total immersion by surrounding you with fantastic, fully three-dimensional worlds that react and evolve based on how you play. Music, backgrounds, sounds, special effects -- everything, down to the Tetris pieces themselves, pulse, dance, shimmer, and explode in perfect sync with how you're playing. From deep beneath the ocean to the furthest reaches of outer space and everywhere between, Tetris Effect's 30-plus stages take players on a wondrous, emotional journey through the universe. The core of the game is still Tetris -- one of the most popular puzzle games of all time -- but like you've never seen it, or heard it, or felt it before.

2.

Disco Elysium

Disco Elysium is an open world role playing game. You're a detective with a unique skill system at your disposal and a whole city block to carve your path across. Interrogate unforgettable characters, crack murders or take bribes. Become a hero or an absolute disaster of a human being.

3.

Valfaris

Set in a far corner of space, Valfaris is a heavy metal infused 2D action-platformer and the next game from the team behind Unity Awards finalist, Slain: Back From Hell. Brutal combat. Deadly enemies. Stunning pixel art. Savage soundtrack. Get ready to rip the galaxy a new wormhole.

4.

Asgard's Wrath

Unleash the wrath of the Gods in a mythical Norse adventure that can only unfold in VR. Forge your destiny as both a mortal hero and living god in an action role playing game of unworldly depth.

5.

Eliza

Eliza is a visual novel about an AI counseling program, the people who develop it, and the people who use it. Follow Evelyn Ishino-Aubrey as she reconnects with people from her past, gets to know the people of Seattle who use Eliza for counseling, and decides the course of her future.

6.

The Bard's Tale IV: Director's Cut

The Bard's Tale IV: Director's Cut is the return of the iconic RPG series. Delve into a tactically rich combat system that rewards creativity, solve puzzles to gain treasure and advantages, and discover a beautifully crafted world.

7.

WHAT THE GOLF?

8.

Control

After a secretive agency in New York is invaded by an otherworldly threat, you become the new Director struggling to regain Control. This supernatural third-person action-adventure game will challenge you to master a combination of supernatural abilities, modifiable loadouts and reactive environments, while fighting through a deep and unpredictable world.

9.

Telling Lies

Four private lives. One big lie. Search through secretly recorded video conversations to discover the truth. The successor to the acclaimed Her Story.

10.

The Sims 4: Realm of Magic

Welcome to Glimmerbrook. It's a quiet town. Family homes. Places to hang out. A dense wooded area with a mysterious pathway. Wait, what is back there, Simmer? Where could this not-so-secret secret trail possibly lead? Well, if your Sim has any bit of adventure in their personality, they'll want to know. And what they'll discover is a world unlike any other in The Sims 4. First, a quick warning: Once your Sim goes through that portal door, they won't be able to un-see this enchanted world. And they certainly won't want to leave without learning a few spells! Gettin' Crafty Speaking of spells, who better to learn magic from than the best? Once through the portal, Sims can meet spellcasters who just might teach them a thing or two. Plus, Sims can get experimental with a giant cauldron, collect elements to make interesting potions, and even test their skills against other aspiring spellcasters. This is gonna be good. Wicked good! Wardrobe for Wizardry Creating spells is great and all, but don't forget about dressing the part. To get your Sim in the magic-making spirit, they can don celestial dresses, accessories, and more to blend in with other spellcasters or stand out among the crowd. What will your Sim be wearing when they master the recipe for love potion or when they finish that challenging quest? The choice is yours!