| Eastward | Deathloop | Kena: Bridge of Spirits |
| --- | --- | --- |
| | | |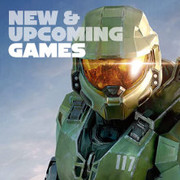 Find release dates, trailers, and scores for major upcoming and recent videogame releases for all platforms, updated weekly.
1.

Psychonauts 2

Razputin Aquato, trained acrobat and powerful young psychic, has realized his life long dream of joining the international psychic espionage organization known as the Psychonauts! But these psychic super spies are in trouble. Their leader hasn't been the same since he was kidnapped, and what's worse, there's a mole hiding in headquarters. Raz must use his powers to stop the mole before they execute their secret plan--to bring the murderous psychic villain, Maligula, back from the dead.

2.

Streets of Rage 4: Mr. X Nightmare

The fight continues in Wood Oak City. After the events of Streets of Rage 4, our heroes wanted to prepare themselves for future threats. Axel, Blaze and their mates will start a very special deranged training with the help of Dr. Zan, who built an AI program from the remnants of Mister X's brain that simulates every kind of danger they could be facing. With this new DLC, get ready for: • 3 new playable characters • A new Survival mode with weekly challenges • Character customization: build your own fighting style with new moves • New weapons and enemies!

3.

Deathloop

If at first you don't succeed Die, Die Again. From the team at Arkane Lyon comes an innovative take on first-person action. "DEATHLOOP" transports players to the lawless island of Blackreef in an eternal struggle between two extraordinary assassins. Explore stunning environments and meticulously designed levels in an immersive gameplay experience that lets you approach every situation any way you like. Hunt down targets all over the island in an effort to put an end to the cycle once and for all, and remember, if at first you don't succeed die, die again.

4.

Townscaper

Build quaint island towns with curvy streets. Build small hamlets, soaring cathedrals, canal networks, or sky cities on stilts. Block by block. No goal. No real gameplay. Just plenty of building and plenty of beauty. That's it. Townscaper is an experimental passion project. More of a toy than a game. Pick colors from the palette, plop down colored blocks of house on the irregular grid, and watch Townscaper's underlying algorithm automatically turn those blocks into cute little houses, arches, stairways, bridges and lush backyards, depending on their configuration.

5.

Tales of Arise

Challenge the Fate That Binds You On the planet Dahna, reverence has always been given to Rena, the planet in the sky, as a land of the righteous and divine. Stories handed down for generations became truth and masked reality for the people of Dahna. For 300 years, Rena has ruled over Dahna, pillaging the planet of its resources and stripping people of their dignity and freedom. Our tale begins with two people, born on different worlds, each looking to change their fate and create a new future. Featuring a new cast of characters, updated combat, and classic Tales of gameplay mechanics, experience the next chapter in the world-famous Tale of series, Tales of Arise. The Next Chapter Experience the next chapter in the Tales of series, brought to life in stunning HD powered by Unreal Engine 4 Dynamic Action Dynamic Action RPG featuring an updated battle system that retains classic Tales of gameplay A New Tale Awaits Rich story featuring a vibrant world and new cast of characters Stunning Visuals High quality animation created by Ufotable

6.

Mini Motorways

Have you ever been stuck in traffic and wished you could do something to fix it? In Mini Motorways, the city's traffic problems are in your hands. From the makers of Mini Metro, Mini Motorways is a game about drawing the roads that drive a growing city. Build a road network, one road at a time, to create a bustling metropolis. Redesign your city to keep the traffic flowing, and carefully manage upgrades to meet the changing demands. How long can you keep the cities of the world moving?

7.

F1 2021

Every story has a beginning in F1® 2021, the official videogame of the 2021 FIA FORMULA ONE WORLD CHAMPIONSHIP™. Enjoy the stunning new features of F1® 2021, including the thrilling story experience 'Braking Point', two-player Career, and get even closer to the grid with 'Real-Season Start'.

8.

The Forgotten City

The Forgotten City is a mystery adventure game of exploration and deduction. Travel 2,000 years into the past and relive the final days of a cursed Roman city, where if one person sins, everyone dies. Combat is an option, but violence will only get you so far. Only by questioning an intertwined community of colourful characters, cleverly exploiting the time loop, and making difficult moral choices can you hope to solve this epic mystery. Here, your decisions matter. The fate of the city is in your hands.

9.

Final Fantasy IV Pixel Remaster

FINAL FANTASY IV delivers one of the richest and most powerful stories in the series. It's filled with characters and scenarios that fans continue to love to this day. It focuses on the dark knight Cecil, who finds himself stripped of his position and rank when he questions his king's increasingly troubling orders. When he's sent on a simple delivery mission with his friend Kain, the shocking events that follow send him and a group of allies on an incredible journey of betrayal, love and redemption. This is the first game to feature the Active Time Battle (ATB) system, which combines turn-based and real-time elements to create fast-paced and strategic combat.

10.

Death's Door

Reaping souls of the dead and punching a clock might get monotonous but it's honest work for a Crow. The job gets lively when your assigned soul is stolen and you must track down a desperate thief to a realm untouched by death - where creatures grow far past their expiry and overflow with greed and power. Talon Sharp Combat: Utilise melee weapons, arrows and magic to overcome a fantastic array of beasts and demigods. Mistakes are punished and victory is rewarded. Gain an edge by customising your character stats and mastering the abilities and upgrades you obtain. A Beautifully Bleak World: Venture beyond the Doors and explore a land full of twisted inhabitants and countless secrets, bringing hope to the weird and wonderful characters you'll meet along the way. A Dark Mystery to Unravel: Track down and defeat colossal tyrants with stories and motivations of their own. Experience a somber yet darkly comedic tale, uncovering the truths behind the flow of souls, the role of the Crows and the origin of the Doors.