| System Shock | The Lord of the Rings - Gollum | Diablo IV |
| --- | --- | --- |
| | | |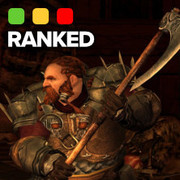 We rank every modern video game inspired by the Lord of the Rings books and films from worst to best by Metascore.
1.

Resident Evil 4

SURVIVAL IS JUST THE BEGINNING...Resident Evil 4 is a remake of the 2005 original Resident Evil 4. Reimagined for 2023 to bring state-of-the-art survival horror. Resident Evil 4 preserves the essence of the original game, while introducing modernized gameplay, a reimagined storyline, and vividly detailed graphics to make this the latest survival horror game where life and death, terror and catharsis intersect. STORY: 6 years have passed since the biological disaster in Raccoon City. Leon S. Kennedy, one of the survivors of the incident, has been recruited as an agent reporting directly to the president of the United States. With the experience of multiple missions on his back, Leon is sent to rescue the president's kidnapped daughter. He tracks her to a secluded European village, where there is something terribly wrong with the villagers. And the curtain rises on this story of daring rescue and grueling horror.

2.

Dead Cells: Return to Castlevania

The inspiration behind it all returns to its 2D action roots! Castlevania's unforgettable characters & gothic setting meet the fast-paced combat of the award-winning roguelite Dead Cells in this unprecedented collaboration. A gateway to a striking castle has suddenly appeared, and an imposing warrior called Richter asks you to help him vanquish the great evil within. Enticed by the promise of new loot rather than a sense of moral duty, you strike out through the grounds and corridors of the gothic castle to find and kill this mysterious Dracula... Slay hordes of his supernatural minions as you progress through our biggest DLC yet, including two levels, three bosses and a new storyline!

3.

The Legend of Heroes: Trails to Azure

Sandwiched between two great powers, the city of Crossbel is the place where the Uroboros group carry out their biggest and darkest schemes. A mysterious drug is spreading its poison across the city, the mafia and the mercenary groups seem to have a role in the crimes. Add a break down to the political order to the mix, and you have complete chaos in your hands. The world becomes more real and the battles become more dangerous in Ao no Kiseki. Feel the rain patter on your skin and enemies creep up to you in the dark.

4.

Meg's Monster

Welcome to the Underworld - a land of monsters and mutants who eat humans for breakfast. One such monster - a hulking ogre by the name of Roy - has no interest in eating humans. But one day, he and his best friend Golan stumble upon a lost little girl named Meg, and discover something truly terrifying: the moment she starts wailing in fear, a blood-red hue washes over the sky, and the earth itself begins to tremble and quake. That's right: this small girl's tears hold the power to bring forth the apocalypse - and the only way to stop it is for them to help find her mother so she can make it safely back home. Meg's Monster is a short, story-driven JRPG with a big twist. Players control Roy, who begins the game with 99,999 HP and is virtually untouchable - but the real concern is keeping Meg safe, because if she starts crying, it's game over for everyone. Players will have to master the unique mechanics and mini-games baked into each battle, all while protecting Meg and using her favorite toys to keep her pacified.

5.

Atelier Ryza 3: Alchemist of the End & the Secret Key

Ryza and her friends are living their lives on Kurken Island when news of a sudden appearance of a mysterious group of islands in nearby waters arrives. To find a way to save her island, Ryza and her friends will set off on final adventure surrounding the "roots of alchemy." Reunite with characters from previous games, and meet new characters who will be key to the story. Mix and match your favorite members and enjoy the adventure!

6.

The Murder of Sonic the Hedgehog

Sonic the Hedgehog...was murdered!? Get to the bottom of the mystery in this brand-new adventure!

7.

Humanity

A unique blend of puzzle-solving and action-platforming. Play a lone Shiba Inu charged with commanding massive, marching crowds to the goal in Story Mode, or browse a wide array of user-made levels crafted via the in-game Stage Creator.

8.

Cassette Beasts

Grab your cassette player, it's time to transform! Collect awesome monster forms to use during turn-based battles in this indie open-world RPG. Combine any two monster forms using Cassette Beasts' Fusion System to create unique and powerful new ones! Welcome to New Wirral, a remote island inhabited by creatures you've only dreamed of, nightmares you hopefully haven't, and a cast of brave folks who use cassette tapes to transform for battle. To find a way home you'll need to explore every inch of the island, and record monsters to tape to gain their abilities!

9.

Age of Wonders 4

Age of Wonders 4 invites players to rule a fantasy realm of their own design, in a blend of strategy, role-playing, and turn-based combat. Powerful Wizard Kings have returned to the realms to reign as gods among mortals, and players will rise to challenge their rule using Tomes of Magic to unleash arcane destruction and evolve their armies, gaining new abilities and forms. For the first time in the series, players can create their own custom factions, and leave their mark on countless worlds through each choice they make. Create the Empire of Your Wildest Fantasies: Craft your followers by combining bodily forms, societal traits, and arcane powers. Build anything from a clan of cannibal halflings to mystic moon elves, or recreate your favourite fantasy tropes. Seek powerful tomes of magic to enchant your armies and see your people physically change as they morph into angelic beings or scions of chaos to face their enemies. Strategy Meets Role-Playing Like Never Before: Every choice opens up new possibilities and tactical advantages; deep, multilayered strategy allows you to try new tactics or explore new powers at every turn. Tactical turn-based battles bring your armies to life, from skirmishes with roaming monsters to vast sieges with many units on each side. Write Your Own Legend: A new event system provides unexpected levels of storytelling for 4X games. See your decisions shape the world around you as you seek glory through brutal domination, cunning alliances, or ultimate arcane knowledge. Your own creations may even appear as potential rivals or allies in subsequent games, as you experience the next chapter in your own story. Make Your Mark on a Vast, Reactive World: Explore a new realm in each session – or create your own! Challenge new variations and combinations of locations and features, from frozen wastelands ruled by ice queens to desolated ruins where dragons roam. With a tremendous variety of empires, units, and environments to keep the game endlessly replayable, Age of Wonders is more open-ended – and mod-friendly – than ever before in the series' history. [Paradox Interactive]

10.

Stranded: Alien Dawn

Brave a new world in Stranded: Alien Dawn, a planet survival sim placing the fate of a small marooned group in your hands. Forge your story through compelling and immersive strategic gameplay as you make vital decisions to protect your survivors from starvation, disease, extreme weather and more. From basic camps to fortified bases, create a stronghold to defend the survivors from attacks by alien creatures that roam an expansive and deadly alien world. Experience an epic and unpredictable journey.