| Hellbound | Fall Guys: Ultimate Knockout | Horizon Zero Dawn: Complete Edition |
| --- | --- | --- |
| | | |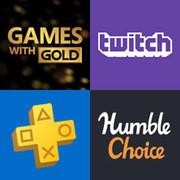 A frequently updated list of free games available from Epic Games Store, PS Plus, PS Now, Xbox Game Pass, Xbox Games With Gold, Twitch/Prime, Humble, EA/Origin Access, IndieGala, Steam, and other services.
1.

Halo: The Master Chief Collection - Halo 3

Halo 3 is the third game in the Halo Trilogy and provides the thrilling conclusion to the events begun in "Halo: Combat Evolved." Halo 3 will pick up where "Halo 2" left off. The Master Chief is returning to Earth to finish the fight. The Covenant occupation of Earth has uncovered a massive and ancient object beneath the African sands - an object who's secrets have yet to be revealed. Earth's forces are battered and beaten. The Master Chief's AI companion Cortana is still trapped in the clutches of the Gravemind - a horrifying Flood intelligence, and a civil war is raging in the heart of the Covenant. This is how the world ends...

2.

F1 2020

For the first time, players can create their own F1® team by creating a driver, then choosing a sponsor, an engine supplier, hiring a teammate and competing as the 11th team on the grid. Build facilities, develop the team over time and drive to the top. Customise your 10-year career mode, with a choice of F2™ Championship introduction options and season lengths to allow for a more exciting, multiple season, career. The addition of split-screen racing, a new steering assist and a more accessible race experience means that you can enjoy the game with friends, no matter what your skill level. F1® 2020 features all the official teams, drivers and 22 circuits, including two new races: Hanoi Circuit and Circuit Zandvoort. Online connection required to download the final teams' 2020 cars (as applicable) and F2™ 2020 season content.

3.

Death Stranding

Besieged by death's tide at every turn. Sam Bridges must brave a world utterly transformed by the Death Stranding. Carrying the stranded remnants of the future in his hands, Sam embarks on a journey to reunite the shattered world one step at a time. What is the mystery of the Death Stranding? What will Sam discover on the road ahead? A genre defining gameplay experience holds these answers and more.

4.

Persona 4 Golden

Inaba—a quiet town in rural Japan sets the scene for budding adolescence in Persona 4 Golden. A coming of age story that sets the protagonist and his friends on a journey kickstarted by a chain of serial murders. Explore meeting kindred spirits, feelings of belonging, and even confronting the darker sides of one's self. Persona 4 Golden promises meaningful bonds and experiences shared together with friends. With an overall Metacritic score of 93 and a multitude of awards, fan-adored Persona 4 Golden stands as one of the finest RPGs ever made, delivering on enthralling storytelling and quintessential Persona gameplay.

5.

Desperados III

On his epic journey through 1870s USA and Mexico, John Cooper will have to take responsibility for mistakes that have been made in the past. On his quest for redemption, Cooper joins forces with the runaway bride Kate O'Hara, shady Arthur "Doc" McCoy, the giant trapper Hector and a mysterious lady from New Orleans. They make their way from the mountains of Colorado to the heart of Louisiana, then finally to New Mexico, right back into Cooper's past. You take control of this ragtag band becoming a highly functional group of unlikely heroes and heroines. The leader of his team is Cooper, drifter and gunslinger, who can kill quietly with a knife or take out multiple foes with his revolvers. Strongman Hector carries a giant beartrap and can slay the toughest opponents with his trusty axe. Cold-blooded bounty hunter McCoy likes to be methodical, using lures, knockout gas, poison syringes and a custom long-range pistol. Kate can fool almost any man with the right outfit and kill discretely with her hidden gun. Combine your specialists to overcome tough challenges in many different ways. Plan your moves wisely and execute them perfectly in real-time to sneak past your enemies while remaining undetected.

6.

Huntdown

Challenge yourselves in this hard-boiled co-op arcade shooter! Run, jump, and take cover in the mayhem-filled streets of the future. Kill the henchmen, take their guns, and Huntdown the leaders! Collect the bounty, level by level, and make a healthy living by making living unhealthy.

7.

Horizon Zero Dawn: Complete Edition

Experience Aloy's legendary quest to unravel the mysteries of a future Earth ruled by Machines. An outcast from her tribe, the young hunter fights to uncover her past, discover her destiny… and stop a catastrophic threat to the future. Use devastating tactical attacks against your prey and explore a majestic open world in this action RPG.

8.

Monster Train

Monster Train is a strategic roguelike deck building game with a twist. Set on a train to hell, you'll use tactical decision making to defend multiple vertical battlegrounds. With real time competitive multiplayer and endless replayability, Monster Train is always on time.

9.

Deep Rock Galactic

Deep Rock Galactic is a 1-4 player co-op FPS featuring badass space Dwarves, 100% destructible environments, procedurally-generated caves, and endless hordes of alien monsters.

10.

The Wonderful 101: Remastered

A team of heroes from around the world must UNITE to protect the earth from vicious alien invaders! This band of 100 Wonderful Ones works together using their fantastic abilities to create a variety of forms. Whether it be a giant fist or a sharp blade, they'll use their wits and power to overcome the enemy's pitfalls and perils! And the final member of this team of courageous heroes... is you. Features: * Over 100 unique and dazzling heroes, each with their own backstories and emblems! * Change weapons in a flash with the 'Unite Morph' system! Draw shapes to switch between swords, whips, hammers, and more to battle with strategy and flair! * Unite Morphs can be more than just weapons! Build hang gliders and bridges to cross chasms, and bounce and blast your way to great heights! Use your smarts as well as your strength to solve puzzles and persevere! * Don't forget - a hero's true calling is protection! Rescue the citizens you come across and your bravery will inspire them to UNITE UP! For a limited time, of course. * Your missions will take around the world! Through cities, across the ocean floor, deep in the jungle, and to a host of exciting locations!