| Chicory: A Colorful Tale | Dungeons & Dragons: Dark Alliance | Necromunda: Hired Gun |
| --- | --- | --- |
| | | |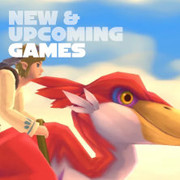 Find release dates, trailers, and scores for major upcoming and recent videogame releases for all platforms, updated weekly.
1.

Disco Elysium: The Final Cut

Disco Elysium - The Final Cut is the definitive edition of the smash-hit RPG. Pursue your political dreams in new quests, meet and question more of the city's locals, and explore a whole extra area. Full voice-acting, controller support, and expanded language options also included. Get even more out of this award-winning open world. You're a detective with a unique skill system at your disposal and a whole city block to carve your path across. Interrogate unforgettable characters, crack murders, or take bribes. Become a hero or an absolute disaster of a human being.

2.

Chicory: A Colorful Tale

Something terrible happened. Chicory, superstar artist and wielder of the Brush, is missing, and all the color in the land vanished with her. It's up to you, Chicory's number one fan, to pick up the Brush and fill in for her. It's a big job but you're ready for it! Probably! Chicory: A Colorful Tale is a top-down adventure game in a coloring book world where you can draw on anything. Use your painting powers to explore new places, solve puzzles, help your friends, and change the world!

3.

It Takes Two

From Hazelight comes It Takes Two an innovative co-op adventure where uniquely varied gameplay and emotional storytelling intertwine in a fantastical journey. Founded to push the creative boundaries of what's possible in games, Hazelight is the award-winning studio behind the critically acclaimed A Way Out and Brothers: A Tale of Two Sons. Something out of the ordinary Bring your favorite co-op partner and together step into the shoes of May and Cody. As the couple is going through a divorce, through unknown means their minds are transported into two dolls which their daughter, Rose, made to represent them. Now they must reluctantly find a way to get back into their bodies, a quest which takes them through the most wild, unexpected and fantastical journey imaginable.

4.

Astalon: Tears of the Earth

Three heroic explorers wander the post-apocalyptic desert on a mission to save their village's resources from despair. They soon find a dark, twisted tower that has risen from the depths of the planet and seemingly holds the key to their survival. In order to ensure their victory, one of them has made a secret pact with the lord Epithemeus, allowing them to reincarnate until they have accomplished their mission. But what fate lies in store for the heroes and their village? Astalon: Tears Of The Earth is an action-platformer set in a dying world where life is cruel, but death can be a stepping stone to victory. Use the unique skills and weapons of Arias the warrior, Kyuli the archer, and Algus the wizard, to surmount the mysterious tower and find the answers to their survival. Slay terrible monsters, discover powerful artifacts, and solve fiendish puzzles, reaching new heights in the tower with the aid of a dark titan. Strengthen your party and change their fate by embracing death. Discover the countless secrets of the Tower of Serpents!

5.

Mass Effect Legendary Edition

For many months now, our team at BioWare has been hard at work updating the textures, shaders, models, effects and technical features of three enormous games. Our goal was not to remake or reimagine the original games, but to modernize the experience so that fans and new players can experience the original work in its best possible form. It's been amazing to see the adventures of Commander Shepard take on new life in super-sharp resolution, faster framerates, and beautiful visual enhancements. Mass Effect Legendary Edition will include single-player base content and DLC from Mass Effect, Mass Effect 2, and Mass Effect 3, plus promo weapons, armors, and packs - all remastered and optimized for 4k Ultra HD. It will be available in Spring 2021 for Xbox One, PlayStation 4, and PC, with forward compatibility and targeted enhancements on Xbox Series X and PlayStation 5.

6.

Metro Exodus: Complete Edition

For PC players, we're taking advantage of our new Fully Ray Traced Lighting Pipeline and the latest GPU-capable hardware from NVIDIA and AMD to offer the ultimate Ray Traced experience – the Metro Exodus PC Enhanced Edition. This upgrade is so extensive, it will require a Ray Tracing capable GPU as the minimum spec, and we will need to deliver this version as a separate product – it is not a simple 'patch' to the base game – instead it will be offered as an extra entitlement to all existing Metro Exodus PC players.

7.

Guilty Gear -Strive-

"Guilty Gear -Strive-" is the latest entry in the Guilty Gear fighting game franchise. Created by Daisuke Ishiwatari and developed by Arc System Works, "Guilty Gear -Strive-" upholds the series' reputation for groundbreaking hybrid 2D/3D cell-shaded graphics and intense, rewarding gameplay. There is a fully voiced story mode diving deep into the Guilty Gear universe, new characters joining fan favorites, and robust rollback net code. The cutting-edge 2D/3D hybrid graphics pioneered in the Guilty Gear series have been raised to the next level in "Guilty Gear -Strive-". The new artistic direction and improve character animations will go beyond anything you've seen before in a fighting game!

8.

The Darkside Detective: A Fumble in the Dark

Delouse your room with sage and pack up your travel-sized ouija board, it's time to re-enter Twin Lakes - America's 34th most haunted city. Join Detective McQueen as he puzzles his way through 6 chilling cases, risking life and pixelated limb to solve the macabre mysteries that plague the poor town.

9.

Kingdom Hearts III - Re Mind

The other tale that unfolded during the climax of KINGDOM HEARTS III. Determined to rescue Kairi, Sora travels to the Keyblade Graveyard a short time before the final battle was to take place. Lacking a corporeal form, he traces the hearts of the seven guardians of light. Through experiencing their personal battles firsthand, Sora is about to discover truths that he has never before imagined. The KINGDOM HEARTS III Re Mind DLC includes: The additional story: Re Mind Limitcut episode and 13 boss battles Secret episode and boss battle Data greeting feature Slideshow feature Premium menu (Diverse difficulty settings and gameplay challenges)

10.

Resident Evil Village

The next generation of survival horror rises in the form of Resident Evil Village, the eighth major entry in the Resident Evil series. With ultra-realistic graphics powered by the RE Engine, fight for survival as danger lurks around every corner. Years after the tragic events of Resident Evil 7 biohazard, Ethan Winters has started over with his wife Mia, finally living in peace and putting the past behind them. However, Chris Redfield, the legendary hero from previous Resident Evil games, suddenly disrupts their life, throwing a devastated Ethan into a new and twisted nightmare in search of answers.