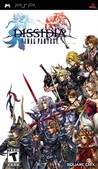 Summary:

Cosmos, the goddess of harmony. Chaos, the god of discord. Reigning from distant realms, the two gods had gathered warriors from all lands to lead them in savage war. Cosmos and Chaos were of equal strength. It was believed the conflict would last forever. However, the balance is now broken.

Cosmos, the goddess of harmony. Chaos, the god of discord. Reigning from distant realms, the two gods had gathered warriors from all lands to lead them in savage war. Cosmos and Chaos were of equal strength. It was believed the conflict would last forever. However, the balance is now broken. Those who answered Chaos's call created an inexhaustible force. And under vicious attack without relent, the warriors fighting for Cosmos started to fall one by one. The conflict that has continued for eons is now about to end in Chaos's favor. The world has been torn asunder, sinking into a vortex of disorder. As for the few surviving warriors… their fates have yet to be determined. All-new battle system: Action-based battle system combines all-out brawling alongside RPG-based character development in an original system developed by the creators of the KINGDOM HEARTS series. Ultimate cast of characters: Fan-favorite heroes and villains from the entire FINAL FANTASY series come together in one game for the first time in a remarkable new tale with fully-voiced CG movies and real-time events. Fantasy match: Players select their favorite FINAL FANTASY characters, sided with either Cosmos or Chaos, to set the stage for their fantasy match. Series staple battle features: Accessible through "EX Burst", players can experience gameplay faithful to the originals through memorable battle features such as "Limit Break" and "Overdrive". In addition, longtime fans of the series can enjoy the ability to summon Aeons and options such as the "command battle" system. Community: Continue the experience by trading Friend Cards, creating items and sharing AI characters with other players and even engage in virtual AI battles made possible by the PSP system ad hoc mode. [Square Enix]

…

Expand
Developer:

Square Enix

Genre(s):

Action

,

Fighting

,

Fighting

,

3D

,

3D

# of players:

2

Cheats:

On GameFAQs

Rating:

T
Dissidia: Final Fantasy manages to marry at least two completely disparate genres into one of the best games of the year. Not only is it exciting and full of fast-paced action, but it's also deep and full of replay value.

The single most comprehensive offering we've ever had the pleasure to play on PSP, Final Fantasy: Dissidia is an absolute gem, a masterpiece of Japanese ingenuity on the maligned handheld format that makes "epics" on the PS3, 360 and PC hide in shame.

This game is a touching tribute to the franchise and a great reward for devoted fans.

Overall A challenging fighter that shows off the PSP's power. Slightly intimidating for non-fans, though.

In spite of nagging camera problems and an intimidatingly complicated battle system, Dissidia is an outstanding fighter that does a fantastic job of giving Final Fantasy fans exactly what they want.

Any Final Fantasy fan will feel right at home here, and those who are somehow unfamiliar with the series will find an amazing title on their hands when they emerge from cryogenic freezing.

It seems that any time Square Enix tries to prove to the world that they can make more than super awesome RPGs, they underwhelm.
Final Fantasy Dissidia is a fighting consisting of characters from the first 10 main franchise titles (I-X) and includes some additional

Final Fantasy Dissidia is a fighting consisting of characters from the first 10 main franchise titles (I-X) and includes some additional characters from XI and XII. The game includes a unique battle system that combines RPG and fighting elements. Both fans of the FF series and fighting fans will surely love this game. With a total of up to 20 characters with 2 additional characters, players may customize their characters with equips and techniques making different combination of attacks possible. Along with that a very long storyline with all sorts of twists and turns never before seen. Fans will surely live the nostalgic life when playing this game. The sound effects and music are revitalize in this game and graphics are clear and crisp. Fans will surely enjoy this perfect fighting RPG classic.

…

Expand

The game is very very good, I love the graphics, the attacks are just flawlessly made, character models are great. Opponents are as strong as

The game is very very good, I love the graphics, the attacks are just flawlessly made, character models are great. Opponents are as strong as crap. (It's hard to beat in my case...) Weapons are really great, and the fact that the characters are the characters from the past really kicks up my love for this game. GG Square Enix, make sure to quickly finish the Final Fantasy XV 'cus I wanna play it!!!

…

Expand

Overall, it made for an interesting fighting game, mixed in with RPG elements. The story was pretty interesting and the combat is fun and

Overall, it made for an interesting fighting game, mixed in with RPG elements. The story was pretty interesting and the combat is fun and addicting. Certainly a must-buy for any Final Fantasy fan. 9/10

…

Expand

I've never played a Final Fantasy game before. The closest I was to Final fantasy was playing the Kingdom Hearts games. So when I heard about

I've never played a Final Fantasy game before. The closest I was to Final fantasy was playing the Kingdom Hearts games. So when I heard about Dissidia and its gameplay, I decided to try out the demo on the PSN, and I actually enjoyed it. So I got the game, and it was pretty sweet. I didn't really care for the plot in this game, so I wasn't really disappointed by it as much as some of you. What was disappointing was the fact that characters would come to the exact location three or four times. Seriously, were those the only areas the characters could explore? Also, the characters' facial expressions weren't as strong as other Square-Enix PSP games like Birth by Sleep and (from what I've seen on youtube) Crisis Core, making them look like puppets instead of actual people. But don't let any of that stuff keep you from buying this game. As my first Final fantasy game, it was a very solid experience that made me really interested in the Final Fantasy series.

…

Expand

Played on PSP.
Gameplay: GREAT.
Story: GOOD.
Graphic: GREAT.
Music/Sound: GREAT.
Dialogue: GOOD.

One of the best psp games of all time, amazing action at the time, good roster with unique abilities

Despues de jugar un tiempo a este juego debo decir que es decepcionante y no lo recomiendo. Pasamos del clasico FF de lucha por turnos donde

Despues de jugar un tiempo a este juego debo decir que es decepcionante y no lo recomiendo. Pasamos del clasico FF de lucha por turnos donde se requeria estrategia y hacer algo fuera de lugar en mal momento nos costaba tener que cargar partida a un juego donde basicamente gana el que mas rapido machaque los botones. Cuando juego un RPG busco mejorar mi personaje, darle una historia y en definitiva hacer de un escualido personaje inicial un guerrero fuerte en un avance progresivo del juego, es decir, que los enemigos se vuelvan mas duros conforme yo lo haga manteniendo siempre asi un equilibrio y batallas intensas. Cuando jugue FF: Dissidia por primera vez me tentaba la idea de un FF distinto y lo de los combates que esta vez no son por turnos y no tarde en darme cuenta de mi error.

El juego se convierte en repetitivo hasta decir basta y no ofrece mecanicas nuevas mas halla de machacar los botones en el mismo combo una y otra y otra vez haciendolo aburrido al largo tiempo. Ademas el juego no te presenta una historia clara simplemente coloca a todos los personajes de los anteriores FF y ale maravillas todos en un mundo de un sueño para luchar contra el "mal" y punto sin ningun tipo de explicacion y te dan subtramas que son igual de aburridas que el juego en si.

Como he dicho antes busco un avance progresivo cosa que este juego se pasa por sus partes nobles, simplemente pasamos de luchar contra un enemigo insultantemente facil a otro que nos da una soberana paliza una y otra y otra vez pero lo peor es que cuando consigues de casualidad vencer a estos enemigos omnipotentes la recompensa no esta acorde con lo que a costado matarlo, te dan una cosa que es incluso peor que lo que actualmente llevas y te decepciona asi que terminas optando por evitar los combates con estos enemigos pues no te reportan beneficio mas halla de una poca experiencia extra.

Otros fallos que e encontrado es la camara la cual en mapas como pandemoniun te deja vendido al intentar esquivar un ataque de persecuccion enfocando una pared dejandote una vision total de 0. Ademas la poca historia que tiene el juego es tan irrelevante que puedes ir directamente a por el boss final despues de hacer la primera odisea.

En definitiva este juego deja mucho que desear y no lo recomiendo, saldria mucho mas rentable adquirir cualquier otro juego de la saga.

…

Expand
| | |
| --- | --- |
| 19 | |
| 5 | #5 Most Discussed PSP Game of 2009 |
| 15 | #15 Most Shared PSP Game of 2009 |