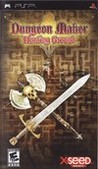 Summary:

(Known as "Chronicle of Dungeon Maker" in Japan) An ambitious but novice dungeon maker arrives in a small town known to suffer periodic attacks from violent monsters. He buys a vast plot of land at the outskirts of the town to create a grand dungeon in hopes of luring in various enemy

(Known as "Chronicle of Dungeon Maker" in Japan) An ambitious but novice dungeon maker arrives in a small town known to suffer periodic attacks from violent monsters. He buys a vast plot of land at the outskirts of the town to create a grand dungeon in hopes of luring in various enemy monsters which to hunt to collect gold and items. He envisions his complete dungeon to be one so appealing as to lure the legendary Wandering Demon. Defeating this menacing monster would free the townspeople from the fear he casts upon them, while winning acclaim as a true dungeon maker for the "Architect." The townspeople are initially skeptical about the Architect's ability to achieve his ultimate goal of building such a dungeon. Over the years, they've watched other such dungeon makers arrive with great plans but ultimately fail -- falling prey to the very monsters they've lured into their dungeons or haphazardly abandoning their creations. However, as the Architect's dungeon grows and improves, luring rarer and more powerful enemies, and he begins bringing back more valuable treasures, the townspeople begin offering support to his mission. Soon the whole town is involved in the dungeon making process; they give advice about the intricacies of dungeon making, sell crucial items, provide weapons and magic spells, treat the Architect when injured, and request various favors to be completed in the expanding dungeon in exchange for generous rewards. Whether the growing hopes of the townspeople and the Architect will be realized all depends on the quality of the dungeon he creates and his developing battle skills. Design and modify a customizable dungeon, floor-by-floor, using simple controls to quickly develop a deep and detailed dungeon. Strategically layout and improve your dungeon to maximize its attractiveness and lure in the most sought-after enemies to take their loot. Fight real-time battles wielding various melee and ranged weapons, casting magic spells, rendering special attacks, and summoning creatures to defeat the wide variety of monsters including undead creatures, orcs, and dragons. Enjoy the vast selection of building materials to customize your dungeon and complete quests to access the rarer items from the wide array of weapons, armors, and accessories to upgrade your warrior. Trade dungeons -- Utilize network connectivity to trade dungeons with a friend. Show off your dungeon creation skills and explore a friend's dungeon to see what kind of monsters and treasures lie inside. [XSEED]

…

Expand
Developer:

Global A

Genre(s):

Role-Playing

,

Action RPG

,

Action RPG

# of players:

1 Player

Cheats:

On GameFAQs

Rating:

E10+
Please enter your birth date to watch this video:
You are not allowed to view this material at this time.
Dungeon Maker: Hunting Ground Official Movie 1
I'm addicted. [Vol 3, Issue 2, p.60]

The simple fact is, if the idea of building a dungeon tailor-made to lure in specific mobs, then rushing in and killing those mobs sounds appealing to you, then Dungeon Maker is most likely right up your alley.

Despite plain graphics, rather generic design, and even a bit of a hit detection annoyance, it's still really fun to build your own loot hole.

It's definitely not for everyone, but some (like me) will adore it. [Sept 2007, p.83]

A good game. I think most people will be bored by it, but RPG lovers will get a kick out of it.

To anyone who's ever thought they could put together a masterful dungeon, or those who want a simple action-RPG where they're in control of the level, Dungeon Maker mixes both together quite well.
It's actually got a lot of quirky little aspects that make the dungeon making a lot of fun. The hack and slash combat system is pretty

It's actually got a lot of quirky little aspects that make the dungeon making a lot of fun. The hack and slash combat system is pretty standard for an action RPG, but the dungeon making twist adds the same feel that characterized Etrian Odyssey, and made it worthy of 80's. Hence my score of 8.

…

Expand

Dungeon Maker is a pretty fun mundane sort of game. If you like to do the same thing over and over while trying to get better doing that same

Dungeon Maker is a pretty fun mundane sort of game. If you like to do the same thing over and over while trying to get better doing that same thing, then you will enjoy dungeon maker alot. I personally like it because of the variety of items and spells. ( The bosses are super easy to beat.)

…

Expand
| | |
| --- | --- |
| 41 | |
| 72 | #72 Most Discussed PSP Game of 2007 |