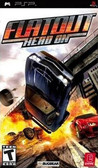 Developer:

Bugbear

Genre(s):

Driving

,

Racing

,

Arcade

,

Other

,

Other

# of players:

Up to 8

Cheats:

On GameFAQs

Rating:

T
Playstation Official Magazine UK

A rag-doll requiem of destruction, so gratuitous that it defies moral probity. Like all the best shock and awe titles, the vice is polished so sweetly you'll barely notice you've gone to hell. [Apr 2008, p.105]

It's easily one of the better PSP racers out there, the potent mix of high-speed racing and spectacular crashes setting it apart from the more clean cut thrills found in WipeOut and Ridge Racer.

Playstation: The Official Magazine (US)

Between its buckets of content and excellent presentation, FlatOut offers more than enough reasons for extreme race fans to buckle-up for its PSP debut. [May 2008, p.82]

FlatOut manages to plow through wrecked cars and almost anything else in its way, but this problem remains as a last obstacle. [May 2008, p.99]

A fun, cheeky, crash-tastic ride to the finish line.

Flatout: Head On may not contain guns, but who needs guns when you get plenty of explosive destruction by simply crashing your ride into oblivion. [May 2008, p.65]

What has four wheels, bad music, and lackluster graphics? Flatout: Head On! Save your money for one of the console version where this game can be better appreciated.
The game is just amazing. I love play this game. For me this game is amazing ! Nothing more to comment because this game is amazing ! I rate

The game is just amazing. I love play this game. For me this game is amazing ! Nothing more to comment because this game is amazing ! I rate this 10/10

…

Expand

this game is much better than burnout, I really liked. it is not a revolution in racing games but it is extremely fun and that's the most

this game is much better than burnout, I really liked. it is not a revolution in racing games but it is extremely fun and that's the most important thing for me. I do not give it the 10 because at least my umd does not have on line mode. racing game for psp

…

Expand

Flatout Head On is Flatout Ultimate Carnage on Xbox 360 . I played in Ultimate Carnage and Head On . In Flatout Head On good graphics for PSP

Flatout Head On is Flatout Ultimate Carnage on Xbox 360 . I played in Ultimate Carnage and Head On . In Flatout Head On good graphics for PSP game and many cars . In this game are many crashes . Flatout Head On one of the best Racing Game on PSP . This is a very good Racing Game and in this game there is a good career and there are trucks . 8/10 .

…

Expand

The game could have been a bit better. For me the killer point is frame rate. it is sluggish and jumps up and down. Damaging a car is not as

The game could have been a bit better. For me the killer point is frame rate. it is sluggish and jumps up and down. Damaging a car is not as ps2 or pc versions. It is simpified here but still good.

…

Expand

A really fun game for traveling. While it is largely the same as the other FlatOut games, this is a good on the go game, and it plays pretty

A really fun game for traveling. While it is largely the same as the other FlatOut games, this is a good on the go game, and it plays pretty much the same as the console games, which is good for a portable game. If you like playing FlatOut, and want to travel with it, then get this game.

…

Expand
| | |
| --- | --- |
| 17 | |
| 16 | #16 Most Discussed PSP Game of 2008 |
| 34 | #34 Most Shared PSP Game of 2008 |