Publisher:

SCEA

Release Date:

Aug 21, 2007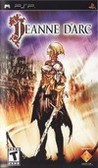 Summary:

The Jeanne d'Arc story begins far in the past, when a great war was waged by mankind against demonic armies attempting to invade the human world. During that time, five brave heroes created armlets to restrain the demon gods. In a quest to turn back the rueful army, a young crusader named

The Jeanne d'Arc story begins far in the past, when a great war was waged by mankind against demonic armies attempting to invade the human world. During that time, five brave heroes created armlets to restrain the demon gods. In a quest to turn back the rueful army, a young crusader named Jeanne is commanded by mysterious voices to use the power of the magical armlet to seal away the demon king and recover her homeland once and for all. Set among sprawling fields, battle-torn villages, and intricate dungeons, Jeanne d'Arc unfolds through more than 40 expansive and highly detailed environments, where players will engage in the pursuit of France's resurgence. Players control up to 14 characters throughout the journey, including humans and beasts, as they battle a variety of enemies in the quest to turn back the English domination. Jeanne d'Arc delivers a strategic, turn-based battle system where players engage in unique team attacks and defensive schemes, using multiple characters' skills in combination to create devastating strikes. Further adding to the depth of play, each character has access to one of eight weapon types that are also upgradeable as players' progress through the game. Additionally, players can customize their characters with more than 150 different skills and abilities throughout the game. [SCEA]

…

Expand
Developer:

Level 5

Genre(s):

Strategy

,

Turn-Based

,

Historic

,

Historic

,

Tactics

# of players:

1 Player

Cheats:

On GameFAQs

Rating:

T
Please enter your birth date to watch this video:
You are not allowed to view this material at this time.
Jeanne D'Arc Official Trailer 1
Folks who traded in their PSPs for lack of awesome games should be feeling substantial remorse right about now.

Jeanne D'Arc is one of the best games to be released on Sony's portable system to date.

This looks more like a triple-A PS2 game than a PSP game, and it weighs in at 40-plus hours. [Aug 2007, p.70]

A handheld tactical RPG that is visually wonderful and does a great job in terms of gameplay. Give Level 5 credit for taking some of the best elements of the genre, combining them with a few new ideas and dropping them into a solid gaming backdrop.

Jeanne d'Arc's story and gameplay are both first-rate, but they are essentially separate entities; you watch some story, fight a little and keep doing that until the game ends.

It's the best SRPG I've played in years and crushes just about everything else on portables, straight up... if you don't get that PSP back and give it a shot, you're missing out, bro.

The storyline, while clearly bonkers, makes a refreshing change to the standard RPG fare, if only because it draws at least superficially, on historical characters and events.
The most awesome game on PSP, period.
Don't believe those who say it's not as good as Final Fantasy Tactics, as it is in fact much better! ButThe most awesome game on PSP, period.
Don't believe those who say it's not as good as Final Fantasy Tactics, as it is in fact much better! But don't take my word for it...

Quick question: What do God Of War, MGS, GTA, Final Fantasy, and all the other games that are rated higher than this one have in common? Answer: All of them are part of a franchise that was already massively successful, before a new episode was ported to the PSP.

As one of the few people who tried the PSP versions of the new franchise episodes with fresh eyes, from not having played almost any of the previous instances from these series on any other platform, I can't help but find that scores are massively biased. God Of War, GTA, FFVII, Persona 3? Meh. MGS? Will never come close as its first instalment on PS1. The only title from an existing franchise actually worth its place around the top on PSP is Ridge Racer. If critics were actually objective, all the others would be much lower rated.

But let's also compare with non franchise games: Lumines better than Jeanne D'Arc? Not a chance. The Lumines guys haven't spent 10% of the development time that went into Jeanne D'Arc, and, as addictive as the game may be to some, it shows.
Siphon Filter: very good game, which deserves a lot of credit for managing to be highly playable despite Sony's idiotic lack of insight with regards to the second analog stick. But still a bit too predictable and not as polished.
And then you get all the stuff like Patapon, LocoRoco, LittleBigPlanet, etc., that tries so hard that it actually gets into the way of the gameplay.

Sorry, but this game is miles above the rest, graphically, story-wise and in terms of playability and, what matters most, enjoyment for players. Truly of a class of its own!

…

Expand

Clearly one of the best games ever. It has amazing graphics, story, characters etc. For all you hardcore Tactical RPG payers out there this

Clearly one of the best games ever. It has amazing graphics, story, characters etc. For all you hardcore Tactical RPG payers out there this is definetly for you.

…

Expand

One of the best games on PSP so happy I can download it on my Vita! I've played over 60 hours on 3 different files. Just so much characters,

One of the best games on PSP so happy I can download it on my Vita! I've played over 60 hours on 3 different files. Just so much characters, weapons and attacks to find and use!

…

Expand

WOW! I'm not usually and RPG fan but picked this game up based on trailers and previews - what a great decision that was! I haven't

WOW! I'm not usually and RPG fan but picked this game up based on trailers and previews - what a great decision that was! I haven't been able to put it down. Stunning graphics, zero load times, deep strategy, engaging plot. Best game for my PSP so far.

…

Expand

This is a fantastic title for any system and is a brilliant combination of style, story, and gameplay. Anyone remotely interested in strategy

This is a fantastic title for any system and is a brilliant combination of style, story, and gameplay. Anyone remotely interested in strategy or role playing games owes it to themselves to try this game.

…

Expand

A very satisfying turn-based JRPG all-around. The game starts out very slow, but after a few stages both the story and the gameplay pick up.

A very satisfying turn-based JRPG all-around. The game starts out very slow, but after a few stages both the story and the gameplay pick up. The characters are for the most part interesting, and you feel for the characters when something bad happens to them. The gameplay can get repetitive at times, but the number of characters, variety of skills and gear, and bonus stages keep the gameplay interesting. The only major weaknesses in the game are the relatively low replay value and the fact that some characters are a pain to use and level up.

…

Expand

I really wasn't impressed with this game. I heard great reviews picked it up tried it for a couple of hours, is the beginning cliche or

I really wasn't impressed with this game. I heard great reviews picked it up tried it for a couple of hours, is the beginning cliche or what? As someone who knows the history of Joan of Arc quite well I am not impressed. I expected a much different game. I tried to grab on to something about this game to make me like it so it wasn't a complete waste but I just couldn't, even the battle system has been done better by older games (Disgaea, FFT)

…

Expand
| | |
| --- | --- |
| 2 | |
| 5 | #5 Most Discussed PSP Game of 2007 |