Publisher:

Capcom

Release Date:

Aug 28, 2007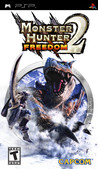 Summary:

The hunt-or-be-hunted adventure continues with more content and options than ever before. Monster Hunter Freedom 2 builds on Monster Hunter2 (Dos) for the PS2 (previously released in Japan only) and contains 50% more content than the original Monster Hunter Freedom. In this unique

The hunt-or-be-hunted adventure continues with more content and options than ever before. Monster Hunter Freedom 2 builds on Monster Hunter2 (Dos) for the PS2 (previously released in Japan only) and contains 50% more content than the original Monster Hunter Freedom. In this unique action-adventure game, gamers increase their play skills as they battle through breath-taking environments while defeating bloodthirsty creatures. As mighty hunters, players can face a variety of quests alone, but the true spirit of the game comes from playing with others. Multiplayer cooperative battles for up to four friends via wireless ad hoc mode foster team building and strategy for the ultimate battle of man vs. beast. Players can fully customize their characters, building up their abilities with armor and weaponry as they make their way through hundreds of quests. With the addition of infrastructure functionality, players will now be able to download even more content and quests. [Capcom]

…

Expand
Developer:

Capcom

Genre(s):

Role-Playing

,

Action RPG

,

Action RPG

# of players:

Up to 4

Cheats:

On GameFAQs

Rating:

T
Please enter your birth date to watch this video:
You are not allowed to view this material at this time.
Monster Hunter Portable 2nd Official Trailer 2
Unless you're reading something between the lines that was consciously unintentional, you will undoubtedly conclude that I love this game. If you want to love this game as well, all you got to do is get your hands on a copy. It's that simple.

The learning curve in the beginning will keep the riff-raff away, but those who stick around will find hundreds of quests, items to combine and a serious upgrade game sure to keep them -- and their ad-hoc friends -- entertained for a ton of hours.

Despite its kooky issues and demoralizing difficulty, Monster Hunter Freedom 2 has totally succeeded in becoming our go-to game for the PSP. Its huge world and endless supply of items and doodads are more than enough to occupy a player for months.

Missions are fairly repetitive and directionless, and the load times are a little too long. MHF is, at times, so slow it might put you to sleep if you're not careful.

It almost feels a little too familiar for its own good.

A beautiful experience that requires patience, but those looking for instant gratification should look elsewhere. [Nov 2007, p.89]

The latest entry in Capcom's ambitious role-playing series sets out to hunt monsters, but only manages to shoot itself in the foot.
A enjoyable and highly addictive game, with it's mind boggling amount of character customisation, amazing graphics and good replay value

A enjoyable and highly addictive game, with it's mind boggling amount of character customisation, amazing graphics and good replay value it is an essential buy for any RPG/ActionRPG loving PSP owner.

…

Expand

This is one of the very few games i can keep coming back to without it getting boring, not only because it always presents a challenge but

This is one of the very few games i can keep coming back to without it getting boring, not only because it always presents a challenge but also the sheer size of it!

I had the original MH on PS2 and thought it was pretty good, but was never able to play online, and its nowhere near as big so i stopped playing it, but when my bro got a PSP and MH2 for his birthday, from just 5 mins of playing i knew this was something special, and bought a PSP just for this game!

…

Expand

This game is absolutely amazing. Great graphics, fun gameplay, and tons of stuff to do! It's like a deeper single-player PSO experience

This game is absolutely amazing. Great graphics, fun gameplay, and tons of stuff to do! It's like a deeper single-player PSO experience and that is an absolutely wonderful thing. I'll be playing this for a good long while.

…

Expand

I did not want to buy this game, it looked lame and never recieved much critical love. Nontheless, I bought it out of desperation. I thought

I did not want to buy this game, it looked lame and never recieved much critical love. Nontheless, I bought it out of desperation. I thought to myself, "the critics give horrid games high ratings soley based on graphics and hype...why not try something different." This game is the best on the PSP. It is challenging. It is rewarding. It is long. It is worth the money. I cannot say that for any other PSP game. Watch some of the Youtube vids on this, see for yourself this underdog in the states gem.

…

Expand

"wow. the ignorance of American game reviewers truly astounds me." ChrisBB makes a statement that the American reviewers are quick to dismiss

"wow. the ignorance of American game reviewers truly astounds me." ChrisBB makes a statement that the American reviewers are quick to dismiss Japanese titles. Let's face it BB Japan has been in a creative slump for years and the other countries are the only developers willing to try (or take a risk) on something new. All I have seen from Japan are the same spreadsheet style rpg games, the fighting games (like Street Fighter) and a collage of the same dating-esque sim style games. Which they have been releasing for over twenty years. Monster hunter is good but it really doesn't hold up to the originality of many other titles being released. Did you really think a game where you kill dinosaurs hasn't been done before? Seriously, take a look at some of the independent titles being released by Japan vs other developers, you got Minecraft on one side and the same old JRPG title on the other. Western people need to stop over-glorifying these profit orientated dip **** They suck the life out of the industry.

…

Expand

Something else from Bob N. Prime example: Most critics seem to enjoy the mindless and child-like camera system in Resistance for the PSP. It

Something else from Bob N. Prime example: Most critics seem to enjoy the mindless and child-like camera system in Resistance for the PSP. It might as well play the damn game for you for how helpful it is. I hate Resistance. It is mindless and insulting in its simplicity. This game, faults and all, is the antidote for the Resistance Retributions of the PSP, those games which look great but in the end are music videos with no long-term value. Go buy this game if you want a challenge that is actually rewarding. And JHChrist is it long.

…

Expand

The only thing I like about this game is its variety of different kinds of monsters and animals. However, with the lack of autolock and the

The only thing I like about this game is its variety of different kinds of monsters and animals. However, with the lack of autolock and the camera control I've ever seen, this game is just a pain in the ass to play.

…

Expand
| | |
| --- | --- |
| 35 | |
| 4 | #4 Most Discussed PSP Game of 2007 |
| 66 | #66 Most Shared PSP Game of 2007 |