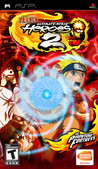 Summary:

The storyline of Nartuo: Ultimate Ninja Heroes 2 - The Phantom Fortress revolves around a mysterious phantom castle that has suddenly appeared over the Hidden Leaf Village, draining the townspeople's life energy. When Naruto infiltrates the castle to find out who is behind this terrible

The storyline of Nartuo: Ultimate Ninja Heroes 2 - The Phantom Fortress revolves around a mysterious phantom castle that has suddenly appeared over the Hidden Leaf Village, draining the townspeople's life energy. When Naruto infiltrates the castle to find out who is behind this terrible scheme, he finds himself confronted with threatening illusions, visions of the past and a strange masked woman with a vendetta against the Leaf Ninja. Joined by his friends, it will take all of Naruto's courage to unravel the puzzle behind the castle and defeat this powerful new enemy. In The Phantom Fortress, players take a custom party of four NARUTO characters through over 100 floors of the castle, experiencing fierce one-on-one battles, exciting mini-games and dramatic story twists in an all-out game of survival. Along the way, players will be able to power-up each party member in a new character customization system, equipping abilities and items to gain a decisive edge in battle. Updating the series' trademark fast-paced combat system, players will be able to pull off acrobatic flying attacks, flashy combo strikes and unstoppable jutsu skills with ease. Additionally, players can customize their game experience by choosing to play through the full game with English or the original Japanese voices. Players can also hone their fighting spirit against their friends in the game's intense multiplayer mode. An incredible variety of team configurations are available as players do battle to see who has the strongest ninja jutsu. NARUTO: Ultimate Ninja Heroes 2: The Phantom Fortress supports game sharing for multiplayer action on two PSP systems with just one copy of the game. [Namco Bandai Games]

…

Expand
Developer:

CyberConnect2

Genre(s):

Action

,

Fighting

,

Fighting

,

3D

,

3D

# of players:

2 Online

Cheats:

On GameFAQs

Rating:

T
It has the right mix of components to make a great fighting game, and it's a fantastic addition to the Naruto canonical plot. The action is fast-paced, the control system is intuitive, and the presentation is engrossing.

Naruto: Ultimate Ninja Heroes 2: The Phantom Fortress is a really good game. If this is your first time with the series, I would definitely recommend picking it up. If you own the first one you might be slightly disappointed with the improvements but there's enough here to keep anyone busy for quite a while.

If you're looking for a serious fighting game, check out Guilty Gear Judgment, Street Figher Alpha and the upcoming SNK titles. But if you just want some fun, this is worth trying out.

A great diversion for everyday games – but the lengthy storyline and unlockables are ultimately only going to appeal to die-hard fans of the series.

Overall, The Phantom Fortress is a surprisingly captivating portable game, that does well to live up to its popular name.

I'm not sure that this release really deserves the price sticker attached to it because it's mainly just an upgrade but it's still a decent experience just the same.

The simple fighting engine allows for some easy to get into action that will satisfy Naruto fans' desire to see their favorite characters pulling off their signature moves. If you want anything deeper than that, however, you're out of luck.
This must be my favourite Naruto game for the PSP. I don't know if I like it this much because I am a fan of the anime, but I can't resist. I

This must be my favourite Naruto game for the PSP. I don't know if I like it this much because I am a fan of the anime, but I can't resist. I bet half of the critics who reviewed this game simply compared it to Final Fantasy or something when they shouldn't have. Out of all the Naruto PSP games I've played, this one has all of the moves used by characters in the original Naruto and they are truly usable. One more thing: this is not an action RPG game. What if this is one of those adventure games where you actually don't fight all the time? Well it is. Its best feature is Heroes Mode which has a special system and also takes some strategy. The game is simple and good.

…

Expand

The graphics could have been better when fighting, but who am I to complain the fighting and other events in this game were amazing I loved

The graphics could have been better when fighting, but who am I to complain the fighting and other events in this game were amazing I loved it and could keep playing it forever.

…

Expand

This game is basically Naruto Ultimate Ninja 2 on a handheld system. But just a simple port wouldn't be worth the money back then so they

This game is basically Naruto Ultimate Ninja 2 on a handheld system. But just a simple port wouldn't be worth the money back then so they added a unique story aside from the canonical Ultimate Ninja 2 plot. The story is okay (narratively) but the mechanics of how you progress in the story is sooooooooooooooooo sluggish! It's filler within a story. Nobody likes filler.

…

Expand

The story mode isn't really a blast, but its the graphics and smooth gameplay that's just sexy as hell :)

This review contains spoilers

, click expand to view

.

I do not have to say anything more. But i need to write one hundred and fifty characters. i think my score can describe it............................

…

Expand

This filler story not bad, but how story is located in game - very boring. All this floors just for increase length game. Number mini-games

This filler story not bad, but how story is located in game - very boring. All this floors just for increase length game. Number mini-games not enough and you tired.

…

Expand
| | |
| --- | --- |
| 33 | |
| 11 | #11 Most Discussed PSP Game of 2008 |
| 6 | #6 Most Shared PSP Game of 2008 |