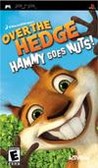 Summary:

Over the Hedge: Hammy Goes Nuts! is an all-new adventure based on the woodland creatures from DreamWorks Animation's hit film Over the Hedge. Fan favorite Hammy the squirrel leads RJ the raccoon, Verne the turtle and all-new forest friends on another daring trip into the 'burbs. When Hammy's

Over the Hedge: Hammy Goes Nuts! is an all-new adventure based on the woodland creatures from DreamWorks Animation's hit film Over the Hedge. Fan favorite Hammy the squirrel leads RJ the raccoon, Verne the turtle and all-new forest friends on another daring trip into the 'burbs. When Hammy's beloved cable TV goes out, his buddies have to scramble through the neighborhood to restore the signal - and Hammy's happiness. [Activision]

…

Expand
Developer:

Amaze Entertainment

Genre(s):

Action

,

Platformer

,

Platformer

,

3D

,

3D

Cheats:

On GameFAQs

Rating:

E
Please enter your birth date to watch this video:
You are not allowed to view this material at this time.
Over the Hedge: Hammy Goes Nuts Official Trailer 1
The mix of action and stealth is just right and the puzzles are intuitive and even a bit challenging at times.

Ho-hum. A by-the-books linear platformer that does just enough to cater to kids who liked the movie, and little more.

While the graphics look terrific, there are moments when the player will be left staring at a screen that has nothing but a wash of color on it, or wondering how you managed to pull off that bit of a slip when your hands were not near that control button.

In an alternate universe--one where every 7-year old owns a PSP and can drop forty bucks on a forgettable movie tie-in as easily as buying a pack of gum--a game like Hammy Goes Nuts! would be friggin' huge. [Feb. 2007, p.88]

If you look past the movie license when playing the game, there's just no way to avoid feeling like this is the same basic platform game you've played time and time and time again.

Sadly another attempt to cash into the name of a popular movie franchise with cute animal characters.

It's crap. Don't buy it, since you'll probably never find someone else who has the game to enjoy the multiplayer, and there's literally no reason to suffer through the single-player at all. The visuals are blah, the voice acting merely passable (much like the PS2 game), and the controls are weak sauce. Trust me, you want to pass on this one.
i just got this game a short while ago for a steal of only $250 bucks(thx gamestop,) and honestly it was worth every cent, this game is an

i just got this game a short while ago for a steal of only $250 bucks(thx gamestop,) and honestly it was worth every cent, this game is an instant classic, with gameplay and story that will make u not want to put it down, 200/1 would buy again for the same price, even double or triple what i payed for it

…

Expand

I can't tell if this game is cannon or not. Can someone tell me plz!!!!!! 3 out of ten..... My parents are divorced
| | |
| --- | --- |
| 80 | #80 Most Discussed PSP Game of 2006 |
| 55 | #55 Most Shared PSP Game of 2006 |