Publisher:

Sega

Release Date:

Nov 13, 2007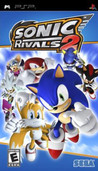 Summary:

The gloves are off and Sonic and his rivals are gearing up for an intense head-to-head competition exclusively on the PSP. This sequel to Sonic's 2D action platformer features all-new "jostling" controls for tighter competition and a brand new Battle mode that allows you and a friend to jump

The gloves are off and Sonic and his rivals are gearing up for an intense head-to-head competition exclusively on the PSP. This sequel to Sonic's 2D action platformer features all-new "jostling" controls for tighter competition and a brand new Battle mode that allows you and a friend to jump into six different Multiplayer challenges by sharing one disc. With three new characters, 12 new stages and upgraded signature moves for each character, the enhanced Rivals experience brings a whole new level of handheld fun to the PSP system. Battle Mode: Select from six ways to thrash your rival buddies: Knockout, Ring Battle, Race, King of the Hill, Capture the Chao, and Tag. Single Disc Game Sharing: Grab a friend and jump into the Multiplayer action with just a single disc using the Wi-Fi function. New Storyline. The Chao seem to be disappearing and all eight rivals must work fast to find out who is behind it. Three New Playable Characters: Miles "Tails" Prower and two other new characters round out the cast of eight rivals. Free Play Mode: Free from rivalry, experience the game in old-school Sonic-style. In this Single-player mode, you can enjoy the challenging map at your own pace. Expanded Card Collection: Collect 150 new cards for loads of new options to customize your playable characters. [Sega]

…

Expand
Developer:

Backbone Entertainment

Genre(s):

Driving

,

Racing

,

Arcade

,

On-foot

,

Other

,

On-foot

# of players:

2 Online

Cheats:

On GameFAQs

Rating:

E
Please enter your birth date to watch this video:
You are not allowed to view this material at this time.
Sonic Rivals 2 Official Movie 1
A solid platformer with a twist, and a welcome return to form for our spiny blue friend. [Jan 2007, p.65]

Despite the niggles the main thing to say about Rivals 2 is that it's great fun. And fun, lest we forget, is what it's all about. The whoring of Sonic the Hedgehog continues of course, but the Sonic Rivals series continues to do its best to stem the flow of blue-skinned cow dung.

Sonic Rivals 2 is a faithful return to Sonic's roots. Aside from a couple of speed bumps, this is one title that should be welcome in any fan's collection.

Boss battles and ring collecting competitions are used to pad out the action, both of which are frustrating rather than fun and seem out of place with the rest of the game. [Jan 2008, p.80]

Fun but equally frustrating. [Jan 2008, p.132]

Sonic Rivals 2 would have been a lot more fun if the racing was more polished and there were more tracks. Instead there are too many other aspects of the game that spoil the essentials.
It is signifigantly better than the 1st Sonic Rivals because now there are many more playable characters. Now there is fighting and ring

It is signifigantly better than the 1st Sonic Rivals because now there are many more playable characters. Now there is fighting and ring collecting games in addition to racing.

…

Expand

sonic rivals 2 is best psp game, it features tails, rouge, espio, and metal sonic it features chao finding collecting rings, knock out rival,

sonic rivals 2 is best psp game, it features tails, rouge, espio, and metal sonic it features chao finding collecting rings, knock out rival, final boss is ifrit which can be defeated.

…

Expand

Sonic Rivals 2 is a really good game it has more characters and fun than the first game. Along with a great soundtrack what's not to love.

Sonic Rivals 2 is kinda better than the first but not by much but still lacking level design a lot and getting repetitive but does have smooth

Sonic Rivals 2 is kinda better than the first but not by much but still lacking level design a lot and getting repetitive but does have smooth gameplay as well.

…

Expand

Wow, this one was a huge improvement over the first game. So much that it almost makes me mad that they didn't include a lot of the stuff in

Wow, this one was a huge improvement over the first game. So much that it almost makes me mad that they didn't include a lot of the stuff in this game in the first one. It still doesn't quite show all of what the PSP is capable of, but it has so much more going for it. The first one (I should've mentioned in the first one's review) is just racing, time trails and boss battles. That's it. You also collected cards, but still. In this game, it's all that plus tones more modes and characters and full voice acting. The only thing the first game has over this one is a kind of changeable menu screen, but that wasn't even that great to begin with. This is definitely the best of the two games.

…

Expand

if you're a fan of the first one then you'll love this one
It has more characters and the music is better
There's a lot of stuff to collectif you're a fan of the first one then you'll love this one
It has more characters and the music is better
There's a lot of stuff to collect so replay value is there
The game can be frustrating at times but mostly its very fun and a nice way to kill time if you dont have anything to do

…

Expand

This game has an alright metacritic score and a great user score, I really don't see why. The game has well designed levels and pretty

This game has an alright metacritic score and a great user score, I really don't see why. The game has well designed levels and pretty graphics, but the racing mechanics are atrocious. There is some of the worst rubber banding I've ever experienced in a game and the opponents constantly spam items and unless you get a good head-start it's nearly impossible to win on even the first races. The game feels slow even compared to the 16-bit sonic games and the smash bros. style duel mode is extremely annoying. Also I shouldn't complain about the story in a sonic game but this is probably the worst. I had literally no clue what was going on from the start and the voice acting and dialogue is laughable. Oh and to fully complete the game you have to do all the levels as each of the 8 characters, I don't think anyone sane can do that.

…

Expand
| | |
| --- | --- |
| 67 | |
| 16 | #16 Most Discussed PSP Game of 2007 |
| 34 | #34 Most Shared PSP Game of 2007 |