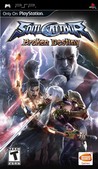 Summary:

Soulcalibur: Broken Destiny preserves all the fierce battles and gorgeous visuals the series has been known for to create the most comprehensive fighting experience ever on a handheld system with highly responsive controls and balanced gameplay. Adding depth to the combat, an all new single

Soulcalibur: Broken Destiny preserves all the fierce battles and gorgeous visuals the series has been known for to create the most comprehensive fighting experience ever on a handheld system with highly responsive controls and balanced gameplay. Adding depth to the combat, an all new single player mode has been specifically crafted for the PSP system that not only challenges a player's reflexes but also improves his fighting skills. Following in the footsteps of Soulcalibur IV, Critical Finish Moves return where opponents can be defeated with one spectacular attack. Furthermore, the game's character customization feature has been outfitted with even more options than ever before for infinite possibilities to create an original fighter or customize a favorite warrior. Let the trash talking commence as Soulcalibur: Broken Destiny also allows gamers to engage in local wireless battles, allowing them to challenge a friend using the PSP system's ad hoc networking. Now adrenaline pumping combat has never been so accessible. [Namco Bandai Games]

…

Expand
Developer:

Bandai Namco Games

Genre(s):

Action

,

Fighting

,

Fighting

,

3D

,

3D

Cheats:

On GameFAQs

Rating:

T
The definitive weapon-based fighter comes to the PSP and manages not to lose anything in the translation. [Issue#183, p.72]

Soulcalibur: Broken Destiny for the PSP is an impressive portable fighting game that is just as amazing and just as addictive as the console games. On the single-player front, we wish there was more but there's enough here to keep fans more than happy.

Despite the disappointing Gauntlet mode and its insulting lack of story and patronizing tutorials, Broken Destiny is a great addition to the series because the core gameplay is as solid as ever, which is especially impressive on the small screen.

An accomplished effort that is every inch the Soul Calibur of the home consoles, just squeezed on to a smaller screen. [Oct 2009, p.98]

Soul Calibur: Broken Destiny is more then a nicely worked-out fighting game. The graphics are great and the total look is neat. The modes of the game aren't in line with the rest of the game, the "Gauntlet-mode" for instance. We can't believe that the developers think of this as a mode that's fun to play. The nicely worked-out fighting system, the short loading periods and the ability to customize a gigantic load of character's made our day while playing this game.

The controls are solid, there's a great roster present, and the inclusion of Kratos is a great fit here.

There's no questioning Soulcalibur: Broken Destiny's technical acumen; it's a brilliant fighting engine that looks amazing, sounds great, and plays just about perfectly. It's just a shame that there's really no good way to play it.
This game is E-P-I-C. This is the ultimate Soul Caliber experience on the go. If you remember playing the supremely excellent Tekken on the

This game is E-P-I-C. This is the ultimate Soul Caliber experience on the go. If you remember playing the supremely excellent Tekken on the PSP then this will be very familiar. The game has new characters (KRATOS!!!!), tons of customization, great controls, varied game modes and even local multiplayer. The only complaint I could register is the lack of Infrastructure mode AKA online multiplayer. But, the game has pretend lobbies where the computer takes on the identity of multiple online players. This is the definitive Soul Caliber experience for those hungry for more. In my opinion, this Soul Caliber game on PSP is better and has more depth than the Street Fighter IV game on the PS3! This is as good as it gets people! Don't deprive yourself of a fun experience. Go out and give this game a real try and you will be happy you did.

…

Expand

Although the lack of any kind of story dampens the longevity, the one on one bouts are still as engaging and as appealing on the PSP than

Although the lack of any kind of story dampens the longevity, the one on one bouts are still as engaging and as appealing on the PSP than they ever were.

…

Expand

This game is beast! It's still my prime reason of my PSP purchase as this keeps me busy for hours in a row!
Excellent quality. I wish moreThis game is beast! It's still my prime reason of my PSP purchase as this keeps me busy for hours in a row!
Excellent quality. I wish more people could see the extraordinary value of this portable game. I'm absolutly addicted to this one!

…

Expand

This game looks great and plays great. However, there is a massive lack of single player. I did like the new character Dampierre adn Kratos

This game looks great and plays great. However, there is a massive lack of single player. I did like the new character Dampierre adn Kratos was pretty good. Character customization was fun and the soundtrack is still awesome. Unfortunately, no arcade mode hurts the game

…

Expand

The gameplay itself is fine but with little to do it will feel like so much more could have been added maybe even a short story mode which

The gameplay itself is fine but with little to do it will feel like so much more could have been added maybe even a short story mode which SoulCalibur usually prides itself on. It feels as if the game need some TLC which it didnt receive and therefore you are left with what feels like anothing more than a training mode to its console counter part.

…

Expand

being someone that like soul calibur, I feel really disapointed by this game, my expectation were probably high for this psp version. First

being someone that like soul calibur, I feel really disapointed by this game, my expectation were probably high for this psp version. First the good stuffs, the graphic are gorgeous, quite a beautiful game indeed ( at least for the psp ), if you want to brag to your friends you can do it with this game. The control are very good simple as always with soul calibur, yet can give you some subtleness, and I still love the soul calibur 3 style customization. Now for the bad part, no online play, because finding friends that have the psp and the game is somewhat difficult, I can still live without it, but there is a big glaring hole where the single player campaign should be and no a "quick match" mode is not enough and doesn't give a sense of achievement, having Kratos is nice but feels overpowered and somehow breaks the game balance. well at least I had fun with it, but doesn't make me stick to my psp.

…

Expand

If they warned me it was more for multiplayer id gave it 10...but what a suprise when I found theres only a crappy tutorial and random fights

If they warned me it was more for multiplayer id gave it 10...but what a suprise when I found theres only a crappy tutorial and random fights with no meaning,gameplay is fun but content is epic fail.It's like an uncooked cake

…

Expand
| | |
| --- | --- |
| 15 | |
| 8 | #8 Most Discussed PSP Game of 2009 |
| 7 | #7 Most Shared PSP Game of 2009 |