Publisher:

Atlus

Release Date:

Jun 30, 2009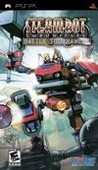 Summary:

A young Trot driver comes to Orion City with one dream in mind: to win the prestigious Orion City Trotmobile gladiator tournament. However, you'll quickly learn that it takes more than pluck and optimism to earn victory in the coliseum. With the help of a spirited mechanic named Venus,

A young Trot driver comes to Orion City with one dream in mind: to win the prestigious Orion City Trotmobile gladiator tournament. However, you'll quickly learn that it takes more than pluck and optimism to earn victory in the coliseum. With the help of a spirited mechanic named Venus, you'll have to take on a series of jobs to earn the money and fame required to make a name for yourself about town as a skilled Trotmobile operator. When a series of bandit attacks begins to affect the city's economy and distress the citizens, who will have the mettle and the metal to put a stop to it? You control your adventure -- Mission-based gameplay puts you in the driver's seat: you choose what you do and say. Take on missions ranging from cross-town delivery to mining in a canyon to defeating bandits. The money and fame points earned can be used to upgrade your Trotmobile and enter arena battles. Complete freedom to build -- The cardinal rule of Trotmobile design is that there is no ideal design. Instead, there are tons of customization options, letting you upgrade your arms, legs, heads, bodies, and more, each changing the nature of how you battle! Personalize your vehicle with color and emblem to make it distinctively yours. Four-player competition mode -- Clash with your friends' Trotmobiles in 4 player ad hoc multiplayer! Set each player against the others battle royale style, or pair up for tag team action. One cartridge, four players -- Only one UMD disc? You can still compete! Activate "game sharing" to enter multiplayer mode with standard Trotmobiles, or use multiple UMDs to have access to your customized battle vehicles. [Atlus USA]

…

Expand
Developer:

Irem

Genre(s):

Action

,

Fighting

,

Fighting

,

3D

,

3D

# of players:

1-4

Cheats:

On GameFAQs

Rating:

E10+
If you loved the first Steambot Chronicles or if you're in the mood for a GTA-light/Armored Core-light game that's aimed at a younger audience then I would suggest that you should pick this title and pray that Atlus will release the PS3 sequel.

Battle Tournament is a decent action-adventure game that is held back by the grinding repetition of its missions and quests. However, customizing your Trot and fighting others is addictive and fun.

Battle Tournament may lack some of the charm that made the old game so loved, but it's a decent action adventure in its own right.

While the battles in the Battle Arena are fun, the slogging you do to get to that point don't make it worth the effort.

This game is like your Mom telling you to do all your homework and chores before you can go outside and play.

Steambot Chronicles is an extremely fun, non-traditional RPG, while Battle Tournament is a watered down mech fighter with repetitive and time-consuming missions thrown in between fights.

The occasionally good graphics, and the promise of fighting with fifteen foot tall, steam powered bots will pull in a number of people. Just about every other element of the game, especially the mundane array of quests offered, just feels uninspired and frustrating.
As a fan of the highly underrated game that began this franchise, I have to say that this is perfect for portable gaming. It's certainly

As a fan of the highly underrated game that began this franchise, I have to say that this is perfect for portable gaming. It's certainly lacking in features in comparison to it's home console big brother (which easily approaches, if not surpasses, the amount of content and freedom found in any Grand Theft Auto title), but as I've said, if you enjoyed the original, then this game will certainly keep you entertained for a good 10-15 hours. And it's worth playing more than once, even if the multiplayer isn't really anything to speak of. Basically, if you played and liked 'Steambot Chronicles' and have a PSP, you should get this right away. But if you've never played the aforementioned game and are unsure about this, go back to the beginning before deciding on this.

…

Expand

The only elements Steambot Chronicles: Battle Tournament shares with its antecessor are the title and the presence of Trotmobiles.

The only elements Steambot Chronicles: Battle Tournament shares with its antecessor are the title and the presence of Trotmobiles. Effortless/repetitive quests, limited exploration, poor storytelling (75% of the laughably predictable plot unfolds at the very end of the game), lack of alternative routes among other things make no justice to the shadow of the original PS2 game. I took 32 hours to finish Steambot Chronicles, while this lackluster spin-off provided with enough content for only 6 hours. To be fair, being able to freely move with a Trotmobile within the city and short loading times are nice improvements.

…

Expand
| | |
| --- | --- |
| 61 | |
| 47 | #47 Most Discussed PSP Game of 2009 |