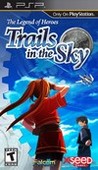 Summary:

The Legend of Heroes: Trails in the Sky is the first of a new trilogy in the established The Legend of Heroes RPG series
Developer:

Falcom

Genre(s):

Role-Playing

,

General

,

Console-style RPG

,

Console-style RPG

,

Japanese-Style

# of players:

No Online Multiplayer

Cheats:

On GameFAQs

Rating:

T
Please enter your birth date to watch this video:
You are not allowed to view this material at this time.
The Legend of Heroes: Trails in the Sky - Launch Trailer
With staggering depth and surprising accessibility, Falcom have succeeded in making a traditional JRPG that both die-hard veterans and those uninitiated with the genre will love.

Trails in the Sky is not a game in which the gameplay shines, but rather the story and characters. It isn't deep nor compelling by any stretch of the imagination, but it is fun and extremely charming.

The Legend of Heroes: Trails in the Sky is the first of a trilogy, and it makes a strong case to bring the rest of the story arc to North America. Though some of the core design feels left behind compared to modern standards, the story line is very impressive and the title manages to be quite fun even as it sticks closely to traditional JRPG mechanics. If you're looking for a lengthy, meaty RPG you can take with you wherever you go, this title will make a fine option.

Although this first chapter is not the most original ever made, like any good JRPG it offers amusing writing, dynamic combat, interesting tasks, an absorbing narrative, and hours upon hours of gameplay.

The Legend of Heroes Trails in the Sky is an old school RPG with good storyline made for fans of JRPG.

While it'll never be the most technically impressive or original game, its creators clearly understand what works and what doesn't. The excellent music and fun combat combine with the charming characters to create a game that has a certain intangible feel, a spirit that pervades it and makes it more than simply the collection of things seen before it may appear at first glance. As the PSP enters its twilight years, most RPGamers would find few better sendoffs than this.

As the first entry in a planned trilogy, The Legend of Heroes: Trails in the Sky has technically done its job. The game has built my anticipation for the next installment, in spite of itself. Granting that, I'm not interested in a rerun. A clever battle system can distract for only so long, and the value of semi-persistent society is limited by the appeal of the world in which it exists. I'm sure that it's hard for creators to not fall in love with the product of their labor, but navel-gazing is only entertaining for the owner of said navel.
I played the Japanese version years ago, and this is by far one of the best story-driven jrpgs ever created. Its pacing may seem a bit slow at

I played the Japanese version years ago, and this is by far one of the best story-driven jrpgs ever created. Its pacing may seem a bit slow at first, but its setting and characters need to be introduced in such a way since this game is only the first chapter in a massive series encompassing many titles (the first three have already been announced by xseed)..

The world (aka the Liberl kingdom) is explored directly and is really vast (the cities are especially great because of their details), the setting is so full of lore it rivals some of the best fantasy novels and computer rpgs (you can find informations on practically anything you are interested into, and there are many books to read and newspapers that details the kingdom of Liberl's events), the battle system is a unique and extremely enjoyable mix of turn based combat and strategical depth and the characters can have many possible setups thanks to the quartz, somewhat like final fantasy 7's materia. Somewhat like computer rpgs series like Dragon Age and Mass Effect, Trails allows you to use the final save data in the next game, retaining your levels and slightly altering its events depending on the quests you have done.

Every fan of jrpgs with a powerful and deep story, a great battle system and a believable world would do well to buy it and its even more awesome sequel, Trails Second Chapter, when it's released.

…

Expand

Being a lover of PC RPGs I am mostly used to the Western Black Isle - Bioware - Obsidian school of gaming, with CdProjekt being the "Eastern"

Being a lover of PC RPGs I am mostly used to the Western Black Isle - Bioware - Obsidian school of gaming, with CdProjekt being the "Eastern" developer I'm mostly interested. I have played some Japanese RPGs of course, but since they are almost all on console I tended to ignore them till this generation, when I was convinced to explore that field too. There was a big exception, however: Falcom, the only Japanese software house that really tried to make great RPGs on PC despite that country's absurd console focus. I knew this company through hardcoregaming's articles, and if the Ys games and Xanadu Next were failrly intriguing, it was the Sora no Kiseki series that had me drooling, since it was some bizarre mix of Western open-endedness and Japanese focus on anime-style narrative with a great steampunk-meets-fantasy setting mixed in. Sadly, that series was completely out of the question for anyone who didn't have a fairly decent background of Japanese studies, so it remained a wet dream for many years and I finally forgot about its existence. Imagine my surprise when I learned that the PSP ports of the Sora no Kiseki series (now renamed Trails in the Sky) were finally coming to the USA some seven years after their initial release! At first I was a bit pissed that there was no plan to translate the PC editions, but as time passed I was convinced to buy a PSP simply because of this game, especially when Dragon Age 2 (a decent game, but a far cry from the first one) left me without any kind of interest to replay it after the ending, even if I had waited it for months.
So I finally picked up Sora no Kiseki and was thrown right from the prologue into the same addiction only great RPGs like Ultima 7, Arcanum, Baldur's Gate 2, KotOR or DAO have been able to provide me. The game takes its sweet time to introduce everything, but I wasn't annoyed by this choice since the characters and the kingdom they live in are so detailed they almost feel alive (game has LOTS of texts). The ruleset is also really enjoyable, with a good deal of tinkering and some remarkable fights that shows the PC roots of the game because of the importance of movement in combat. The world is also really big and full of things to do, with even the first town, Rolent, easily capable to surpass many RPG cities of other games (and don't get me started on Zeiss...). Graphically it isn't incredible, but the environments are well presented and the characters'sprites are really good, with many animations for minute actions. I would suggest any RPG addict out there to try this game, it's really worth the trouble.

…

Expand

Trails in the Sky is a 2004 PC RPG ported into PSP in 2006. It the first story in a sequential set of three games, with a new game set in the

Trails in the Sky is a 2004 PC RPG ported into PSP in 2006. It the first story in a sequential set of three games, with a new game set in the same world released 2010 and another one for release late 2011. For 6 years this gem remained hidden due to the language barrier, but thanks to the monumental efforts by Localization company extraordinaire XSEED, English-speakers now have the chance to experience this game, created by a niche company and marketed by word of mouth only to become one of the staples of RPG genre in Japan. Animation â

…

Expand

A game many may have missed, but by far one of the best RPGs I have come across. While the visuals may be very dated, it is the story and

A game many may have missed, but by far one of the best RPGs I have come across. While the visuals may be very dated, it is the story and characters that truly shine in this game. My play through was just one 90 hours, with a bit of time spent grinding and lollygagging around the game's world. It is worth mentioning that the game's mechanics are nothing amazing either, it is simply the world and characters that draw you in and make you want to play. By the end the game plays with your expectations multiple times, and might leave you surprised.

…

Expand

Back in the '90s Japanese rpgs were one of the more popular genres in gaming, but since then they have mostly fallen from grace, with people

Back in the '90s Japanese rpgs were one of the more popular genres in gaming, but since then they have mostly fallen from grace, with people transitioning to other kind of games or simply ignoring new releases. Some claim this is because of the genre's crisis, others think that it's simply a problem of budget, with many interesting titles being released on handheld and with poor graphics ending up overlooked by those who clamor for the glorious jrpgs of old.

Trails in the Sky is the perfect example of this trend: it will probably be ignored by most gamers for a variety of reasons (being released on Psp, a console almost dead in the USA, being a game with unimpressive graphics, its lack of marketing), but it actually has everything that made jrpgs a great and loved genre back in the days. Its climate reminded me of series such as Lunar, Grandia and Suikoden, its characters were funny and believable young heroes in the best tradition of heroic fantasy and the world they lived in is so wonderfully filled with backstories and dialogues you will never feel to be stranded in some cardboard kingdom made only as a backdrop for a small-scale adventure. Battles were really funny too, and the quartz system made me spend much time adapting the heroes' skills.

I was a bit skeptical regarding Trails in the Sky's value since I knew Falcom mostly for action games like the Ys series or for its unsuccessful Gagharv games, but after some 48 hours when I saw the ending I was reminded of why I loved jrpgs and was converted to this series' fandom.

…

Expand

Old school turn based JRPG at its finest. This game is the beginning of it all one of the most epic stories ever told! If you love long

Old school turn based JRPG at its finest. This game is the beginning of it all one of the most epic stories ever told! If you love long running shows or games that explore politics, war, and the very heart of humanity look no further! Also the soundtrack is bangin'!

…

Expand

First things first, the game is good and deserves some attention...however it's got a lot of flaws that ruins the game for me.

The goodFirst things first, the game is good and deserves some attention...however it's got a lot of flaws that ruins the game for me.

The good thing probably is the story, which is very very good and interesting because it could lead anywhere and has no real specific goal (except looking for you father...I'll talk about him later): that's really enjoyable and I like a good "travel story" game: anything can come and it can be done good easily.
Oh and the music is not bad either.

That's it really, because I haven't found anything else being remarkably good and I'll explain why.

For starters, the combat is not bad and it's basically a tactical combat system (basically turn based while moving on a battlefield each turn) however for one it's extremely slow because you cannot do autobattles, resulting in pressing the first command and wait until the enemies are dead and, with the exception of bosses and some hard battles, you really can just press one button and shrug it off. Second, the battles themselves are almost useless because levelling is nearly impossible due to a sort of "programmed" levelling in which the higher the level, the less exp you'll get, making combat completely useless, unless you have to grind money and sepith (basically the only way to upgrade your magic power and obtain magic spells, using a system similar to FF7 "materias"); luckily enough you can do quest in order to get money and everything you need (especially considering the items are WAY overpriced that even farming monster would be extremely long), and quests are also another good thing of the game and with exception of some quests being very obscure and telling you nowhere to go, it's still good of a feature. And third, the graphics are great...but the characters look terrible considering the enviroment it's VERY detailed and also huge.

However these issues aren't what made me give this score because they're not game breaking. The real issue was the "main protagonist": Estelle. The story is revolved for a huge part on looking for his father but you'll go around the world doing other things for your training, which is fine, however she's basically the worst kind of character you could ever get: a Mary Sue, but in this case she's a character that will constantly get the attention on every scene possible. Why? Lots of reasons and one of those is literally shadowing other characters, including the second main protagonist Joshua, which until now (I'm 40 hours in and soon to the last chapter) we know NOTHING about, as well as the other characters that will join because they barely had any screen time or important backstory to tell. Or the game was focusing on Estelle complaining. Seriously, I literally don't know the characters that came and went, because the game would constantly focus the story on this whiny and annoying girl that has nothing interesting at all, leaving the potentially good characters hid in the dark until the game starts calling them out (Joshua is one example, since he's extremely skilled, smart, very calm and mysterious). Not only that she's always in the attention of the game the plot will constantly remind us that her father is like the best of the best, every-single-time, and that because of him they expect her to be as good so she gets help, even though most of the times she knows nothing (It's almost like Harry Potter, except he wasn't "that" annoying). I'm truely sorry if I'm being this harsh on one character but I really could not stand how the game just favours her in every scene but completely forgets characters around her, killing potential good characters and actual character development; in addition she's also pretty weak in battle (her stats are decent but she's best used as a support character/healer than damage dealer, while Joshua is a damage beast despite the low defense) and the game will constantly remind us she's the main character in almost every scene possible available: the gender-swapped theatrical play for no reason, the "obviously-useless" fishing scene in the hotel, the constant immature acting but excused because she's the daughter of "that guy", the obvious fanservice scene in the SPA, the nonsensical scene where she's considered more like a boy than a girl (seriously, with her ginarmous pigtails, which are also not very practical for fighting, even a boy could look girly enough). The scenes are so many that it's pointless to track down, but yes she literally destroys the plot. For me.

Infact the game is still pretty solid and I'd warmly suggest to give this game a try, especially since good RPGs on PSP are rare and the game is still pretty fluid and interesting: in addition Estelle might be likeable for others, so all of this could be pointless for you, but since she can be a distraction I thought to mention"how" she can be annoying, plus I'm sure she'll be better later in the trilogy.

Hopefully not after 40-50 hours in...

…

Expand
| | |
| --- | --- |
| 4 | |
| 6 | #6 Most Discussed PSP Game of 2011 |
| 4 | #4 Most Shared PSP Game of 2011 |