Publisher:

Nintendo

Release Date:

Oct 28, 2022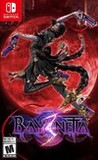 Summary:

Bayonetta returns in an all-new, over-the-top climax action game. Sporting a wicked new ensemble and somehow familiar pigtails, the titular Umbra Witch must face a mysterious evil using her signature guns and time-slowing Witch Time ability. Is her foe angel, demon, or something else

Bayonetta returns in an all-new, over-the-top climax action game. Sporting a wicked new ensemble and somehow familiar pigtails, the titular Umbra Witch must face a mysterious evil using her signature guns and time-slowing Witch Time ability. Is her foe angel, demon, or something else entirely?

Tap into Bayonetta's naughtier side with Demon Masquerade, a new ability that channels the demon linked to her weapon allowing for some exciting action options, not to mention some hair-raising combos. She can also summon her demonic darlings like Gomorrah, Malphas, and Phantasmaraneae during battle, unleashing their demonic powers in the heat of combat and in new, larger-than life battles where you directly control the action.

Bayonetta fights bravely in the streets of Tokyo against a mysterious enemy bent on plunging humanity into the depths of chaos.

Why is she there? And has the enemy already extended their grasp to other worlds?

…

Expand
Developer:

PlatinumGames

Genre(s):

Action Adventure

,

Linear

# of players:

No Online Multiplayer

Cheats:

On GameFAQs

Rating:

M
Please enter your birth date to watch this video:
You are not allowed to view this material at this time.
Bayonetta 3 - Bayonettas Everywhere?! - Nintendo Switch
Bayonetta 3 is an experience filled with a constant feeling of surprise, quality of life add-ons, dynamic and electrifying action and an epic story. Though it lacks visual refinement, the end result is a must-play for fans of the series. Although unfortunately there is still male gaze imprinted on the game, being a woman and playing with such powerful and fun characters such as Bayonetta, Viola and Jeanne is a huge joy.

Taking risks and daring to be better, Platinum Games has created one of the best games in its history with Bayonetta 3. The witch returns stronger and better accompanied than ever, proving why it is a Hack&Slash icon.

If you love the series and want to experience more of what made the first two games great, you'll find all that and more in Bayonetta 3, which dials things up to 11 and then some.

Bayonetta 3 is held back by the hardware limitations of Nintendo Switch, but this naughty sorceress is cunning enough to shake off those chains. She brings a lot of perfect, crazy fast fun, so imaginative that you won't get a chance to be bored.

Eight years in the making, Bayonetta 3 is an utterly ridiculous action romp from PlatinumGames that blends sublime controls with over-the-top set pieces that fans have come to love. And while pacing and technical issues hold it back, it's a fantastic sequel that fans of the franchise will love.

After playing Bayonetta 3, I found myself wanting to spend a lot more time getting acquainted with the first two games in the series, and I think that says a lot about the world PlatinumGames has created. Bayonetta's unique sense of style and humor really sets the series apart from other action games on the market, and it's easy to see why the character has proven so endearing. The game's over-the-top humor and sexuality probably won't win over anyone that didn't care for the first two games, and not all of the Demon Slaves are enjoyable to use. Despite these minor flaws, Bayonetta 3 delivers an experience that shouldn't be missed by series fanatics, and is well worth trying for those new to the series.

Despite featuring what's arguably the best combat system in the series, Bayonetta 3 is nothing short of disappointing. Bayonetta's core gameplay is outstanding, weaving fluid controls together with incredible weapon variety and tons of fun mechanics to play around with. The combo potential is high and battles just feel great to play… as Bayonetta. An unforgiveable amount of playtime is dedicated to newcomer Viola, stealth segments that make poor use of Jeanne, and relentless gimmick stages that wear out their welcome immediately. Tossing in mediocre level design, lacklustre performance, and a flavourless story that panders towards the current multiverse craze, it's clear PlatinumGames has lost its magic touch when it comes to the Umbran Witch. Bayonetta 3 is simply mediocre, at best.
Best Platinium Games Entry! Bayonetta is back with more weapons, demons, style, and charm.

This review contains spoilers

, click expand to view

. Difícil de superar, uno de los mejores juegos y sagas que hay
De aquí en adelante Bayonetta murió y lo que salga con su nombre posterior a este va a ser una completa cagada, mira que no me cayó mal viola, pero si el juego tuvo 3 entregas fue gracias a: Primero nintendo y Segundo a Bayonetta, como personaje es una obra maestra, sin Bayonetta Cereza no existe Bayonetta. Excelente juego pero lo mataron en su tercera entrega. QEPD Bayonetta

…

Expand

El mejor gameplay de todos los hacks and slash que he jugado, tiene muchisimo contenido rejugable, banda sonora que no decepciona y todo el

El mejor gameplay de todos los hacks and slash que he jugado, tiene muchisimo contenido rejugable, banda sonora que no decepciona y todo el sistema de combate es muy pulido y fluido, para mi el mejor de la saga por el sistema de combate. Con una historia que amplia mucho todo el universo de bayonetta

…

Expand

This review contains spoilers

, click expand to view

.

One of the best action games of all time, cannot believe thar woke media is so angry about making Bayonetta "straight", I am glad that this game was made for people who enjoy good gameplay and combat, shame about performance issues, this game would be 20/10

…

Expand

Me está encantando el juego. Creo que supera la historia del 2 y el 1. Me ha gustado mucho la vuelta de la bruja y toda la trama (no spoilers

Me está encantando el juego. Creo que supera la historia del 2 y el 1. Me ha gustado mucho la vuelta de la bruja y toda la trama (no spoilers jejeje) el estilo de combate es bueno y los malos tienen buen nivel de dificultad. A mí, personalmente, me está gustando

…

Expand

It's a good game, just not a great game like Bayo 1 and Bayo 2. There's alot done right, and alot done wrong. Story being the worst, while

It's a good game, just not a great game like Bayo 1 and Bayo 2. There's alot done right, and alot done wrong. Story being the worst, while combat reimagining being best.

Definitely the weakest in the trilogy, but still good.

…

Expand

It's just awefull compared to 1 & 2 it's like the developer forget everything about thier good compared System or just throw it out the

It's just awefull compared to 1 & 2 it's like the developer forget everything about thier good compared System or just throw it out the Windows and don't let me even Start about Violas gameplay. She feels like she was designe for a different game. Most of her Hits can't even connect because the enemys are often to fast for her.

…

Expand