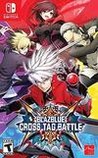 Summary:

Created through an all-star collaboration between BlazBlue, Atlus' Persona, French Bread's Under Night In-Birth, and Rooster Teeth's hugely popular RWBY web series, Cross Tag Battle celebrates the fighting genre for pros and newcomers alike! Engage in fast paced 2v2 team battles filled with

Created through an all-star collaboration between BlazBlue, Atlus' Persona, French Bread's Under Night In-Birth, and Rooster Teeth's hugely popular RWBY web series, Cross Tag Battle celebrates the fighting genre for pros and newcomers alike! Engage in fast paced 2v2 team battles filled with the craziness you've come to love from BlazBlue, with all the tight mechanics, smooth gameplay, and gorgeous 2D graphics you expect from Arc System Works.

…

Expand
Developer:

Arc System Works

Genre(s):

Action

,

Fighting

,

2D

# of players:

Up to 8

Cheats:

On GameFAQs

Rating:

T
Please enter your birth date to watch this video:
You are not allowed to view this material at this time.
Blazblue Cross Tag Battle - Opening Cinematic Trailer
All in all, BlazBlue Cross Tag Battle is a great 2D fighter that has plenty of depth with easy to learn mechanics. Believe it or not, the simple five button input system is intuitive enough when using a single Joy-Con for some quick on the go rivalry. The game looks lovely on the portable home console's small screen too, making those table top matches feel even more like a coin-op experience.

BlazBlue: Cross Tag Battle is an utterly accomplished 2D fighting game. Bursting with content and featuring the visual spectacle of combat that uses up every single trick in the book while doing so with the possibility of calling up a second character into the fray on demand sets Arc System Works title as the de facto current generation game fighting game to own on the Nintendo Switch.

With BlazBlue Cross Tag Battle Arc has delivered yet another enjoyable experience which cements them as a premier fighting game developer. The game manages to be simple enough that beginners can enjoy, but supply enough systems to sate veterans of the genre. Unfortunately the Switch is not the hardware where you would get the most out of this title.

BlazBlue: Cross Tag Battle has some issues, but the gameplay is exciting and deep enough that fans of any of the franchises on display here will have a good time.

BlazBlue Cross Tag Battle is a great and frenetic fighting game designed to please both veteran fans and novice players who want to start playing deeper games. In general, we have a game that's easy to play, but difficult to master and, as most titles, requires time and patience to improve, but it's very satisfying when achieved.

A light and pleasant fighting game, designed for newcomers of the genre who are approaching anime fighter for the first time.

BlazBlue Cross Tag Battle is a solid fighter.
Gran juego con una jugabilidad bastante entretenida y fácil de aprender aunque difícil de perfeccionar, una gran banda sonora y ademas muy

Gran juego con una jugabilidad bastante entretenida y fácil de aprender aunque difícil de perfeccionar, una gran banda sonora y ademas muy buenos gráficos y una gran selección de personajes lo unico que tengo que reclamarle es el DLC aun así es una gran juego de peleas y una gran opción de juego multijugador para cualquier usuario de una Switch.

…

Expand

Es un juego bastante recomendable que cuenta con una plantilla de 25 personajes(contando los que son gratuitos mediante DLC) pero saber que

Es un juego bastante recomendable que cuenta con una plantilla de 25 personajes(contando los que son gratuitos mediante DLC) pero saber que tiene otros 12 que son de pago en su lanzamiento es su único punto en contra según mi opinión, cuenta con una banda sonora increíble de alrededor 30 temas, una gran jugabilidad y aunque sea sencilla, se pueden hacer grandes combos que requieren practica si es que buscas tener un gameplay mas vistoso, personajes que transmiten un gran carisma que te harán simpatizar con ellos, un titulo al que le podes dedicar cientos de horas en el modo local junto a un amigo como es en mi caso y nada que envidiarle a juegos como Dragon Ball Fighterz, kof XIV, Injustice 2, etc. los cuales poseo y jugué varias horas.

…

Expand

Great fighting game. easy to learn and play. great characters design and scenarios. beautiful anime style. if you like anime and fighting

Great fighting game. easy to learn and play. great characters design and scenarios. beautiful anime style. if you like anime and fighting games this one is for you.

…

Expand

It is an easy game in the fighting game genre, but it still exist a lot of gap between the newbie and old fighting gamer. And I think it is

It is an easy game in the fighting game genre, but it still exist a lot of gap between the newbie and old fighting gamer. And I think it is too expensive.

…

Expand

To give this game any higher than a 6 is laughable. Fighting game developers are getting more and more greedy pertaining to content (or lack

To give this game any higher than a 6 is laughable. Fighting game developers are getting more and more greedy pertaining to content (or lack there of). First the story mode is interesting, however, once finished, there is nothing left to do (Switch version-online=failure). Moreover, no Arcade mode (really), meaning no individual character (or pairing) story (this needs patched in--Arc System you already have twenty dollar pay wall with the characters--there better not be a pay to play Arcade mode). Overall, severely disappointed (the mechanics are too simplistic as my wife can pull off insane combos and she never had played a fighting game before); the game feels hollow...I would hold and wait for a price drop, but fighting novices might enjoy this rather empty game). For Switch owners though, this is the best we get for now...unfortunately.

…

Expand

This game ist not a bad game, but it has many flaws. At first the good things about BBTAG:
1. It is really easy (for fighting gamesThis game ist not a bad game, but it has many flaws. At first the good things about BBTAG:
1. It is really easy (for fighting games standards!) to play, it does not really matter which controller you use (joy-cons, arcade stick, pro controller), because combos are easy to execute. The "hard" part of the game is more about when to use them and when to block. I advice you to map the buttons to your liking for easier execution.
2. The visuals of the reused assets are still great to look at ( my opinion) also the new RWBY sprites are really nice, maybe too nice compared to the old sprites.
3. The interaction between the different characters is fan service done well, but it could have more special intros/outros.
4. The story mode is surprisingly really entertaining. Some people wanted gag reels, the whole is a gag reel! The "training mode" here is pretty good too.
5. Online matches work good, at least for me. It is a blast to play it with other people. The avatars, lobbies and this communication is kinda cute, which I personally like. Just don't type something stupid.
And respect your opponents.

Now the bad things:
1. The gallery is for a Blazblue game way to small, it is patchable so maybe it will change.
2. The start roster is for a fan of those franchises really lacking. For someone who never heard of those characters has probably no real problem with this but then why would this person buy this game? What really got on my nerves was that huge amount of dlc character, and it doesn't matter if it's standard nowadays in fighting games!
3. Almost no single player content, no arcade mode, no real replay value outside online matches. And it doesn't matter if it's standard nowadays in fighting games!!
4. The price for this game is too expensive. It is lacking replay value, it does not feel like a game worthy of an evo spot, it lacks game content, it is simply not special. And this is one of the worst things you can do with those amazing franchises ( even Under Night In Birth). This game is simply a disappointment.
It could have been the next MvC2 or even surpassed it, but how we got this half baked of a game. Maybe they will patched it to a better game, but then good luck playing this game in 20 years without your account and servers for this game..

…

Expand