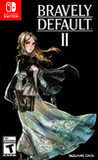 Summary:

Step into a brand-new world with four brand-new heroes. A new world, a new story, and all-new Heroes of Light await in an original RPG experience arriving on the Nintendo Switch system in 2020! This successor to the original Bravely Default game comes from the team that brought you the

Step into a brand-new world with four brand-new heroes. A new world, a new story, and all-new Heroes of Light await in an original RPG experience arriving on the Nintendo Switch system in 2020! This successor to the original Bravely Default game comes from the team that brought you the Bravely series and Octopath Traveler, and features music from Revo (Sound Horizon/Linked Horizon), acclaimed composer of the Bravely Default soundtrack.

* Brand-new entry in Square Enix's Bravely Series
* Travel the world in search of the four Crystals with the latest incarnation of the brave band known as the Heroes of Light
* Latest creation from Team Asano, creators of the Bravely series and Octopath Traveler
* New world filled with new characters, but with the atmosphere and excitement the Bravely series is known for

…

Expand
Developer:

Claytech Works

Genre(s):

Role-Playing

,

Japanese-Style

# of players:

No Online Multiplayer

Cheats:

On GameFAQs

Rating:

T
Please enter your birth date to watch this video:
You are not allowed to view this material at this time.
Bravely Default 2 - Nintendo Direct Mini Trailer
It seems inevitable to me that there are going to be a lot of people that dismiss Bravely Default II as a "retro-style JRPG." They'll see the turn-based combat, the very "JRPG" design of the characters, and all the other genre tropes that the game indulges, and assume that that's all it is. Nothing could be further from the truth. Nuanced writing, impeccable design and subtle subversion highlight that Bravely Default II is, instead, a game that uses its genre rather than allow it to become beholden to it. In many ways it's a highly metafictional thesis that explores what people love about JRPGs, and what is genuinely important to the genre. In doing so the game has become this wonderfully nuanced, beautiful, entertaining and emotive experience, and in my book, that makes it a masterpiece.

The wait for Bravely Default II has been long and hard, but now that it is finally here it convinces with high quality graphics, storytelling, gameplay and sound. While this title is not without flaws, these are minor compared to the overall excellence of this title. A joy to play at home on the big screen or on the go, this title is a great addition to any turn-based RPG fan's library.

Bravely Default II is a classic JRPG in the style of the early Final Fantasy games. However, it also tries to adapt to modern times. It offers more mechanics, complexity, a deep story, an extraordinary artistic section and fun battles.

Bravely Default II is a gem. It serves up amazing visuals with a combat system that both veterans and newcomers will love. It marries excellent characters with a rich in-game world, and delivers it with a majestic OST. It's not perfect but it's an excellent RPG that every Switch owner should try.

Bravely Default 2 is a classic JRPG that certainly doesn't reinvent the wheel, but its intriguing combat system and the customization offered by the many classes available can make it interesting for fans of the genre.

Your enjoyment of Bravely Default II will largely depend on how much of a fan you are of grinding. With the large glut of epic, innovative JRPGs available in 2021 there are plenty of more streamlined experiences. However if you're into hardcore old school JRPG's with brutal difficulty spikes and detailed job systems, Bravely Default II will be exactly what you're looking for.

AIt hits all of the usual story beats and it will scratch an itch for JRPG obsessives, but there's an absolute lack of substance. There's no discernable creativity, flair, or ingenuity in any part of it. It doesn't want to either reinvent the wheel or even add a lick of polish to it. It is a game which exists and functions as it was meant to; a JRPG as by-the-numbers as they come, I just wish the developers had been brave enough to take a few more risks.
Turn based JRPGs are not only surviving; they're thriving. This game is a great example. Loving it.

This might be one of my favorite RPGs of all time. Make sure you play through until you have all 3 endings.. the first 2 endings are just

This might be one of my favorite RPGs of all time. Make sure you play through until you have all 3 endings.. the first 2 endings are just teasers and you'll need to lookup online how to get the 3rd true ending. It's worth it!

…

Expand

Best RPG in a while. Definitely better than P5R where there is only repetitive combat.

I played the demo and hated it. As is the way when any JRPG puts out a demo that begins in chapter 3 or 9 etc. But wow. Great classic style

I played the demo and hated it. As is the way when any JRPG puts out a demo that begins in chapter 3 or 9 etc. But wow. Great classic style JRPG. If you liked Bravely default or Bravely Second, you'll love this game. Same old goodness and nostalgic charm.

…

Expand

Bravely Default 2 c'est un très bon jeu. J'dirais un solide 16/20.
+ le gameplay jrpg tour par tour est aux **** oignons. Combinaisons,Bravely Default 2 c'est un très bon jeu. J'dirais un solide 16/20.
+ le gameplay jrpg tour par tour est aux **** oignons. Combinaisons, combos, temporiser (avec Default), massacrer (avec Brave)
+ les classes de personnages et leur combinaison. 552 combinaisons, avec 5 compétences à accumuler parmi les classes. De quoi faire sa team parfaite.
+ des personnages attachants
+ un jeu long, et complet
+ un mini jeu super prenant, même si pas autant intéressant que le gameplay principal (et heureusement, parce que sinon, il y a un problème de conception)
+ une histoire qui semble finir... deux fois.
+ le mode difficile est vraiment dur (en tout cas pour moi ^^')
- la technique, avec beaucoup d'aliasing, beaucoup de moments où le jeu saccade hors combat, ou même en cinématique
- les dialogues sont parfois simplistes
- le monde du désert en mode flou d'arrière plan c'est illisible
- pour ceux qui n'ont pas 70h+, dur de se dire qu'on ne pourra pas finir le jeu. (101h de mon côté, mais j'ai accumulé toutes les classes au niveau maximum + dû faire un certain farm car j'ai commencé par le combat optionnel le plus dur en premier parmi les "combats optionnels pré fin de jeu"... pas malin).
Bref un 16/20 pour tous les amateurs de jrpg. Les autres, probablement que ça ne vous plaira pas du tout.

…

Expand

The good:
The characters are likeable.
The job system is as on point as the previous iterations. The updated graphics are nice and the handThe good:
The characters are likeable.
The job system is as on point as the previous iterations.
The updated graphics are nice and the hand drawn locations are stunning.

The bad:
Speed is now a god tier stat and dictates not only turn order but also how many turns you get before your opponent acts. Most bosses outspeed you and therefore get multiple turns in which to abuse braving and defaulting.
The game entirely lacks any means of telling which order turns are going to be taken in.
The addition of equip weight adds nothing of value to the game.
Counters can be triggered even if you don't do anything to an enemy, for example enemies can counter white magic.
There's no way of telling what enemies resist, what they counter and what status effects they're susceptible/immune to as the magnifying glass ability only gives you their weaknesses.
The soundtrack is by far the most mediocre of the series.
All QoL features related to encounter rates and move presets have been removed for no real reason.
The game is the grindiest in the series, and it's made even worse by the removal of the aforementioned QoL features.
The story is the least interesting of the series.
Framerates struggle in docked mode.
There's input lag but only on specific inputs.

All in all, if you REALLY loved the previous games, pick this up. But in all regards this feels like a budget JRPG rather than something tied to Square-Enix.

…

Expand

This game is ducking impossible rofl. I'm no stranger to rpg's, but this is ridiculous. It's hard to the point that it's not really fun to

This game is ducking impossible rofl. I'm no stranger to rpg's, but this is ridiculous. It's hard to the point that it's not really fun to play. Save your money for a better designed game. Uninstalled and moved on. Wish I could get a refund for it because I'm never playing it again.

…

Expand