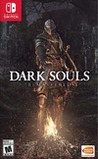 Summary:

Re-experience the critically acclaimed, genre-defining game that started it all. Beautifully remastered, return to Lordran in stunning detail. DARK SOULS: REMASTERED includes the main game plus the Artorias of the Abyss DLC.
Please enter your birth date to watch this video:
You are not allowed to view this material at this time.
Dark Souls Remastered - PS4 Pro Gameplay
If you're someone who finds reward in developing deep mechanical understanding in games and is willing to die, a lot, in a bleak and uncaring world in pursuit of this understanding, Dark Souls Remastered could be a new favourite.

Dark Souls on Switch was another chance for me to fall in love with the world of Lordran once more. It's an experience that's a perfect fit on a handheld, and it's one of the most compelling apps Nintendo's burgeoning platform currently has to offer.

Dark Souls: Remastered is the improved version of one of the most influential and unforgettable games ever made. It delivers a mysterious and expansive world to be explored, which will reward with many wonders those who brave enough to face its dangers.

While Dark Souls Remastered on Switch possesses some odd quirks and isn't as technically impressive as its current-gen counterparts, it still retains the heart of what the original game is all about.

A well aged fantasy/horror action RPG, that even those who have never played before should definitely give a chance. Don't be scared off by the stories of how difficult it is. (Though also know, those stories are true.)

Seven years out from its first release, people already know what Dark Souls is all about and probably know whether that type of brutal gameplay is for them. Love it or hate it, it is what it is. The Switch version doesn't change that experience. It does run extremely well on the system, and it looks pretty darn good. The failure to adhere to Nintendo button conventions isn't exactly exclusive to Dark Souls: Remastered either, but it doesn't make it any less of an annoyance. Other than that, there isn't much else going wrong.

It's another edition of the same old thing. One that has nothing to offer apart from what should be offered in the least – and still doesn't accomplish it well enough to be worthy of any praise. [13/2018, p.76]
this is hands down one of my favorite games ever, and now i can play it on the go with better performance than the original! if your a souls

this is hands down one of my favorite games ever, and now i can play it on the go with better performance than the original! if your a souls fan and own an switch, this is a must have. this is one of those games that sucks you into its world and haunts you for days after playing. from the world building to the unforgiving but fair game play, Dark Souls is what gaming is all about.

…

Expand

One of the best Games known to mankind.
From Software is a safe heaven for the Gaming community.
Especially in times where big DevelopersOne of the best Games known to mankind.
From Software is a safe heaven for the Gaming community.
Especially in times where big Developers dissapiont us with theyr fraudulent intent.
Praise the sun!

…

Expand

Es el mismo juego, pero para la Switch. Los que se quejan de la calidad de audio creo que solo repiten lo que han leído de otra gente, porque

Es el mismo juego, pero para la Switch. Los que se quejan de la calidad de audio creo que solo repiten lo que han leído de otra gente, porque no he tenido ninguna queja. En portátil se ve y funciona estupendamente.

…

Expand

A generally solid port of one of the best games ever made.

It's not the prettiest of the Remastered versions, and the audio is a bitA generally solid port of one of the best games ever made.

It's not the prettiest of the Remastered versions, and the audio is a bit lacking, but anyone playing on a Switch should know that going in. It's not the most powerful of this generation, but its portability and ease of entry is unmatched. If you want the prettiest version, get it on PC and play it at 4K.

So that said, this is Dark Souls as you expect it to be. It's the whole game, it's well optimized, framerate is consistent and you can take it anywhere. A great platform for a great game.

…

Expand

It's dark souls! You know how it is. But fyi, for anyone buying the switch port just wanted to put it out there that there are almost no

It's dark souls! You know how it is. But fyi, for anyone buying the switch port just wanted to put it out there that there are almost no summons, though I assume there's more on steam and ps4. Also do not get excited about pvp, it is not good here.

…

Expand

dark souls is very nice and relaxing game, its a really great game to play when you're playing a really frustrating game like kirby star

dark souls is very nice and relaxing game, its a really great game to play when you're playing a really frustrating game like kirby star allies. This game has very nice cutesy graphics that will just make you smile, this game has a very simple story that is easily understandable. I just wish it was more of a challenge really. This game is also great for the family too you can play it with your grandma even if there is no multiplayer, its fun just looking at other play and cheering each other on, i played with my granny one time and she managed to beat it in one sitting, i mean she is a bit of a professional. But with this comes the biggest gripe i have with this game and that is, that its too easy my grandma could beat it my little brother can beat it and even my grandpa. But if you wanna just have family friendly fun just play this nice relaxing game with the family.

…

Expand

As much as I love Dark Souls, this port is just a disaster. It's littered with bugs that don't exist in any other version of the game and the

As much as I love Dark Souls, this port is just a disaster. It's littered with bugs that don't exist in any other version of the game and the framerate stutters constantly. The AI is absolutely bizarre and bosses frequently get stuck spamming the same attack over and over again for the whole fight, sometimes to their detriment, sometimes to yours. Enemy aggro is far less consistent and ends up making some areas much easier and others much more difficult, depending on whether enemies are failing to realize you're there until you're two feet away or are already charging at you before you've even seen them, and this will often change between game loads. Sometimes enemies and other NPCs will simply not load in at all in some areas. Fall damage, being tied to the framerate, can be extremely inconsistent, with very long falls sometimes doing next to no damage and very short falls nearly killing you. Iframes have been changed in a way that makes them very inconsistent and makes a lot of attacks from various bosses completely impossible to avoid unless you're in a position to completely avoid the attack hitbox, which is, unfortunately, a guessing game with the way a lot of Dark Souls hitboxes are shaped.

Overall, this port is just a mess, and is no way to play one of the best RPGs ever made.

…

Expand