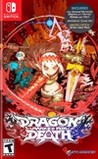 Summary:

Dragon MFD is a 2D side-scrolling action RPG game where up to 4 players can play together in either local multiplayer or online multiplayer. Refreshing, feel-good level designs based around intuitive 2D-action-based gameplay await!

Features: * Play through the game as one of four DragonkinDragon MFD is a 2D side-scrolling action RPG game where up to 4 players can play together in either local multiplayer or online multiplayer. Refreshing, feel-good level designs based around intuitive 2D-action-based gameplay await!

Features:

* Play through the game as one of four Dragonkin characters!
The characters, known as the Dragonkin, have forged a pact with dragons which granted them special new powers. You can choose any one of the Princess, Warrior, Shinobi, or Witch characters to play as.

* Each playable character has different strengths and abilities!
The Princess is a well-balanced DPS character, the Warrior is a Tank class character that protects the party with his high defense, the Shinobi is DPS that places emphasis on movement on tricky attacks, and the Witch can both heal her allies and damage her emeies.

* A fascinating and immersive dark fantasy world
Carefully drawn pixel art from some of the industry's best pixelmancers paints the entire picture and brings players right into the dark fantasy setting.

* Work together with your companions to progress through stages!
In Dragon MFD, working together with your companions opens up a whole new realm of possibilities when it comes to defeating enemies and traversing stages.

* Battle against gargantuan bosses!
Absolutely gigantic bosses that are bigger than the entire screen await our heroes. Work together with your comrades to take down these larger than life baddies!

* Dozens and dozens of hours worth of gameplay!
Make no mistake, Dragon MFD is a massive game for its genre. With single stages that span 200-400 screens, over 30 main quests, and tons of side quests to tackle, players have tons of playtime to look forward to!

…

Expand
Developer:

Inti Creates

Genre(s):

Role-Playing

,

Action RPG

# of players:

No Online Multiplayer

Cheats:

On GameFAQs

Rating:

T
Please enter your birth date to watch this video:
You are not allowed to view this material at this time.
Dragon Marked For Death - Official Announcement Trailer
Dragon Marked for Death is one of the most rewarding sidescrolling games I have played ever, and it's easily recommended due to its immense polish.

Provided you're either willing to put in the work in hunting down additional players, or have a few friends interested in joining you, I think you'll enjoy Dragon Marked for Death quite a bit. As a solo experience it can be a little less compelling, but still enjoyable enough to check out.

While there might be some relative shortcomings in its single player mode, Dragon Marked for Death more than makes up for them with its exciting and creative co-op multiplayer design. Players can hop in instantaneously and help the Dragonblood Clan level up and take on its enemies. There are multiple different versions of the game to get, but ultimately fans are best off buying either the physical edition or both digital bundles in order to get the full, proper experience. It's tough playing solo, but the multiplayer is so well done that it compensates for this one area of weakness. Definitely keep Dragon Marked for Death on your radar if you'd like a game to play with friends that's outside the norm.

Dragon Marked For Death is a good use of Nintendo Switch Online beyond the more obvious releases, and there are dozens of hours of content. Levels are large and full of loot, and enemies and bosses are fun to eviscerate as a full-party "death-ball," but it's a hard pass for players who like to go it alone.

A demanding title that arrives somewhat late but surprises the old school players.

A game that gives lot of fun to the player, but the lack of a local co-op and a strange business model don't work.

The right person can find some level of enjoyment with Dragon Marked for Death. Unfortunately, the right person is likely somebody who has supplied a group of their own friends with copies of the game to join in on-line co-op, or else just has a hankering for stat-tuning and mission grinding. To the average gamer, the game's repetitive nature in the face of its overall lack of multiplayer alternatives will spell anathema. Online games aren't designed to put their best face forward when played solo, and it sadly seems this game's timer is already ticking dangerously close towards its expiration date.
Great game! If you don't mind grind this game offers tons of replay-ability either solo or with a group and in my personal opinion shines with

Great game! If you don't mind grind this game offers tons of replay-ability either solo or with a group and in my personal opinion shines with with a full party.
Inti Creates in my humble opinion only knows how to make great games and this, for me, its their best work yet!
Its a perfect mix between a looter like Diablo where you go to dungeons in order to grind and tough as nails action platforms like the very own INTI titles Megaman Zero or Gunvolt!

Strong Points:
Art style is great beautiful pixel art with an anime style cut scenes and animation.
Game play is very fluid and crisp but also very punishing on higher levels (this is a plus for me, might not be for some).
Great replay ability.
4 different unique classes, that offer a very distinctive way of playing.
Price! For 15bucks you get the whole game and 2 character classes, you get to to every content (besides DLCs) and then decide if you want to buy the other 2 classes, but if them don't appeal at all to you, you bought a 40$ worth game, just for 15bucks.

Weak Points:
Grind! I love grind but I feel that the majority of people doesn't enjoy this and often complains about it...there is no way around it, this is a very grindy game! If you want to beat all missions in their highest levels, you will need to do at least a decent amount of grind in order to have the gear for it.
Very uninteresting story (subjective ofc), at least for me, its pretty basic, unless they will invest on it later on.
Singleplayer/multiplayer balance...the game does very little scaling between solo and groups, which in some fights later can be very punishing for people playing solo.

Very polished and enjoyable game that if the developers keep updating it, they seem to intend to and there is already a DLC coming in a few days, I can see my self playing for thousands of hours.

…

Expand

Muy buen juego, comencé a jugarlo con un amigo y por ahora bien de bien, los controles se sientes muy precisos, cada personaje tiene su

Muy buen juego, comencé a jugarlo con un amigo y por ahora bien de bien, los controles se sientes muy precisos, cada personaje tiene su personalidad y habilidades muy variadas que hacen que quieras probar todos y rejugarlo. Lo unico malo es que si no compras la versión física, (yo si lo hice) te viene con menos personajes, lo cual podés elegir a la hora de la compra.
Los gráficos se ven muy muy bien, las animaciones también, la música es regularmente buena, nada de obras maestras pero son muy agradables.

…

Expand

Solid title with possibly many updates to come! Could use some QoL here and there and a better single player balance but over all a very game.

Solid title with possibly many updates to come! Could use some QoL here and there and a better single player balance but over all a very game.
My favourite 2019 title so far!

…

Expand

There is no way around it, this is a niche game! The typical game that isn't for everybody, its grindy, its repetitive and its very hard and

There is no way around it, this is a niche game! The typical game that isn't for everybody, its grindy, its repetitive and its very hard and punishing! BUT if you enjoy this type of game and are basically part of this niche group of players, this is a game for you and its an excellent game at that!

I always enjoyed looters, looter shooters like Destiny or Borderlands, Isometric dungeon Crawlers like Diablo or even strategic ones with turn based mechanics. The only action platformer looter that I played before this Dragon Marked for Death was Castlevania: Harmony of Despair and I liked it, but it was blown way by it.
But this one, oh boy it really clicks with me, specially while playing it a full party!
Usually by the very endgame most looters become a mindless grind, because you often totally overpower your enemies, in this one, you have to be on your toes because the bosses can totally wreck you if you are careless, no matter how good your gear is and that twist totally hooked me!

Great game with great aesthetics and 4 totally diverse playable classes, that as I mentioned, if you like loot combined with a gameplay like Gunvolt, you will devour this game, you can take my word for it!
Clocking 85hours so far according to my Switch and bought it mid February!

…

Expand

This game checks all my boxes:
Exclusive to my favorite and platform of choice: Nintendo Switch.
Inti Created on the wheel! Beautiful pixelThis game checks all my boxes:
Exclusive to my favorite and platform of choice: Nintendo Switch.
Inti Created on the wheel!
Beautiful pixel art and great atmospheric music.
Class based system with loot BUT with a very tough skill based action platformer playstyle!
Tons of replayabilty!

I wanted so bad to give it a 10, but in good conscious I can't simply because the story is very "just there", there is really not much to it, typical cursed and outcast heroes saving the world that has no love for them anime type of thing! Because otherwise, this game totally rocks!

Digital release on January 31st, Physical release yesterday and first big content update releasing tomorrow! If they keep content flow going, they are showing AAA developers how its done.

Good Job Inti Creates!

…

Expand

Good game. Exclusive for Nintendo Switch. If you like platformers, grind, good gameplay, then you will like this game. However, there are a

Good game. Exclusive for Nintendo Switch. If you like platformers, grind, good gameplay, then you will like this game. However, there are a number of disadvantages: 1) at the beginning ( without experience and pumping ) gameplay seems very slow. 2) Grind. 3) Weak background. 4) Price. 2 parts it's 30$ + DLC 10$ = 40$, and this is 2/3 of AAA project. Anyway, I am happy with the purchase, thanks to the developers.

P.S. Sry for my English.

…

Expand

Just before being harsh with the game I'm going to say that the game has nice visuals, somewhat good music and sound effects (plus voice and

Just before being harsh with the game I'm going to say that the game has nice visuals, somewhat good music and sound effects (plus voice and stuff) but aside of the first levels and so on... The real game starts to crumble, I'm going to say all the flaws that I found.
First of all, why do enemies just touch you and you receive damage? Aren't we living in 2020 where enemies does a move and hurts the player? Isn't that okay? About touching you, there are attacks that are almost unavoidable and can also 1hit-KO your character, yes I know that there are items to avoid this, but you don't have access to those items at the moment where enemies are likely to kill you just by passing next to you, the unfairness amount of damage from an enemy that is not even a boss is absurd, they didn't know how to balance the damage in solo mode, so playing solo is a torture and I can't even imagine having friends to play with after receiving one hit of death.
The map is a mess, you could be lost in seconds because there's no way to know from where you came or where you need to explore, there's nothing that tells you what to do, where to go and in some of the biggest maps of the game there's not even a warp or anything that helps the player to know if hr/she is doing things correctly.
Then the rewards, I can't believe that people is saying that the rewards are good, no, they are absolutely trash, there's no a good reward and the tradeable items in the black market asks the player for better levels and the quality of the item is not even great. I had played games likes this one before and this is the first time that I didn't enjoyed the game at all, it was a torture after going to the upper levels, the spike of the difficulty was absurd, the levels are quite repetite and boring, the music doesn't deliver justice to this and finally, I don't understand how they f***** so much with the balance of the game, is literally impossible to enjoy it solo without getting frustrated so many times because common enemies destroys you before facing the boss, and sometimes, you did all the hard work and just losing against the boss broken damage and unfair speed or movement (the bandit one is just stupid with those bombs and gigantic attacks, super unfair and not fun at all

…

Expand