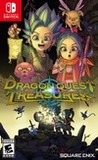 Summary:

Players take control of Erik and Mia as they explore a treasure hunter's paradise where boundless adventure awaits. Loot can be hidden in the most fiendishly inaccessible locations, so players must recruit a variety of well-meaning monsters and make use of their unique treasure-hunting

Players take control of Erik and Mia as they explore a treasure hunter's paradise where boundless adventure awaits. Loot can be hidden in the most fiendishly inaccessible locations, so players must recruit a variety of well-meaning monsters and make use of their unique treasure-hunting abilities. These charming creatures will help players to race over open fields, scale cliffs with a single bound, and glide over gaping chasms. They will even provide assistance in battles against rival treasure hunters! Collecting treasure will increase the player's vault value, allowing them to expand their home base and further build up their brigade of friendly monsters.

…

Expand
Developer:

Square Enix

Genre(s):

Role-Playing

,

General

# of players:

No Online Multiplayer

Cheats:

On GameFAQs

Rating:

E10+
Please enter your birth date to watch this video:
You are not allowed to view this material at this time.
DRAGON QUEST TREASURES | Gameplay Overview
Dragon Quest Treasures is an engaging yet easygoing monster-recruiting game full of surprises and humor - and, perhaps most importantly, it's a ton of fun.

While its sheer amount of missions can be overwhelming at first, once you sink into Dragon Quest Treasures you'll have a great time exploring the world of Draconia at your own pace. Its combat lets it down somewhat, but it's easily forgiven when the lure to find bigger and better treasure is so strong. It might not be your usual Dragon Quest adventure, but it's well worth your time.

Dragon Quest Treasures feels like a long-lost 3DS gem brought to Nintendo Switch. It has all the charm from an older Dragon Quest game, and is one of the better Switch exclusive of 2022. While the core gameplay loop might not be for everyone, I enjoyed it a lot. I just wish the technical aspects of the game were a bit better.

Dragon Quest Treasures is a fun time with plenty of adventuring to be had. Its charming writing expected of the series, and the endearing cast creates a distinct, inviting ambiance, even if the story isn't exactly compelling. Of course, there are plenty of tasks to complete and items to find to keep busy as well.

Dragon Quest Treasures is a solid but not really exciting spin-off of the Dragon Quest series. Eric and Mida are recruiting monsters to find treasures all over Draconia. Graphic and storyline feel old and outdated but at least it's fun to play for some hours, even though the tasks get repetitive after some time.

It's a testament to how strong the other elements of Dragon Quest Treasures are that, in spite of combat frequently being unfulfilling, the game still manages to keep you eagerly coming back for more exploration and treasure-scouting. Its bright-eyed, adventurous atmosphere and rewarding core gameplay loop go a long way in carrying the game to its conclusion. It might not be the richest game out there, but for the length of its runtime, Dragon Quest Treasures does a fine job of making you feel like a bandit king.

Dragon Quest Treasures is a bland adventure that sucks out everything that makes the franchise charming. There's quite a lot to do in the game, but none of it is fun or feels good. Playing this game feels more like checking things off your to-do list: the act of crossing things off may offer a hint of satisfaction, but you don't actually like doing the tasks on it.
I love Dragon Quest games and Dragon Quest Treasures is no exception! I really love the game.
The progs are Erik and MIa, the same Erik as inI love Dragon Quest games and Dragon Quest Treasures is no exception! I really love the game.
The progs are Erik and MIa, the same Erik as in DQXI, but when he was younger.
I can only recommend it.

…

Expand

The ultimate chill out game for fans of DQ. Cynical punks will find plenty to malign here— that's your sign to roundly ignore them and enjoy

The ultimate chill out game for fans of DQ. Cynical punks will find plenty to malign here— that's your sign to roundly ignore them and enjoy this delightful JRPG. A must for fans of DQ XI, or an excellent entry point into that title— one of the best games of all time.

Charming story, fun gameplay, and a purple cat and green pig as companions— what more are you looking for. Square Enix has done it again.

Now give us a DQ XII teaser, Yuji Horii. That, or ports of DQ 4-9 for the Switch. Nobody wants to play games on their phones.

…

Expand

Love the game. Don't listen to any of the hate it receives and just play it yourself. It's a simple loot gathering and monster taming game.

Love the game. Don't listen to any of the hate it receives and just play it yourself. It's a simple loot gathering and monster taming game. It's fun, has little to no bugs or FPS issues, and looks great. Has far less issues than the new Pokemon games, that's for sure.

…

Expand

If you love the Dragon Quest series, you will absolutely love this. There's a lot of things to find and it gets addicting. Sound and graphics

If you love the Dragon Quest series, you will absolutely love this. There's a lot of things to find and it gets addicting. Sound and graphics are great as well. There's some fps drops but it's not gamebreaking.

…

Expand

Square Enix created another great spin-off for the Nintendo Switch with Dragon Quest Treasures. The game's story is convincing and brings you

Square Enix created another great spin-off for the Nintendo Switch with Dragon Quest Treasures. The game's story is convincing and brings you pleasantly through the title. It would be hard to put our controller down again. Above all, the features and possibilities are good and the familiar elements have been implemented well. The graphics and sound are excellent and atmospheric. If you like a new role-playing game or are a fan of the series, you should definitely pick up "Dragon Quest Treasures". It's definitely worth it for fans of the genre.

…

Expand

*Pros*
- To be in another Dragon Quest world with monsters, Akira Toriyama design
- Scenarios, art of them and mobility on them - Some amazing*Pros*
- To be in another Dragon Quest world with monsters, Akira Toriyama design
- Scenarios, art of them and mobility on them
- Some amazing cinematics
- Ride and recruit monsters
- Action battle like DQ Heroes but simplified, with slingshot & variety of balls to throw
- I haven't found bugs, well built
- Variety of missions
- Nice boss battles
*Cons*
- Not a Dragon Quest Monsters (not Joker 4)
- Main story too short (22 hours took me doing also some secondary mission)
- Only treasure hunting it's not engaging
- Few available monsters (also limited riding)
- Annoying to look for some concrete items
- Few challenge (easy in general)
- Without turn battles
- Focused on young but at the same time not for too young
- Secondary missions not engaging at all

…

Expand

Dragon Quest Treasures feels like it could have done with more time in the oven.

As others have said, the gameplay loop is quite shallow;Dragon Quest Treasures feels like it could have done with more time in the oven.

As others have said, the gameplay loop is quite shallow; simple but not in a rewarding or fun way. It's essentially a chore simulator stapled onto an open-world game. You run, glide and jump around collecting things to increase your capability to...run, jump and glide around collecting things. It gets pretty old fast, but there's a monotony to it that you can get absorbed in, and that's where I think most of the positive reviews come from.

You can collect monsters, but there's not a whole lot of monster variety. In typical Dragon Quest tradition, the game uses recoloured models to flesh out the roster, but it's much, much more noticeable this time around-- seriously the unique monster pool might be the smallest of any DQ game to date-- and that's not a good thing when you have elements of Monster Collecting in your game.

This lack of monster-variety is brought to the forefront during combat sequences of the game. In short, your main character is all-but useless in combat, meaning you'll be relying on this limited monster pool to do most of the fighting for you. You get a slingshot in which to barrage foes while your AI monsters attack them, but it's clunky and didn't feel fun to use. Ultimately I found myself skipping non-essential fights and that's a pretty bad sign the combat isn't engaging.

As for preformance, it looks rough and preforms so-so, which I assume is because of the hamfisted psuedo open-world elements of the game. Frequent FPS drops and muddy textures defined my experience. While some parts of the world looked and ran better than others, the inconsistency in FPS and texture quality makes it hard to immerse yourself in the good parts of the game.

I've played many games in the DQ series, mainline and spin-off, but this one is a weird outlier and the usual charm of the series is really struggling to carry this entry. It'd be a hard sell to recommend this to anyone except the most die-hard DQ fans and even then, they'd be struggling to squeeze more than say... 20 hours of enjoyment out of this.

Also, a side note. While I love Koichi Sugiyama's work, it might be time to create some new music for these games. The increased usage of asset-recycling paired with the lack of an original score isn't helping Dragon Quest Treasures stand out, a few new tunes to listen to would have helped alleviate traipsing back and forth through its otherwise unremarkable worlds.

But I will say the voice acting is quite fun and it sounds like the VA's were really into it. Always good to see.

In closing, there's not a whole lot to Dragon Quest Treasures worth experiencing. I'd say probably go watch your favourite youtuber play it instead of buying it.

…

Expand