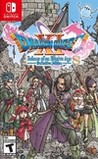 Summary:

Dragon Quest XI: Echoes of an Elusive Age tells a captivating tale of a hunted hero and is the long-awaited role-playing game from series creator Yuji Horii, character designer Akira Toriyama and composer Koichi Sugiyama. While it is the eleventh mainline entry in the critically acclaimed

Dragon Quest XI: Echoes of an Elusive Age tells a captivating tale of a hunted hero and is the long-awaited role-playing game from series creator Yuji Horii, character designer Akira Toriyama and composer Koichi Sugiyama. While it is the eleventh mainline entry in the critically acclaimed series, Dragon Quest XI is a completely standalone experience that features entirely new characters, a beautifully detailed world, finely tuned turn-based combat, and an immersive story that will appeal to long-time fans and franchise newcomers alike. A young man, about to participate in his village's coming of age ceremony, travels to a Sacred Stone alongside his childhood friend. After a series of unexpected events, this intrepid adventurer learns he is the reincarnation of a legendary hero from a forgotten age. The young hero sets forth into an unknown world on a journey to unravel the mystery of his past... but the welcome he receives is far from warm. Upon revealing his identity to the King, the hero is branded as "The Dark spawn" and hunted by a relentless army. Fleeing from his pursuers, the hero assembles a band of endearing adventurers who believe he is actually The Luminary reborn. The hero and his newfound companions embark on a quest that will take them across continents and over vast oceans as they learn of an ominous threat facing the world.

…

Expand
Developer:

Square Enix

Genre(s):

Role-Playing

,

Japanese-Style

# of players:

No Online Multiplayer

Cheats:

On GameFAQs

Available On:

Stadia

Rating:

T
Please enter your birth date to watch this video:
You are not allowed to view this material at this time.
Dragon Quest XI - Character Trailer
Dragon Quest XI S is a game for both long-time fans and newcomers alike. There are many Easter eggs and references to past Dragon Quest games that will subtly reward fans, but at the same time, the charming world of Erdrea and its characters are appealing to newcomers of all ages. Even those who have played the previous versions of Dragon Quest XI may find the vast improvements of the Switch version compelling enough for another round, especially with the Tickington quests, new character content, and marriage options. This game is a masterpiece, and it sets a new high standard for not only the series, but console RPGs in general. Hopefully the series will continue outdoing itself with further instalments.

Dragon Quest 11 has its flaws, and it may ultimately function as a breezy trip down memory lane for the experienced and a fabulous gateway experience for the uninitiated, but that is exactly what it sets out to be. At that, it is perfect.

This is by far the most complete and compact Dragon Quest experience we have ever experienced, and a testament to the series' bright future. A must-have for all Switch owners, players who haven't experienced the game in its original form and owners of the previous game that would like to experience all the things that were sadly missing in the original release for the PS4 and PC.

Square Enix has decided to make the definitive version of an immediate classic out of something that, at the outset, may have looked like a simple adapted portable option: in this case we will find tenths of hours of gameplay, a magnificent turn based battle system and a whole new way to play the game in the West: the 2D mode, which will make nostalgics fall in love once again.

Expanding on its original release in every way, Dragon Quest XI S is one of the Nintendo Switch's best RPGs and a great entry for newcomers.

Dragon Quest 11 is a fantastic jrpg on Nintendo Switch. The graphic concession does not outweigh the addition of an orchestral soundtrack and the Japanese voice-over. You can also play the entire game in 2D, with slightly faster and more direct gameplay. It really works very well on Switch.

Old school to a fault, but fans of the series – and anyone else that appreciates its honest charms – will find much to love in this simplistic but heart-warming role-player.
This game is at the peak of what a turn-based RPG can offer. Its story is expansive and engaging, the characters are vibrant, the Orchestral

This game is at the peak of what a turn-based RPG can offer. Its story is expansive and engaging, the characters are vibrant, the Orchestral soundtrack is outstanding and nothing feels unpolished in the definitive edtion. This truly is a masterpiece. The Dragon Quest games have been flying the flag for the genre for decades and I really hope the effort that has been put into this game translates to sales.

…

Expand

Cool, beatiful, immersive world and story. Turn based is not my genre but with beautiful soundtrack i can enjoy this games.

Dragon Quest XI S is a game steeped in tradition and brewed to modernized perfection: the perfect cup of JRPG tea. This is quite candidly the

Dragon Quest XI S is a game steeped in tradition and brewed to modernized perfection: the perfect cup of JRPG tea. This is quite candidly the best JRPG and video game of this last decade. Dragon Quest XI S and Persona 5 have essentially led the era into a 2nd coming of the golden age of rpgs. So many great JRPGS in these last few years and DQ XI S is undeniably a leader of the pack. What a phenomenal, magical adventure this game was, just... Wow! Haven't felt this naive excitement playing games in a long time. Truly a masterpiece!

Gameplay- was ludicrously enjoyable. Combat system is excellent. It's a traditional turn based combat with modern twists like the exciting pep system and each character's individual turn is acted upon as soon as a skill is selected, rather than picking all your characters skills at the start of a turn and just hoping they act in order of agility. DQ XI S gets rid of that bollocks and its turn based combat is much more conducive to strategic combat. The great turn based combat system is furthermore bolstered when played with draconian modifiers for emphasis on more strategic gameplay, which really makes excellent use of buffs/debuffs, status ailments, set ups, effective damage, etc. If playing normal, it's fun just clobbering the hell outta enemies anyways, so both difficulties have their perks, and difficulty picks up on normal mode in act 3 and post game for sure. Also, it's fun and I mean a fricken blast to ride on defeated monsters, especially on gnarly looking dragons and on the poor slime knight, who just kinda dangles haphazardly on the side as you hop along! That gets a hearty chuckle out of me every time.

Story- starts out fairly traditional and does have some twists that definitely aren't expected, but the story is exceptionally well told. Erik's memory loss felt all too real and completely genuine. It made me feel like I could empathize with his pain... Veronica's act 2 moment left me in a state of complete emotional distraught. The story is just so heartfelt in this game. It's just a nice fantasy story without the superfluous fluff. Erik is now my new favorite JRPG character and video game character of all time because of both his amazing combat prowess and his characterization. What a cast of lovable characters in general though. Erik and Veronica especially, but the whole cast just was so salt of the earth and fantastic.

Graphics- cannot tell you how many times I stopped playing this game just to indulge in the breathtaking scenery! This game is gorgeous! The graphic downgrade from PS4 to Switch is barely noticeable, so well played on DQ XI for not being a slouch in the graphic department on the Switch. The water and lava areas in particular are stunning and realistic. I love the unorthodox mix of the hyper realistic graphics using anime esque qualities with realism. Brilliant!

Music- while the story certainly got more involved and considerably better in the S version, with it's add ins that make the story more cohesive and beautifully told, the music got a much needed redo: A orchestral soundtrack and the option to use Dragon Quest VIII's soundtrack. The only downside about the original DQ XI was the music, and DQ XI S fixed that and made the music much more palpable to the ears.

Dragon Quest XI S changed my gaming life: I was addicted to gachas before playing this game. I had stopped playing real games like I had done my whole life to play sunken fallacy games in the form of gachas and my life had hit some all time personal lows to top it all off... I played this game, forgot my woes, and everything changed and I've been playing JRPGs and beating them left and right, but DQ XI S remains my favorite game of all time. Bye bye gachas, hello rpgs my old friends! I created a metacritic account just to review this phenomenal game. I had such a blast playing this game and would highly recommend it to anyone who likes JRPGS done right. One of the few games I'd rate a perfect 10/10 or in my mind: 11/10

…

Expand

It simply put fixes all the issues with the original the gameplay is more refined, it fixes the ost giving alot of variety, it has speed up

It simply put fixes all the issues with the original the gameplay is more refined, it fixes the ost giving alot of variety, it has speed up and various new things like new story content, audio dramas, it has a camera function thats fun, it has ingedsting abd likable cast of characters subtle details galore a great world and cast of npcs awesome twtwists and turns

…

Expand

2nd best Dragon Quest game by far after 8. Every character is fun and has a great story both alone and combined with the other. Just wish

2nd best Dragon Quest game by far after 8. Every character is fun and has a great story both alone and combined with the other. Just wish they'd add DQ8 monster capturing to the newer games.

…

Expand

Excelente juego.
- Mecánicas obsoletas para la fecha (todos acción RPG)
- Música Orquestada, aunque se le notan en falta una mayor cantidad.Excelente juego.
- Mecánicas obsoletas para la fecha (todos acción RPG)
- Música Orquestada, aunque se le notan en falta una mayor cantidad.
- Ciertas opciones como cambiar de objetos, revisar inventario e info se hace demasiado lento.
- Dificultades Fácil - Difícil.

Con todo lo normalito y family friendly que son las historias de Dragon Quest le dedique mas de 200 hrs para completarlo al 100%.
En su dificultad draconiana es cuando le sacas el máximo provecho al juego, aunque el port trae consigo un downgrade en gráficos, no se extrañan en ningún momento, ademas del plus del audio en japones que debió existir desde siempre, junto con las quest de los cronolimos en vez de las dianas, hacen esta versión la mejor experiencia para jugarla. Valio la pena la espera y hace que aunque no te guste la saga DQ este titulo debe estar en los imprescindibles.

…

Expand

When a game is not compelling enough to even keep me entertained for the duration of a demo, then there is something wrong.

Very strangeWhen a game is not compelling enough to even keep me entertained for the duration of a demo, then there is something wrong.

Very strange choice of voice actors. The girl of young appearance, sounded like a middle aged British farmer.

It felt like a chore. At least with ARPG's you mash A and continue. In this, as with many turn based RPG's you mash a and sit through the animations again and again. Quite frankly, after 3, or 4 times, I was mumbling to myself, something along the lines of please hurry the **** up.

To me, games like this can be saved by a good OST. This however has a really old fashioned OST. It isn't even remotely memorable. For comparison, I didn't like XCDE very much but I still listen to the OST loads.

DQ 11 is a failure.

…

Expand