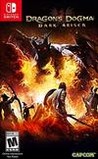 Summary:

An epitaph speaks of another's demise...

A mysterious island known as Bitterblack Isle appears off the coast of Gransys. Its depths have claimed the lives of many Arisen their voices still haunt the labyrinth that lies deep beneath its surface--a labyrinth ripe with secrets waiting to beAn epitaph speaks of another's demise...

A mysterious island known as Bitterblack Isle appears off the coast of Gransys. Its depths have claimed the lives of many Arisen their voices still haunt the labyrinth that lies deep beneath its surface--a labyrinth ripe with secrets waiting to be discovered.

The time to take up arms has come once again. Delve into the isle's depths and uncover its dark secret!

…

Expand
Developer:

Capcom

Genre(s):

Role-Playing

,

Action RPG

# of players:

No Online Multiplayer

Cheats:

On GameFAQs

Rating:

M
Please enter your birth date to watch this video:
You are not allowed to view this material at this time.
Dragon's Dogma: Dark Arisen - Nintendo Switch Announcement Trailer
In a nutshell the quality of a port we got with Dragon's Dogma: Dark Arisen on the Switch is very much what fans could hope for. The whole game is here and plays great and for $30 is a steal even today because of the quality hours of content here. For those looking to revisit the game they will be happy with Capcom's effort and those looking for a world to rival the playtime of their biggest Switch selection will find a very fun and rewarding gem they can dig into.

Dragon's Dogma: Dark Arisen has already been released a handful of times on different consoles, and this port doesn't add anything new. The ability to play in handheld mode is great, but this version also comes with some pop-in and framerate drops not present in other releases. Still, it's worth it just to experience one of the most overlooked games of the decade again, or for the first time. If Dragon's Dogma: Dark Arisen's stellar combat, unique class system, and treacherous world hook you, its technical flaws are extremely easy to overlook.

Dragon's Dogma on Nintendo Switch is a good conversion for one of the best action RPG of recent years.

Six years later, Dragon's Dogma: Dark Arisen is still an exceptional adventure game - the only difference on Switch is that you can now take the fun on the road with you.

Dragon's Dogma is one of Capcom's most ambitious RPGs and it's Switch version also impresses. It's a great title to be played on the go, especially because the whole adventure can take up to dozens of hours.

The age of Capcom's dragon tale is too visible. But overall you will still get a decent fantasy roleplaying experience.

It's always a nice feeling to wander across the vast plains and the ominous dungeons of Gransys during a large amount of hours, for the first time on a portable device here. Sadly, the low visuals and the technical issues of the handheld mode are kind of a bummer, the TV experience being as enjoyable as the previous editions of the game.
Played the game through the night. Next thing i know I'm headed to work. Game is addicting real quick

This game is very good for 30 dollars and is also graphically good as wellll

For the price, this classic is a steal. Played it on PS3 originally, and got the HD remaster on PC. Glad to have this on my Switch. Great for

For the price, this classic is a steal. Played it on PS3 originally, and got the HD remaster on PC. Glad to have this on my Switch. Great for all RPG fans and even Monster Hunter fans (because of how you have to approach and prepare for boss fights). No performance problems on my side. Highly recommended.

…

Expand

The next greatest port right up there with Darksiders. The game itself is a well-balanced open world fantasy RPG with addictive combat. No

The next greatest port right up there with Darksiders. The game itself is a well-balanced open world fantasy RPG with addictive combat. No exaggeration, it's a steal for $30.

…

Expand

About week ago I was sure that Darksiders on Switch are my best Switch game and best port of a game at the same time. I was so wrong. Dragon's

About week ago I was sure that Darksiders on Switch are my best Switch game and best port of a game at the same time. I was so wrong. Dragon's Dogma took the crown with a huge success! Honestly I don't know what more to say about the game, except that I can't understand how it can run on Switch so fluent! No bugs, great graphic, short loadings, great controlling - all works flawlessly. And the price! For crying out loud, what more do you want? Totally amazed with it. It's a definitive must have on Switch.

…

Expand

I was on the fence about this game for a bit. i had seen all the hype from everyone on the internet and said there's no way this game is that

I was on the fence about this game for a bit. i had seen all the hype from everyone on the internet and said there's no way this game is that fun....then i played it! yes the game has its problems, and can be a bit janky, but overall i cant stop playing it. the combat is great and the big battles are awesome. and that pawn system is just wonderful! if you were on the fence about this game, i say JUST BUY IT! its $30 and has a ton of content to keep you busy. its worth the money

…

Expand

Sadly I have to give this a low rating, the game is fun and I don't mind the average graphics and poor textures in places but although the

Sadly I have to give this a low rating, the game is fun and I don't mind the average graphics and poor textures in places but although the game is okay when docked, in handeld mode it's quite different, I was getting serious framerate drops a lot of times (I play a mage) and quite frankly it was spoiling my enjoyment of the game. If you want this purely for docked mode then good! but if like me you want to also play it handheld then I suggest you think twice before buying.

…

Expand