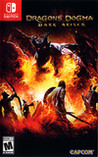 Summary:

An epitaph speaks of another's demise...

A mysterious island known as Bitterblack Isle appears off the coast of Gransys. Its depths have claimed the lives of many Arisen their voices still haunt the labyrinth that lies deep beneath its surface--a labyrinth ripe with secrets waiting to beAn epitaph speaks of another's demise...

A mysterious island known as Bitterblack Isle appears off the coast of Gransys. Its depths have claimed the lives of many Arisen their voices still haunt the labyrinth that lies deep beneath its surface--a labyrinth ripe with secrets waiting to be discovered.

The time to take up arms has come once again. Delve into the isle's depths and uncover its dark secret!

…

Expand
Developer:

Capcom

Genre(s):

Role-Playing

,

Action RPG

# of players:

No Online Multiplayer

Cheats:

On GameFAQs

Rating:

M
Please enter your birth date to watch this video:
You are not allowed to view this material at this time.
Dragon's Dogma: Dark Arisen - Nintendo Switch Announcement Trailer
In a nutshell the quality of a port we got with Dragon's Dogma: Dark Arisen on the Switch is very much what fans could hope for. The whole game is here and plays great and for $30 is a steal even today because of the quality hours of content here. For those looking to revisit the game they will be happy with Capcom's effort and those looking for a world to rival the playtime of their biggest Switch selection will find a very fun and rewarding gem they can dig into.

Even though the spectacular combat in Dragon's Dogma makes it seem like a successor to other Capcom fantasy beat-em-ups, the depth of its world design and surprising story twists make it one of the more fascinating games of its era. With a fantastic port for the Switch audience, it's as if Capcom made a deal with a dragon and somehow came out the winner.

If you liked the game in one of its previous releases, you'll like it here as well. If you didn't, well, the portability of the Switch might help, but if not, there's no reason to look at the Switch version any closer. Many would agree that this is one of the best open world RPGs in the last several years, so if you haven't played it yet, this at least gives you another reminder to consider moving it to the top of your backlog.

There's no denying that it is rough in parts and really could have done with a full remaster rather than a straight re-release, but Dragon's Dogma nonetheless remains a fantastically gripping role-playing experience t hat manages to straddle the divide between exhilarating real-time action and stat-based adventuring.

I'd even go so far as to say that it feels like the definitive version. It doesn't add anything to the base game besides the expansions and DLC elements that were already there on other consoles, but it's still worth picking up if you've never hunted a Cockatrice in Gransys before.

Before playing it on Switch, I always understood Dragon's Dogma as one of the most underrated RPGs around. Having played it now, I really hope it doesn't get overshadowed by the big RPGs, whether ports or original content, that are coming out around it. Dark Arisen has some of the most unique systems in modern RPGs, and great combat to go along with it. It's a great adventure, and if they can improve the loads after the inns it'll be essential.

It's always a nice feeling to wander across the vast plains and the ominous dungeons of Gransys during a large amount of hours, for the first time on a portable device here. Sadly, the low visuals and the technical issues of the handheld mode are kind of a bummer, the TV experience being as enjoyable as the previous editions of the game.
This game is very good for 30 dollars and is also graphically good as wellll

This game is so much fun. I am just so addicted to the action and story. And so much customization! What a time to be alive and gaming with

This game is so much fun. I am just so addicted to the action and story. And so much customization! What a time to be alive and gaming with this being on a handheld

…

Expand

This is one of the finest games ever made. If you consider yourself a fan of Action-RPG's, you absolutely owe it to yourself to buy this game.

This is one of the finest games ever made. If you consider yourself a fan of Action-RPG's, you absolutely owe it to yourself to buy this game. Its combat is second-to-none and it has incredible depth.

It takes place in a huge open-world to explore as well. The game is nothing short of fantastic and you owe it to yourself to buy it. The ending is also amazing.

…

Expand

This game is middle ground for me. It's only $30 though and it is worth every penny of $30.

Fun game. But very overrated. Pawns are ok, good for healing and tanking. No story, just something to provide a sense of why your character

Fun game. But very overrated. Pawns are ok, good for healing and tanking. No story, just something to provide a sense of why your character exists. Open world is small and seems big because you walk everywhere...and you will tread the same roads and areas many times as quests recycle locations. Best part of the game is the 'post game" and DLC. DLC feels like the game Capcom wanted :-) a western style monster Hunter. I really enjoyed the post game and DLC.

…

Expand

Its aight, I'm spoiled by the combat in darksouls on switch, which I'd reccomend over this without a second thought. Best part is you

Its aight, I'm spoiled by the combat in darksouls on switch, which I'd reccomend over this without a second thought. Best part is you basically can pimp out your braindead sub-normal lil helper dunce(pawns). But really it's ok if you are an old fan, someone who missed it back then like me and wanted to see if itd scratch that darksouls itch once u played it to death, or just want a big, albeit dimwitted game to get lost into. Over all. Play darksouls instead. Even skyrim prolly. But not a bad choice. On sale for 15 bucks alot wait for that.

…

Expand

this game is a complete joke. why the gameplay is so boring like these. feels so empty sometimes