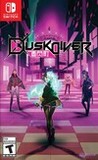 Summary:

Three types of being. The gods, of the sacred place named kunlun. The Phantom, Born in the dimension of chaos. And the Mortal humans, for whom the Idea of gods and phantoms is a distant - yet familiar - concept.
Two converging Dimensions. Whose converging Energy flows rip open an unstableThree types of being. The gods, of the sacred place named kunlun. The Phantom, Born in the dimension of chaos. And the Mortal humans, for whom the Idea of gods and phantoms is a distant - yet familiar - concept.
Two converging Dimensions. Whose converging Energy flows rip open an unstable dimensional Rift.

…

Expand
Developer:

JFi Games

Genre(s):

Action

,

Role-Playing

,

General

,

Action RPG

# of players:

No Online Multiplayer

Cheats:

On GameFAQs

Rating:

T
Dusk Diver is a nice game with certain performance issues that with a little more effort to polish the combat, the story, the sound effects and adding a little more content could have become a great Japanese role-playing game.

Dusk Diver is a solid Musuo-style hack-and-slash action game that throws you into some massive battles with a fun and flexible combat system at your disposal. Its narrative is fairly derivative but it's bolstered by a strong, wise-cracking cast of highly likeable characters that we really hope we get to see more from in the future. It's a shame that it's let down somewhat by a pretty but very empty setting in Ximending and, outside of combat missions, much of what you do is simple padding and busywork. However, if you're a fan of this type of action game, there's plenty to enjoy here taking on endless hordes of chaos beasts, unleashing the powers of the Kunlun gods and stringing together screen-filling attacks until that combo counter explodes.

Playing Dusk Diver isn't a bad experience. Just an unfulfilling one. There are some things to like here. Walking around the colourful Ximending district of Taipei, interacting with the small cast of main characters, and then watching them battle monsters is kind of cool. Kind of cool. At its core, Dusk Diver is a simplistic, repetitive, and uninspiring, musou-style brawler.

Dusk Diver acknowledges its inspirations and does it right, presenting a slick visual environment and quality animations. At the same time, its too simplistic and repetitive combat system is sub-par, aggravated by fluidity problems that make the experience less enjoyable and the overall sense of linear progression make Dusk Diver on the Nintendo Switch an average effort. Perhaps more time in the development process would have made Dusk Diver a more enjoyable experience.

Dusk Diver is a game that promises a lot with it's gorgeous visuals, but the combat ultimately falls short. Its basic combo system and missable story are not enough to even come close to some of this year's stellar action titles.
it's a nice and entertaining beat 'em up, the battles are intense(maybe not at the begining but later it is) and it's replayable!.

Brought this on sale for my switch OLED to play on the go. It's pretty simple to pick up without much of a story or complex in-game mechanics.

Brought this on sale for my switch OLED to play on the go. It's pretty simple to pick up without much of a story or complex in-game mechanics. This pros are:

1) good combat mechanic
2) good combo mechanic

Negatives

1) limited game story
2) slow pacing of game in between battles you're forced to walk around empty map areas such non interactive & basic mock up of NPCs.

…

Expand