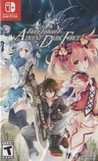 Summary:

Long ago, a war was waged between the Vile God and the Goddess. The battle was fierce; the two were equally matched. Finally, both sides unleashed special weapons that contained fairies imbued with their power. Using this power, each god sealed away the other within another world.

And so,Long ago, a war was waged between the Vile God and the Goddess. The battle was fierce; the two were equally matched. Finally, both sides unleashed special weapons that contained fairies imbued with their power. Using this power, each god sealed away the other within another world.

And so, time passed...

The weapons that the Goddess and the Vile God left were called Furies, and the warriors who used them were called Fencers. Rumors arose that the Furies were so powerful, whoever collected them all would be granted one wish. As a result, Fencers fought each other endlessly to obtain them. By chance, a young man named Fang happened to unwittingly become a Fencer, and saved a girl named Tiara. And she, too, was a Fencer.

From that day forward, Fang found himself an important part of the battle between the Goddess and the Vile God.

…

Expand
Developer:

Compile Heart

Genre(s):

Role-Playing

,

Japanese-Style

# of players:

No Online Multiplayer

Cheats:

On GameFAQs

Rating:

T
Fairy Fencer F: Advent Dark Force is a title with a good soundtrack and beautiful illustrations. The story is not innovative and the game has performance problems. However, fans of the JRPG genre will enjoy it.

If you're not well-acquainted with Compile Heart's shenanigans and you don't have a vested interest in the franchise, then the Switch version is perhaps not the most seamless introduction to the universe of Furies and Fang.

When it all comes down to it, Fairy Fencer F: Advent Dark Force's Switch port is probably not the best way to play the game, but considering that the performance itself is perfectly fine in most scenarios - especially in handheld mode, you can't go wrong with picking this version up if you're specifically looking for a more relaxed JRPG to play on the go. Ghostlight's first Switch effort is a solid showcase, and if nothing else leaves me excited to see what other titles the company can bring to the platform moving forward.

It comes highly recommended to fans of harem style shonen anime stories and JRPGs but, in the state that it is in at time of writing, with a reservation that if portability is not a huge factor, it is better experienced on PS4 or PC, if those are available options.

Fairy Fencer F Advent Dark Force is a deceptively simple game housing some deep customization options. It's easy to get into if you're new to the series, while veterans will no doubt enjoy all of the new content that's been padded on. While it no doubt caters to a certain audience, Fairy Fencer F Advent Dark Force does show both promise and potential in the niche market.

Overall, this still needs a lot of work before I can recommend it. While the visual novel like sections and the UI are crisp on the Switch, the actual gameplay runs and looks bad. The only reason you should consider getting this game on Switch is if you absolutely need portability over everything else.

Despite all its flaws, however, I cannot completely count out Fairy Fencer F. It is dated and may not be a great game or even a good game all things considered, but overall I would consider it a pretty okay choice if you're simply browsing the eShop in search of a quick "junk food" JRPG. There's not a lot of substance to it, but it will at least keep you busy and entertained in some form for the twenty or so hours it will take you to complete a single route.
The game has personality and is quite fun.
The game has its downsides.
its an alright game. I enjoyed the game, but if you want it, then iThe game has personality and is quite fun.
The game has its downsides.
its an alright game.
I enjoyed the game, but if you want it, then i suggest you wait until the game is fully patched.
EDIT: the game's framerate has been pretty good and i haven't noticed any bugs except that one time the game froze, but besides that I think anyone with love for JRPG will enjoy it.

…

Expand

What could have been a great port to a game that is perfect for playing on-the-go is marred by terrible frame rates. Menus and dialogue scenes

What could have been a great port to a game that is perfect for playing on-the-go is marred by terrible frame rates. Menus and dialogue scenes seem to run at normal frame rates, but dungeon exploring and battles look like complete dirt when the framerate can dip as low as what looks like 20fps (even if you turn off shadows, which is an improvement but still not as great as it could be). Interestingly though, the frame rate during combat animations for skills and fairizing seems to skyrocket to near-60fps, so I'm beginning to think that whatever shader is used or the size of the environment textures are at fault (which should have been addressed when porting this game over). It's almost as if they automated the entire process and just shipped the game out as-is, because I doubt anyone who tested this port could have been satisfied with the end result. The worst part of about all of this is how there is no refund for you if you bought this expecting a smooth gameplay experience.

Unless you are okay with terrible frame rates during combat and dungeon exploring (which you will be doing about 50% of the time), I would avoid this version of the game and go for the PC or PS4 version.

…

Expand

please don't get the switch version, the game is surprisingly entertaining (on ps4 and pc), but the switch port isn't optimized at all and

please don't get the switch version, the game is surprisingly entertaining (on ps4 and pc), but the switch port isn't optimized at all and constant dips to 10fps makes me wish nintendo would have a refund function

…

Expand