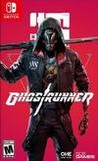 Summary:

Ghostrunner offers a unique single-player experience: fast-paced, violent combat, and an original setting that blends science fiction with post-apocalyptic themes. It tells the story of a world that has already ended and its inhabitants who fight to survive.
Developer:

ONE MORE LEVEL

Genre(s):

Action

,

Adventure

,

General

,

Platformer

,

3D

# of players:

No Online Multiplayer

Cheats:

On GameFAQs

Rating:

M
Overall, Ghostrunner is one of the sleeper hits for this fairly empty winter season on the Switch. Where the foundation of titles like these was laid down by games such as Mirror's Edge, Ghostrunner improves the combat systems and uses many tricks to keep you on your toes. Complemented by both the cyberpunk aesthetic and gameplay, this title will keep you coming back to perfect your ninja-skills.

Ghostrunner's lightning-fast gameplay makes for a short-lived but memorable action game with some incredible moments.

Despite the delays, Ghostrunner is a fun and frenetic title. Its cyberpunk aesthetic and soundtrack are great, it is challenging, spectacular and highly recommended for lovers of first-person action.

Disabling but not unduly penalizing, these technical shortcomings do not prevent an appreciation of the title of One More Level: a demanding, enjoyable and constantly renewing first-person action-platformer. A good pick anyway.

This is a punishingly difficult game by most metrics, but those of you who like a worthy challenge will find plenty to love here. Blink-and-you-miss-it gameplay and some light replayability elements make for a title that at least proves itself to be worth the price of admission. That being said, rough performance and some occasionally unbalanced difficulty can make for an experience that's often more frustrating than it is fun. If you have another console which can run Ghostrunner, we'd recommend you pick it up there unless you really want to play this one on the go. Otherwise, this game is worth your time – but perhaps wait for a sale before you rush out to pick it up.

Despite all of Ghostrunner's problems, there's the kernel of a great game here. If you have the option to pick it up on any other platform, then I absolutely recommend doing so; especially if you're a cyberpunk fetishist with a love for games that aren't afraid to kick you in the teeth. Sadly, the Switch version just doesn't deliver the same experience with its severely downgraded visuals and plethora of performance issues. When all is said and done, this is one port that's better off lost in time, like tears in rain.

There are pieces of a great game in Ghostrunner, and again, I'm sure it's a fantastic experience elsewhere, but on the Switch, it's more an exercise in frustration than anything else.
I loved Mirror Edge for the sick parkouring but hated it for how defenseless I was. This game, for me, is like ME should be from the start.

Fantastic game and works well on switch if you don't get a rage boner every time they have to downgrade some graphics for a console. The game

Fantastic game and works well on switch if you don't get a rage boner every time they have to downgrade some graphics for a console. The game is difficult but balanced so if you don't like a challenge don't play this game although they are making an assist mode to make the game easier so even then, pick the game up! One of the best games in recent years imo and criminally underrated.

…

Expand

"Despite its issues, some of which were unfortunately introduced after launch, Ghostrunner is still an excellent title. The game captures the

"Despite its issues, some of which were unfortunately introduced after launch, Ghostrunner is still an excellent title. The game captures the feeling of being a badass Ninja perfectly, even if you'll find yourself dying again and again. With the post-launch content, it's a well-rounded package too and an absolute bargain.. If you're a glutton for punishment, this may be your next addiction!"

https://theeliteinstitute.net/2022/03/17/ghostrunner/

…

Expand

The game is pretty good for what it tries to do: a first-person platformer. However it is in essence an one-trick pony so it is extremely

The game is pretty good for what it tries to do: a first-person platformer. However it is in essence an one-trick pony so it is extremely subjective if you're gonna like it. It immediately throws you into its simple action which will be obviously loved by many but for the rest of us the game can feel like an unnecessary chore.

…

Expand

Unplayable on switch (both in docked and portable modes). Controls and the visuals downgrade are to blame. At some point you just don't

Unplayable on switch (both in docked and portable modes). Controls and the visuals downgrade are to blame. At some point you just don't understand what's going on on the screen - it's all a mess of bleak textures and even if you try your best to fight with your enemies - the lagging controls won't allow you to win. What a disappointment!

…

Expand

A very good game with a GREAT soundtrack! I died a lot but it does the Hotline Miami thing of restarting from the checkpoint instantly, which

A very good game with a GREAT soundtrack! I died a lot but it does the Hotline Miami thing of restarting from the checkpoint instantly, which kept the mood going really well. Controls take some getting used to though

…

Expand