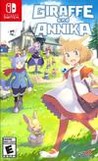 Summary:

After waking from a strange dream, Annika finds herself stranded on the island of Spica, having no recollection of her past. With the help of a boy named Giraffe, she must find three special star fragments on the island in order to uncover her memories. A Magical Journey - Immerse yourself

After waking from a strange dream, Annika finds herself stranded on the island of Spica, having no recollection of her past. With the help of a boy named Giraffe, she must find three special star fragments on the island in order to uncover her memories. A Magical Journey - Immerse yourself in the vivid and enchanting world of Spica, and watch this grand tale unfold through comic book-style cutscenes.

Rhythmic Rumble - Challenge a colorful cast of bosses to rhythm-based combat, and groove along to a fun and whimsical game soundtrack.

Seeker of Secrets - Explore unique dungeons, discover charming collectibles, and unravel the mysteries of the island.

…

Expand
Developer:

Atelier Mimina

Genre(s):

Adventure

,

3D

,

Third-Person

# of players:

No Online Multiplayer

Cheats:

On GameFAQs

Rating:

E
Giraffe and Annika is definitely one of those games where the whole is greater than any of its individual parts. It doesn't do anything incredibly well, yet, somehow, when you put it all together in a package like this, the end result is delightful.

Giraffe and Annika is the first outing for Atelier Mimina, and as a statement of intent, it shows us a developer that we should be paying attention to. Perhaps Giraffe and Annika is a touch on the short side for its own good, and perhaps there was a better way to build the world and adventure up than making players spend time in a fairly mundane "open world," but between the evocative characters, rich aesthetics and wholesome sense of humour, this game is a joy to play. And that is what's actually important here.

It's a little ramshackle, but care and craft has gone into the making of Giraffe and Annika. There's nothing new here to speak of, but its disparate genres work well together and we had a good time unravelling the mysteries of Spica Island. A great game for kids and the young at heart, we're excited to see what developers Atelier Mimina do next.

There is some enjoyment to find in the game's rhythm-based puzzles and in the comic-like sequences, but the game can get too repetitive and some of its missions feel forced and unnecessary. Overall, Giraffe and Annika needed some more time and attention dedicated to its best ideas to be a more engaging work.

Giraffe and Annika is fun, cute, touching and will fill the cockles of your heart with a warm gooey goodness. The perfect purchase, but mainly just for younger gamers. There's also a physical release, including a collector's edition with extra goodies.

At the end of the day, the gameplay isn't likely to compel you to spend the 5-10 hours needed to see the story through. Everything this game does is done better elsewhere, so dive back into the bottomless eShop sea and fish up another adventure. This Giraffe is better left on safari.

Giraffe and Annika takes around six hours to complete and, after seeing it through to its end, I wish there were more positive things to say about it. The world and its characters are cute, but you'll be sick of Annika's whining and the painfully repetitive fetch quests in no time. It has some merit as a starter RPG to introduce young children to the genre, but even then, there are much better adventures out there to spend your time with.