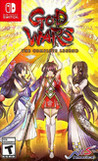 Summary:

A long time ago, there was a beautiful land made up of three nations: Fuji, Izumo, and Hyuga. This land was called Mizuho. The people of Mizuho disliked conflict, honored their ancestral spirits, and lived in harmony with nature. However, over time, they began cultivating crops, forging and

A long time ago, there was a beautiful land made up of three nations: Fuji, Izumo, and Hyuga. This land was called Mizuho. The people of Mizuho disliked conflict, honored their ancestral spirits, and lived in harmony with nature. However, over time, they began cultivating crops, forging and using metal, fighting wars, destroying nature, and neglecting to honor their ancestral spirits. In the meantime, various locations in Mizuho suffered from natural disasters like flooding, earthquakes, and volcanic eruptions. In order to stop a destructive eruption, the Queen of Mizuho, Tsukuyomi, sacrificed her beloved daughter Sakuya to the mountain, confined her other daughter Kaguya within a bamboo seal in case of future disasters, and then disappeared. 13 years later, Princess Kaguya has grown into a beautiful woman and her childhood friend, Kintaro, saves her during a riot. She rises against her "fate to be a sacrifice," and in order to follow her own path, they both escape from Fuji and journey across Mizuho to discover the truth behind Tsukuyomi's decision.

…

Expand
Developer:

Kadokawa

Genre(s):

Miscellaneous

,

Compilation

,

Strategy

,

Turn-Based

,

Tactics

# of players:

No Online Multiplayer

Cheats:

On GameFAQs

Rating:

T
God Wars is too Japanese in tone, aesthetic and design to ever have much of a hope of reaching a mainstream audience, but as a culturally relevant artifact, anyone who is interested in seeing how a game can explore ancient folk tales and spirituality in an interesting and engaging manner should not pass up this opportunity.

God Wars: The Complete Legend has solid gameplay and awesome musics. Nevertheless, we had logically thought that this Switch release would make a good use of the touchscreen. Sadly, it doesn't.

If you skipped God Wars on PS4 or PS Vita, this is definitely the version to get. It looks and plays well in both docked and handheld settings.

God Wars: The Complete Legend is a new and richer version of the previous game launched in 2017, however it shows some graphical imperfections and its content does not show any particular improvement even on the technical side. Anyway, this JRPG sounds very familiar to us and it can be enjoyed very well both on TV or in handheld version.

If the plot was more compact, and delivered more compelling story beats, the slow battles would be more tolerable. If the battles presented unique challenges and were more expediently resolved then the story could afford to be less engaging. The fact of the matter is neither is compelling nor are they offensively poor. Despite logging dozens of hours, I don't care about these characters nor do I feel like the battles have changed dramatically in a very long time. A fan of this genre would get some fun out of God Wars, and I would be lying if I said I didn't, but the fun to tedium ratio is just far too low. Instead, take a look at better examples of the genre, such as the two Disgaea games already on Switch.

This version is the best available for the God Wars series, but having no real improvements does not delete the fragile structure of the game. Tactical gameplay is safe, but not everything else, very poor for a genre like this.

If you can power through the dull and repetitive design of God Wars: The Complete Legend you'll find plenty of content. Sadly, this doesn't make up for otherwise lackluster title.
If you liked FFT, you'll love this. There's really not much more to say than that.